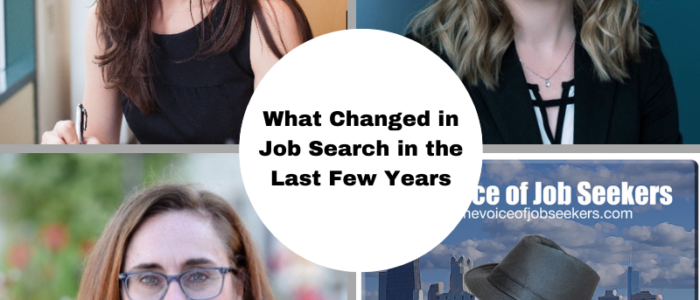 Podcast: Play in new window | Download | Embed
Subscribe: Apple Podcasts | RSS
Well, this was a show takeover.
That's right. For the first time since I published the show, you will not hear my voice. Not even in the intro.
It's just one episode. It's not a mistake.
Job Search Secret Weapon
has taken over one episode. I'll forgo the usual jargon for this show only. Let me introduce these women who are fervently at work serving job seekers with high-quality services and content. They will offer solid job search advice while parsing the trends of the times.
Job Search Secret Weapon: 
Virginia Franco is the founder of
Virginia Franco Resumes
and a five-time award-winning executive resume writer.  She is also the host of her podcast, "Resume Storyteller." She is also a past president of the National Association of Resume Writers.
Sarah Johnston, the founder of the
Briefcase Coach
, is helping many job seekers with their resume writing, LinkedIn strategy, job search strategy, and interview preparation. She is a past "LinkedIn Top Voice" for careers and job search.
Adrienne Tom is the founder of
Career Impressions
: Executive Resume Writing and Job Search Strategies and is a 31x award-winning resume writer and "LinkedIn Top Voice 2020" for careers and job search.
Highlights from their conversation: 
Build on a target list. Doing 20 to 40 hours of market research to set up for success. Think thoroughly about every possibility.
Different is better than better. What can you differently from your competition?
6 of 10 users use LinkedIn for industry insights.
Job search is a muscle you'll need to work on and strengthen constantly.
Professionals are now changing jobs every two to four years.
Soft skills and transferable jobs are critical right now in changing industries.
Bridge jobs are also used to help transition to your next career change. It helps you stay fresh and meet people.
Consider how you position your story around your bridge job and how you'll use it to change.
Clubhouse is evolving and useful to meet people.
Customization of your resume is no longer an option. "It's a must."
Be ready to address how you did during the pandemic. Show you were resilient and persevered.
I am the "The Voice of Job Seekers!" I offer compassionate career and job search advice as I hack and re-imagine the job search process. You need to be "the prescription to an employer's job description." You must be solution-oriented and work in positions in companies where you are the remedy. Your job search must be a lifestyle, and your career must be in front of you constantly. You can no longer shed your aspirations at the change seasons. There are strengths you have that need constant use and development. Be sure you sign up to download my E-Book, "421 Modern Job Search Tips 2021!" You can find my career advice and work in media outlets such as Forbes, Inc., Fast Company, Harvard Business Review, Glassdoor, and many other outlets.