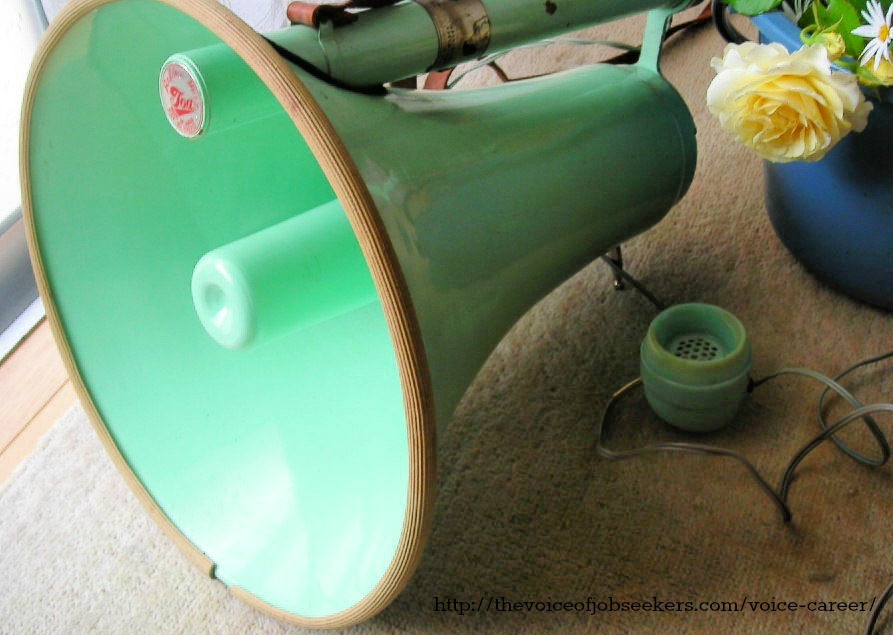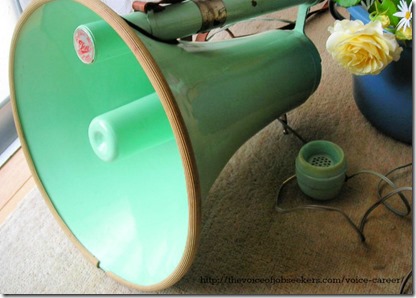 Many job seekers lack a voice in his or her job search for many reasons. Whether he or she lacks confidence, or afraid of rejection, employers will not hire a person who lacks an identity. This is not your voice box or your vocal chord. This is your identity.
Your resume will lack a target, results, and accomplishments without it. Your interviews will not unveil any true depth of knowledge or competency. Your network will not know the opportunities you want.
Most people write their resumes, or respond to interview questions without their own voice. Yes, you can read many articles, and listen to a lot of advice, but without your unique voice, it's hard to get hired. 
There are several things needed for this creation, and keep in mind, we are not talking about a physical voice…yet:
1) Patience
It takes time to create a voice for your job search and your career journey. Whatever that distinct message that comes from you will have a pattern that evolves from experiences molded from your victories, trials, and travels to and from the unknown.
2) Knowing your range
We don't know our limits, but we understand our skill set limitations. Just think of singing voices and each person has a different range. Mick Jagger didn't have to have Jackie Wilson's voice to be successful, but he had to be the best Mick Jagger possible. 
3) Your voice is in everything you do
I read and re-write resumes that have no voice. The person has obviously either 1) have regulated him or herself to the job descriptions given to them over the years or 2) he or she wrote whatever another person dictated. That's why you may be the one whose resume sounds like small booklet of clichés:
" A dynamic and enthusiastic engineer with a proven track record…"
"An excellent and proactive change agent…"
"A proven leader who is an authority…"
If you want to be remembered, you must be identifiable and stand out:
"Thrived as a roll-up-my-sleeves, hands muddied, but conscientious floor supervisor who would rather show than tell."
Do you think this guy stood out from the crowd? You bet he did.
4) What you don't say 
Your actions say so much more than what your physical voice does. Your online reputation is a great example of how your voice is everything you do.  You don't have to remind people of who you are and what you represent. It is reflected in the search results.
5) Choice of words  
Using words and phrases that use profane or caustic language tell a lot about people. If you constantly offend or alienate others by your words, then that is whom you are. The proverb, "What a man thinketh, so is he" comes from the same moral and philosophical place our choices originate. If you want to change the results and the repercussions of your words, you have to change your thinking.
If you fail to create a voice for your job search and your life, it will be difficult to enhance the quality of your career journey. Do you have a career voice? What do you want it sound like? If you need help, let me know.
I am the "The Voice of Job Seekers," career consultant, job seeker advocate, career writer, and founder of this award-winning blog. I help the employed, unemployed, underemployed, and under-appreciated find jobs using job search strategies to navigate the new job market. I aim to give a safe place online to those with different needs, cultures, and ethnicities to find their voice in the job market. Thousands have read my career advice throughout the web as I write about everything from job search strategies to the mobile job search. I have published more than 400 articles on this blog and some of the largest career sites such as Recruiter.com, YouTern, and Come Recommended. I've been quoted in major online publications such as Monster, TIME/Money, Fortune, Business Insider and MSN. FlexJobs, JobMonkey, Aerotek, Career Pivot, and CareerSherpa listed my podcast as one of the top podcasts to help your job search. Love for you to sign up for the weekly newsletter. I share the latest articles I've written, new podcast episodes, and answer any questions you may have. The new job search is scary and if you need help, I am here for it!