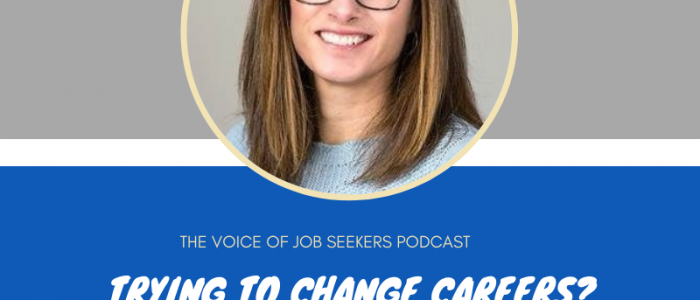 Podcast: Play in new window | Download | Embed
Subscribe: Apple Podcasts | Android | RSS
To change careers or jobs is the norm as it has been for some years now. One survey from Robert Half International shows
66% of professionals
see changing jobs every few years as positive. Virginia Franco, the founder of 
Virginia Franco Resumes
, wrote an interesting article 
about career change 
I wanted to feature.
Let me know what you think about this episode in one of three ways:
Call and leave a voicemail at 708-365-9822, or text your comments to the same number
Let me share more about Virginia:
Virginia is a five-time executive resume writer and been in business for the last nine years. She is also the host of her podcast, "Resume Storyteller" over the previous two years. She is also the current president of the National Association of Resume Writers.
Here are highlights of our discussion:
Career change is a popular subject and the right market to do so

Changing also make it a very competitive market

Make your case in front of a human being rather than applying online and competing with an Applicant Tracking System

Applying online is a false sense of security – three of 100 successfully get interviews

Referrals get 10x the response

Using the limited space for emphasizing years of experience wastes that space

Being a perpetual learner is a critical attribute, and showing your learning aptitude

Enthusiastic about learning is what employers want to see

Build a bridge by identifying transferable skills
You can also sign up for my weekly newsletter at the top right of my page to be on the first list of my free e-Guide, "300 Modern Job Search Tips for 2020!" This year, it will be free for a limited time. If you're on the list, you'll receive the tips at the beginning of November.
I am the "The Voice of Job Seekers," career consultant, job seeker advocate, career writer, and founder of this award-winning blog. I help the employed, unemployed, underemployed, and under-appreciated find jobs using job search strategies to navigate the new job market. I aim to give a safe place online to those with different needs, cultures, and ethnicities to find their voice in the job market. Thousands have read my career advice throughout the web as I write about everything from job search strategies to the mobile job search. I have published more than 400 articles on this blog and some of the largest career sites such as Recruiter.com, YouTern, and Come Recommended. I've been quoted in major online publications such as Monster, TIME/Money, Fortune, Business Insider and MSN. FlexJobs, JobMonkey, Aerotek, Career Pivot, and CareerSherpa listed my podcast as one of the top podcasts to help your job search. Love for you to sign up for the weekly newsletter. I share the latest articles I've written, new podcast episodes, and answer any questions you may have. The new job search is scary and if you need help, I am here for it!