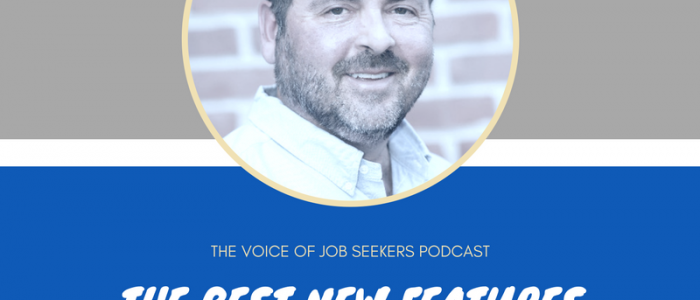 Podcast: Play in new window | Download | Embed
Subscribe: Apple Podcasts | Android | RSS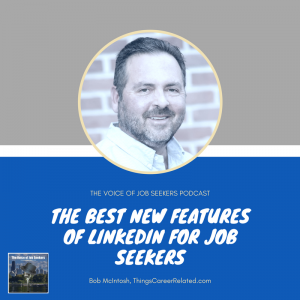 LinkedIn is constantly changing their features and functionality to the point where new and old users lose sight of LinkedIn's value. Bob McIntosh is a purveyor of all things LinkedIn for job seekers. He is my guest as discuss what features are best for job seekers, and a couple of features not so much.
You are more than welcome to join the discussion. Here are three ways you can:
– Call and leave a voicemail at 708-365-9822, or text your comments to the same number
– Go to TheVoiceofJobSeekers.com, press the "Send Voicemail" button on the right side of your screen and leave a message
– Send email feedback to mark@thevoiceofjobseekers.com
Here's more information about Bob McIntosh:
Bob is the founder of 
Things Career Related
 blog. He has robust information on LinkedIn, interviewing, and introverts. He works for the Career Center of Lowell as a Career Strategist, LinkedIn Trainer, Workshop Facilitator, and a LinkedIn Profile and Resume Consultant.
Here are highlights from our discussion: 
Connections of
Filtering of information, seeing the connections of connections, possibly using the searched connections to meet new people.
Video
If you're able to film yourself and have the right equipment to provide quality. If they have practiced their 30-second commercial (or elevator speech) the value the person offers could shine through.
Search for jobs
 The easy apply makes it easier to apply for jobs. The user's LinkedIn profile is sent. The connections you have in common with the recruiter could work in the user's favor.
Salary insights
Although you may not use your specific title, you can find your value in the market. You still want to use the prolific salary guides (Salary.com, PayScale, Glassdoor).
Wish it were more useful:
Messaging
Bob thought this was useful but tempts users to become lazy and use it like a text. Remember when you'ree communicating with an employer.
Analytics
The constant change sometimes confuses the users but you can get an idea who is viewing your profile.
Reminder:
I am here for you! Use my contact information above to inquire about individual or group coaching. You can also sign up for my weekly newsletter at the top right of my page. I try to pack as much value in my newsletter to more than 2,000 subscribers as possible.
Grab my updated "118 Job Search Tips for the Modern Job Search in 2018" here.
I am the "The Voice of Job Seekers," career consultant, job seeker advocate, career writer, and founder of this award-winning blog. I help the employed, unemployed, underemployed, and under-appreciated find jobs using job search strategies to navigate the new job market. I aim to give a safe place online to those with different needs, cultures, and ethnicities to find their voice in the job market. Thousands have read my career advice throughout the web as I write about everything from job search strategies to the mobile job search. I have published more than 400 articles on this blog and some of the largest career sites such as Recruiter.com, YouTern, and Come Recommended. I've been quoted in major online publications such as Monster, TIME/Money, Fortune, Business Insider and MSN. FlexJobs, JobMonkey, Aerotek, Career Pivot, and CareerSherpa listed my podcast as one of the top podcasts to help your job search. Love for you to sign up for the weekly newsletter. I share the latest articles I've written, new podcast episodes, and answer any questions you may have. The new job search is scary and if you need help, I am here for it!