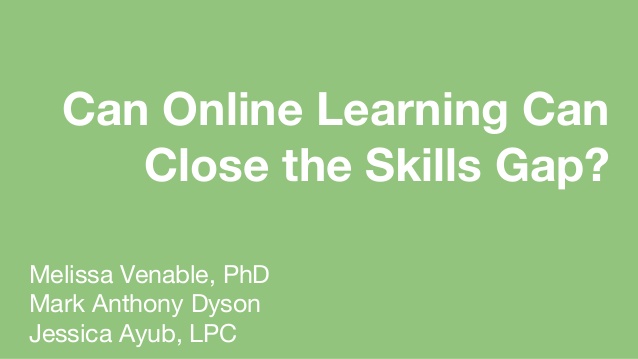 I was fortunate to be asked to participate in a SXSWedu2017 panel, "Can Online Learning Can Close the Skills Gap?" This presentation is being voted on as part of the SXSWedu2017   Panel Picker. I hope you will take time to vote for us!  The panel was formed by Aubrey Bach, Director of Online Content for HigherEducation.com.
Last May, the show with Katie Bardolo featured Payscale's survey on underemployment.  Employers stated the "Skills Gap" is a major contributing factor to underemployment.
Some other compelling facts:
46% of all workers identify as underemployed 43% of college-educated workers identify as underemployed
These same workers say that the reason they are underemployed is because they are not using their education or training 76% (see Powerpoint presentation)
One major takeaway is for all to see is the usefulness of online tools for educators and employers to help close the skills gap. There are two other educators on this panel who I know will add value and insight to the discussion:
I know this session can help so many, so please go here to
vote for this panel! Thanks.
My name is Mark Anthony Dyson, and I am the Founder of The Voice of Job Seekers. I am a career advice writer, but more importantly, I hack and re-imagine the job search process.. I've worked with hundreds of job seekers one-on-one helping them to construct a narrative and strategy that appeals to hiring managers and recruiters. I present at colleges and organizations, and facilitated many workshops including my volunteer effort through a Job Lab. I write and create useful job search content on this blog and write career and workplace advice for blogs such as Glassdoor, Payscale, Job-Hunt.org, Prezi and more. Media Feature highlights: Forbes, Business Insider, NBC News, Glassdoor, LinkedIn's #GetHired, and NPR Freelance writer and content contributor: Glassdoor, Payscale, job-hunt.org, The Financial Diet, RippleMatch.com and more. Contact me to contribute career, job search, or workplace advice for your site at markanthonydyson@gmail.com.