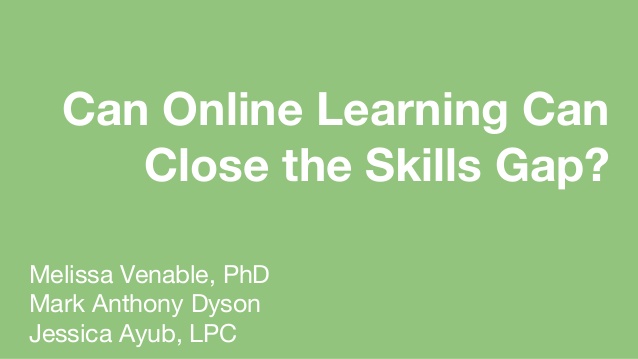 I was fortunate to be asked to participate in a SXSWedu2017 panel, "Can Online Learning Can Close the Skills Gap?" This presentation is being voted on as part of the SXSWedu2017   Panel Picker. I hope you will take time to vote for us!  The panel was formed by Aubrey Bach, Director of Online Content for HigherEducation.com.
Last May, the show with Katie Bardolo featured Payscale's survey on underemployment.  Employers stated the "Skills Gap" is a major contributing factor to underemployment.
Some other compelling facts:
46% of all workers identify as underemployed 43% of college-educated workers identify as underemployed
These same workers say that the reason they are underemployed is because they are not using their education or training 76% (see Powerpoint presentation)
One major takeaway is for all to see is the usefulness of online tools for educators and employers to help close the skills gap. There are two other educators on this panel who I know will add value and insight to the discussion:
I know this session can help so many, so please go here to
vote for this panel! Thanks.
I am the "The Voice of Job Seekers," career consultant, job seeker advocate, career writer, and founder of this award-winning blog. I help the employed, unemployed, underemployed, and under-appreciated find jobs using job search strategies to navigate the new job market. I aim to give a safe place online to those with different needs, cultures, and ethnicities to find their voice in the job market. Thousands have read my career advice throughout the web as I write about everything from job search strategies to the mobile job search. I have published more than 400 articles on this blog and some of the largest career sites such as Recruiter.com, YouTern, and Come Recommended. I've been quoted in major online publications such as Monster, TIME/Money, Fortune, Business Insider and MSN. FlexJobs, JobMonkey, Aerotek, Career Pivot, and CareerSherpa listed my podcast as one of the top podcasts to help your job search. Love for you to sign up for the weekly newsletter. I share the latest articles I've written, new podcast episodes, and answer any questions you may have. The new job search is scary and if you need help, I am here for it!