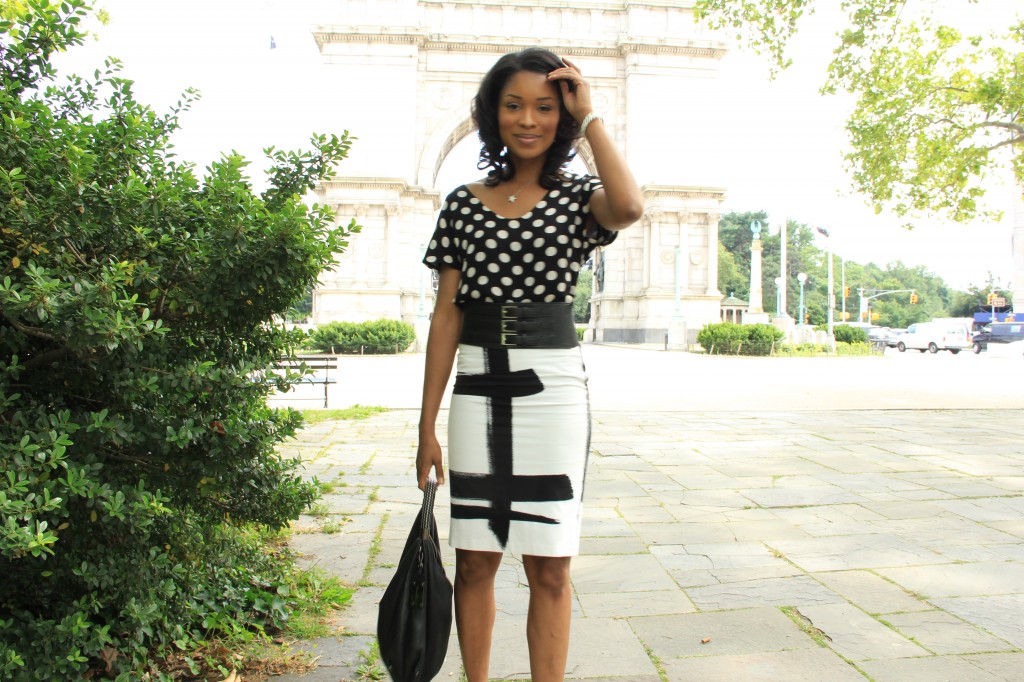 Editor's note: Brandhyze Stanley is a frugal expert, and knows how to find high-quality clothes at the best prices you'll see anywhere. Her guest post offers some advice job seekers whose money is too tight to mention. See her bio at the end of her post and highly recommend spending time at her perusing her frugal fashion advice.
FINALLY got the job interview, but now don't have a thing to wear?  That's totally understandable when many job seekers may be in between jobs. But before you fret over your workforce gear…here are 5 tips to help you shop, save, and look great for that next interview.
Buy a quality suit in a neutral color – Clothes can really affect the outcome of your interview, so be strategic in your choices.  Pick a classic neutral colored suit (think black, brown, navy, or dark gray) to get the most mileage out of your investment.  When you are building a wardrobe and are on a budget, I say it's a good idea to cover your basics first.  So, ladies I wouldn't go with that fuchsia option this trip; or guys I would leave that really busy suit there on the rack for the next adventurous soul. Instead, go with something a little more classic, and try places like Marshalls, TJMaxx, and Burlington Coat Factory for great name brands, at a fraction of the cost.
Buy all components of suit – I say buy all matching coordinates of that staple suit, so you can mix them and match to get the most wears out of it. Ladies, that means if you purchase a jacket, skirt, and slacks; one day you can wear the jacket, a nice blouse with a pop of color, and the slacks. And another day you can wear a sweater with a belt around the waist and the pencil skirt.  Guys, for you that means you can wear the jacket and slacks one day with a subdued tie; and another day wear the vest with the slacks and a tie with a pop of color.
Accessories make a suit go a long way – Accessories can completely change a look.  So, for women this may mean trying different statement necklaces, patterned tights, earrings, or scarves.  And men…I know you all feel

courtesy

 of Frugal-nomics.com

you have few opportunities to express yourselves with accessories, but feel to try different patterned ties/ascots, a nice watch or a belt (just don't get too crazy).I usually find some really great accessories on eBay…..while I may have to wait a little longer for them to be shipped, they usually are in great shape and come at an insanely low price.
Invest in a great pair of shoes– Both ladies and gents need to invest in a durable/quality pair of black and brown shoes (ladies, I'd even go so far as to recommend getting both colors in a pump and a flat for those long office hours).For deals on shoes, sign up for companies like 6pm.com and DSW's mailing list and their social media pages for first dibs on coupons and promotions.  Also, remember, if you wait til major holidays like Memorial Day, Veteran's Day, President's Day….you can score some extra savings.
Try your local consignment/thrift shops – I personally feel thrift store shopping is ALWAYS a good option.  I should know because it has afforded me the opportunity to COMPLETELY revamp my wardrobe.  Once the queen of Target (I still love it), I'm now able to regularly rock designer labels like Louis Vuitton, Theory, and Oscar de la Renta because of 2nd hand stores (did I mention I got these brands for less than a $1/piece?).  Men, just so you know….so many thrift shops have great suits that may need just a little tailoring for that custom fit, and you can stock up on oxfords/button downs made by great designers like Ralph Lauren and Thomas Pink–you just have to know where to look. So, shop your local thrift store chains or try online at places like Goodwill and Housing Works.
 Brandhyze Stanley is the chief voice of Frugal-nomics.com; a platform designed to share with women how to live and look fabulous on a dime — created after a massive unexpected layoff forced her to hone in on her true passion. Brandhyze has been featured on The View, The Early Show, The Today Show, MTVStyle, Essence Magazine, and TJMaxx.com. A Wilhelmina Model for nearly a decade, with a Business Degree from Loyola University Chicago, Brandhyze currently contributes Style and DIY tips to Newsday Westchester and the popular How-To Site, eHow. Brandhyze is a huge thrifter and a lover of all good deals, follow her on Twitter @MyFrugalnomics and on Facebook at Facebook.com/Frugalnomics.
I am the "The Voice of Job Seekers!" I offer compassionate career and job search advice as I hack and re-imagine the job search process. You need to be "the prescription to an employer's job description." You must be solution-oriented and work in positions in companies where you are the remedy. Your job search must be a lifestyle, and your career must be in front of you constantly. You can no longer shed your aspirations at the change seasons. There are strengths you have that need constant use and development. Be sure you sign up to download my E-Book, "421 Modern Job Search Tips 2021!" You can find my career advice and work in media outlets such as Forbes, Inc., Fast Company, Harvard Business Review, Glassdoor, and many other outlets.