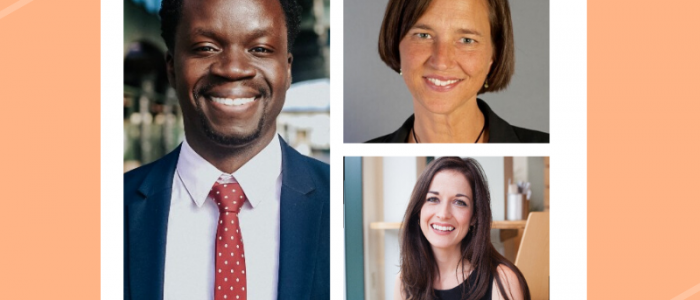 Podcast: Play in new window | Download | Embed
Subscribe: Apple Podcasts | Android | RSS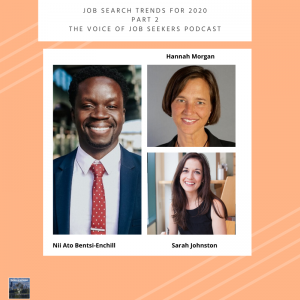 Welcome to part 2 of "Modern Job Search Trends of 2020." If you missed part 1, I encourage you to listen to the first show in this series. 
Let me reintroduce my guests on this panel:
Sarah Johnston, founder of the 
Briefcase Coach
, a company is helping many job seekers with their resume writing, LinkedIn strategy, job search strategy, and interview preparation. She recently was elected by LinkedIn editors as "LinkedIn Top Voice" for careers and job search.
Nii Ato Bentsi-Enchill is the founder of 
AvenirCareers.com
. Before going full-time as a business owner, he was Ivy Exec's Senior Content Manager & Career Adviser. In addition to networking/job search strategy, LinkedIn and resume writing, he uses his Psychology and Mental Health education as part of a holistic approach to career coaching.
Hannah Morgan is a return guest (this is number five, I think). She is the founder of 
CareerSherpa.net
 and loves helping people understand what actions they need to take to find a job faster. Her popular site and her US News and World Report column is a large part of being a nationally recognized expert.
Got comments about the show? Here's how:
– Call and leave a voicemail at 708-365-9822, or text your comments to the same number
– Go to 
TheVoiceofJobSeekers.com
, press the "Send Voicemail" button on the right side of your screen and leave a message
Here are highlights from our conversation:
Networking gives you advantages few get.
When you (the job seeker) are empower your job search, you avoid bad jobs, and your mentality gives you the competitive edge.
Nii Ato says job seekers are overwhelmed and not empowered.
Empowered job seekers choose companies rather than waiting to be selected.
Sarah mentions the email tool hunter.io to find hiring people's business email addresses and verify it. Also, she mentions Mailscoop.io.
We discussed the benefits of personal branding: how do you deliver, how you help others, and the help you offer.
We talked about the importance of brevity and how it produces effective communication.
Customize your message to different types of audiences.
Sarah discussed how MBA website programs are offering terrible resume samples. They are not achievement-based.
Sign up for my weekly newsletter at the top right of my page to receive free e-Guide, "320 Modern Job Search Tips for 2020!" This year, it will be free for a limited time.
I am the "The Voice of Job Seekers," career consultant, job seeker advocate, career writer, and founder of this award-winning blog. I help the employed, unemployed, underemployed, and under-appreciated find jobs using job search strategies to navigate the new job market. I aim to give a safe place online to those with different needs, cultures, and ethnicities to find their voice in the job market. Thousands have read my career advice throughout the web as I write about everything from job search strategies to the mobile job search. I have published more than 400 articles on this blog and some of the largest career sites such as Recruiter.com, YouTern, and Come Recommended. I've been quoted in major online publications such as Monster, TIME/Money, Fortune, Business Insider and MSN. FlexJobs, JobMonkey, Aerotek, Career Pivot, and CareerSherpa listed my podcast as one of the top podcasts to help your job search. Love for you to sign up for the weekly newsletter. I share the latest articles I've written, new podcast episodes, and answer any questions you may have. The new job search is scary and if you need help, I am here for it!