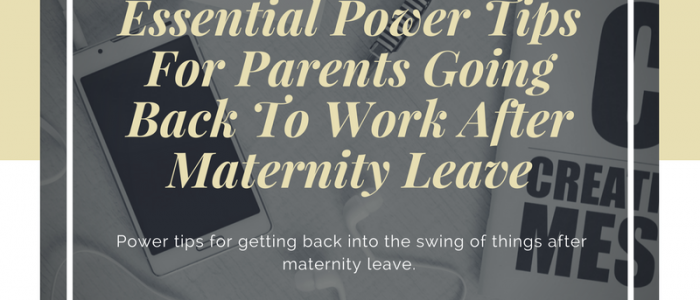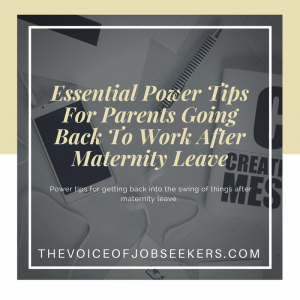 Leaving your little one at home is stressful enough without considering how the dynamics of your job may have changed while you were away on maternity leave. There are some things that you may experience or obstacles you may face, but being forewarned is the same as being forearmed. Here are some power tips for getting back into the swing of things after maternity leave.
Expect to be Distracted
Even if you found yourself looking forward to your return to work, you should expect your divided thoughts between the tasks at hand and your new baby at home. Your first day back at work will likely be one of the longest periods of time that you have been away from your child since his or her birth, and you can expect to have some feelings of anxiety about this. Some tips to cope with the separation:
Spend a day, or at least four hours, away from your little one before your first day back at work. Transitioning from maternity leave, this will help take the edge off of your first day when you'll likely have a mountain of work to get through and make your time at the office less stressful.
Be gentle with yourself! It is only natural to be concerned for your child, even when you know that they are perfectly safe. Remember that it will become easier to be away from your new infant, and this will happen quicker than you think.
Have your partner, babysitter or other caregiver send you regular updates via text message or email – whichever will be less intrusive to your work. For the first few days, you might even ask them to send pictures every hour on the hour. The constant communication and transparency keep your mind at ease during work when you know that an update will be coming through on a regular basis.
Prepare for Success at Home and Work
Juggling the demands of children with those of your job after maternity leave can seem like a Herculean task. Many women report that they always feel like they are falling short in one area of their life. These feelings are normal – it is impossible to be perfect at everything all of the time! That said, there are a few things you can do to set yourself up for success:
Adopt an organizational system. Between work and home life, you will likely have a million to-dos. Make your life easier by tracking them all in one place. Project management tools such as Asana and Todoist can be ideal for this. All you need to do is set up one project (or list) for childcare and other home items, and separate projects for your work tasks. Then set reminders, so you are sure to knock off all the things on you need to.
Prep anything you can the night before. Nothing is more stressful than packing snacks (or pumping milk) while trying to put yourself together, get your kids to the sitters, and get to work on time. For example, lay out clothes for yourself and your children the night before. You can also pack snacks, put everything you need to bring to work in your bag, and go over anything else that needs to get done.
Adopt a routine. Children respond well to routines, and it makes it easier for you to accomplish essential daily tasks too. Incorporate any self-care practices, teeth-brushing, breakfast and getting dressed – for you and your children – into one solid routine.
How to Deal with Feelings of Guilt
Sometimes, in addition to the separation anxiety that you may feel, you may experience guilt for not being there to care for your child yourself. This is a common experience for many new parents. When feelings of guilt creep up, it can be helpful to have a few go-to ready to change your thinking around working away from home:
You are setting a good example for being an independent woman with a career. There is evidence for daughters, in particular, they complete more years of education when their mothers work away from home.
Most babies have no problem staying at home with another caregiver. Of course, they feel a special bond with their mothers, but if needs are met, they will do perfectly fine with your sitter!
A meta-analysis study found that there are no behavioral complications or other issues introduced by maternal work outside of the home early in the lives of children.
Conclusion
With some extra planning, self-compassion and mindfulness, you can make the transition back to work and be even more productive than before
Amanda Sekulovska is the guest writer
Amanda is digital and social savvy and has a strong passion for the industry. She has experience in developing and working towards digital strategies to optimize business and brand objectives through a combination of digital platforms and tools, social media channels and owned assets. Currently a Digital Marketing Coordinator at Launch Recruitment, Amanda is responsible for brand association and engagement, social media management and advertising, content creation and curation, owned media asset development, strategy, analytics
I am the "The Voice of Job Seekers!" I offer compassionate career and job search advice as I hack and re-imagine the job search process. You need to be "the prescription to an employer's job description." You must be solution-oriented and work in positions in companies where you are the remedy. Your job search must be a lifestyle, and your career must be in front of you constantly. You can no longer shed your aspirations at the change seasons. There are strengths you have that need constant use and development. Be sure you sign up to download my E-Book, "421 Modern Job Search Tips 2021!" You can find my career advice and work in media outlets such as Forbes, Inc., Fast Company, Harvard Business Review, Glassdoor, and many other outlets.