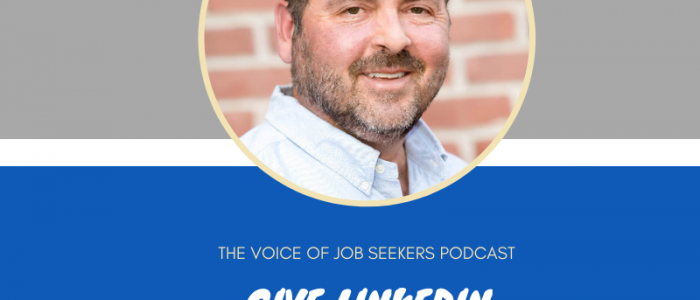 Podcast: Play in new window | Download | Embed
Subscribe: Apple Podcasts | Android | RSS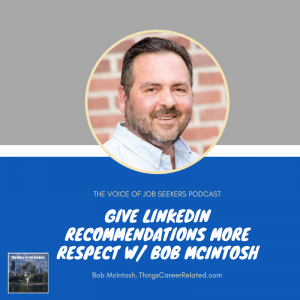 Linkedin recommendations are not featured as it used to be. It's near the bottom of your Linkedin profile now. Bob
McIntosh, 
the purveyor of all things LinkedIn for job seekers, is back on the show to discuss Linkedin recommendations.
You are more than welcome to join the discussion. Here are three ways you can:
– Call and leave a voicemail at 708-365-9822, or text your comments to the same number
– Go to TheVoiceofJobSeekers.com, press the "Send Voicemail" button on the right side of your screen and leave a message
– Send email feedback to mark@thevoiceofjobseekers.com
Here's more information about 

Bob

 

McIntosh

:
Bob
 is the founder of Things Career Related blog. He has robust information on LinkedIn, interviewing, and introverts. He works for the Career Center of Lowell as a Career Strategist, LinkedIn Trainer, Workshop Facilitator, and a LinkedIn Profile and Resume Consultant.
Here are highlights from our discussion: 
Linkedin all-star status once required recommendations, but skill endorsements replaced it. Endorsements ramped up the activity. See Bob's article about recommendations
Recommendations weren't moving fast enough, but endorsements were easy to do
Recommendations could be the new referral – contingent on witnessing the reason
Recommendations shown builds the trust
Comment is more of engagement than a "Like."
Sections used to be movable within the profile
The writing should be error-free (reflects the writer and the profile)
Nothing wrong with writing the recommendation, get approval from the recommender
You don't have to display all of your recommendations
How many recommendations is enough
Recommendations are no longer associated with the company
Use my contact information above to inquire about individual or group coaching. Or leave a message anytime on the "send voicemail" button on the side of any page of my blog.
You can also sign up for my weekly newsletter at the top right of my page to be on the early list of my free e-Guide, "219 Modern Job Search Tips for 2019" to be sent to subscribers the third week of October!
I am the "The Voice of Job Seekers," career consultant, job seeker advocate, career writer, and founder of this award-winning blog. I help the employed, unemployed, underemployed, and under-appreciated find jobs using job search strategies to navigate the new job market. I aim to give a safe place online to those with different needs, cultures, and ethnicities to find their voice in the job market. Thousands have read my career advice throughout the web as I write about everything from job search strategies to the mobile job search. I have published more than 400 articles on this blog and some of the largest career sites such as Recruiter.com, YouTern, and Come Recommended. I've been quoted in major online publications such as Monster, TIME/Money, Fortune, Business Insider and MSN. FlexJobs, JobMonkey, Aerotek, Career Pivot, and CareerSherpa listed my podcast as one of the top podcasts to help your job search. Love for you to sign up for the weekly newsletter. I share the latest articles I've written, new podcast episodes, and answer any questions you may have. The new job search is scary and if you need help, I am here for it!