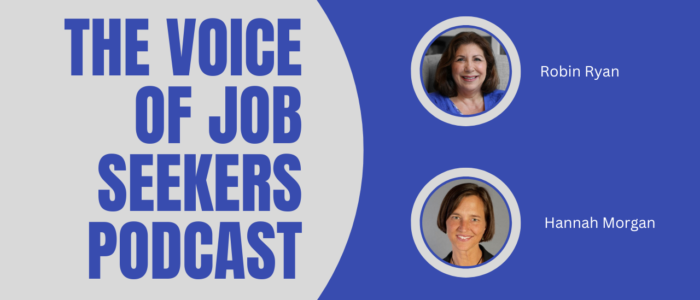 Podcast: Play in new window | Download | Embed
Subscribe: Apple Podcasts | RSS
Happy New Year!! I hope all is well in your world. For the past few years, including this one, I have been presenting a show with a panel to discuss the new year's trends with Hannah Morgan and Robin Ryan.
Hannah Morgan is the founder of CareerSherpa.net and loves helping people understand what actions they need to take to find a job faster. She is a speaker, trainer, and nationally recognized expert.
Robin Ryan is Wall Street Journal's best-selling author and has contributed her expertise to media outlets more than 3,000 times. She is a current Forbes Career Contributor, leading webinars and helping clients.
Here are highlights of our discussion:
Washington State just announced their law requiring companies to post the job and salary range. Will this continue to trend upward?
Pay Transparency
Can we finally put to be the "Quiet-Quitting" narrative in 2023?
Do layoffs in one industry affect other industries?
Layoff preparation.
Employers are looking at promotions more seriously and as an alternative to finding new talent.
Flexible work arrangements and their impact.
Job seekers will need to market themselves more strategically.
What makes a job-seeker stand out today and in the future?
LinkedIn is a necessity, but any platform will go away. Websites and about.me are ways to sustain online visibility.
Networking is a staple in your job search strategy.
You are more than welcome to join the discussion. Here are three ways you can:
– Call and leave a voicemail at 708-365-9822, or text your comments to the same number
– Go to TheVoiceofJobSeekers.com, press the "Send Voicemail" button on the right side of your screen and leave a message
– Send email feedback to mark@thevoiceofjobseekers.com
I am the "The Voice of Job Seekers!" I offer compassionate career and job search advice as I hack and re-imagine the job search process. You need to be "the prescription to an employer's job description." You must be solution-oriented and work in positions in companies where you are the remedy. Your job search must be a lifestyle, and your career must be in front of you constantly. You can no longer shed your aspirations at the change seasons. There are strengths you have that need constant use and development. Be sure you sign up to download my E-Book, "421 Modern Job Search Tips 2021!" You can find my career advice and work in media outlets such as Forbes, Inc., Fast Company, Harvard Business Review, Glassdoor, and many other outlets.