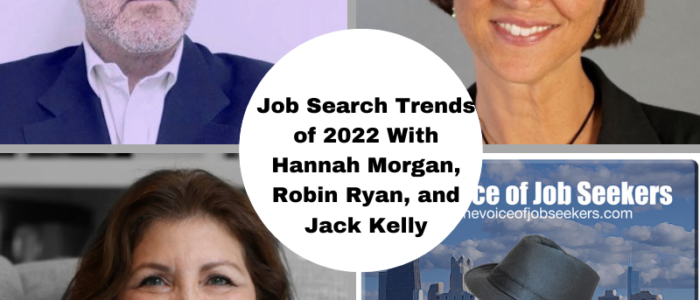 Podcast: Play in new window | Download | Embed
Subscribe: Apple Podcasts | RSS
Every year, I gather career experts who offer their take on the following year in the job search. Jack Kelly, Robin Ryan, Hannah Morgan, and I dive deep into trends that may change your approach to your efforts. This show will offer predictions, but more importantly, practical actions you can use.
You are more than welcome to join the discussion. Here are three ways you can:
– Call and leave a voicemail at 708-365-9822, or text your comments to the same number
– Go to TheVoiceofJobSeekers.com, press the "Send Voicemail" button on the right side of your screen and leave a message
– Send email feedback to mark@thevoiceofjobseekers.com
More about today's guests:
Hannah Morgan is the founder of CareerSherpa.net and loves helping people understand what actions they need to take to find a job faster. She is also a US News and World Report contributor and a nationally recognized expert.
Robin Ryan is Wall Street Journal best-selling author and has contributed her expertise to media outlets more than 3,000 times. She is a current Forbes Career Contributor in addition to leading webinars and helping clients.
Jack Kelly is a Compliance Recruiter, entrepreneur, CEO of WeCruitr.io, and Forbes Senior Careers Contributor. He talks a lot about the Future of Work, especially regarding job search. Jack and I co-host #JobSeekerNation, our live stream show.
Show highlights:
Companies are declaring that they don't want resumes anymore. Jack clarified that one company wants to get rid of resumes only to write it their way.
Some companies eliminated some of their criteria to hire quicker for the holiday rush.
Robin's point: Although mastering how to come across on video is essential, many people, including C-Suite candidates, are terrible at it.
Hannah's point: Recruiters are super overwhelmed. The hiring process is not getting faster but is slowing down. And if they have a lot of jobs to fill, they have to reinvent, make the process different.
Jack's point: For job seekers and people who work, they're going to gravitate to the ones I think most want to be respected, appreciated, and valued. And so they're going to go in that direction.
Companies can no longer separate their management style from prioritizing connection with employees.
Listening is the operative word, and that's the one thing companies should do and be responsive to. Don't be passive on these things as you're just trying to appease, to get people to open up. You think that's going to be the magic wand, and it doesn't work that way.
I am the "The Voice of Job Seekers!" I offer compassionate career and job search advice as I hack and re-imagine the job search process. You need to be "the prescription to an employer's job description." You must be solution-oriented and work in positions in companies where you are the remedy. Your job search must be a lifestyle, and your career must be in front of you constantly. You can no longer shed your aspirations at the change seasons. There are strengths you have that need constant use and development. Be sure you sign up to download my E-Book, "421 Modern Job Search Tips 2021!" You can find my career advice and work in media outlets such as Forbes, Inc., Fast Company, Harvard Business Review, Glassdoor, and many other outlets.