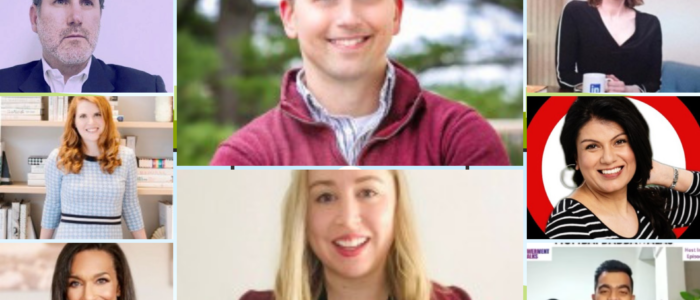 Podcast: Play in new window | Download | Embed
Subscribe: Apple Podcasts | RSS
Throughout the pandemic, I did a few guest podcast appearances, spoke a few times at events, co-host two live stream shows (well over 30 shows), and a lot of writing. My mission is clear: Help as many job seekers find jobs. I want to share part of this journey with you as the job search is constantly changing without an end in sight.
But, as far as "The Voice of Job Seekers," I will be on hiatus until Sept 12.
I decided to publish a montage of my appearances on podcasts and live streams.
If you like my message and mission, sign up for the free e-book, and join the secret Facebook group and the Saturday meet-up. But you can only participate in the FREE meet-up if you sign up for the e-book (oh yeah, you get a newsletter, too).
Here are the shows and the links where you can listen or view the entire show so that you'll hear the shows (the pictures above are not in order):
Hilary Sutton
podcast: Hustle & Grace
Episode: How to Make a Job Transition in 2021 with Careers Expert Mark Anthony Dyson
Host: Jack Kelly
podcast: WeCruitr podcast
Host: Dr. Pawan Argawal
Live stream: Empowerment Talks
Episode: 13 Strategies To Get The Most Out Of Your Salary Negotiation by Mark Anthony Dyson
Host: Sonal Bahl
Live stream: Supercharge Friday
Episode: Modern ways to supercharge your job search & career and Q&A with Mark Anthony Dyson
Host: Brad Minton
Podcast: Your GPS Career
Go to: Your GPS Career 
Host: Monique Betty
Podcast: Tuesdays With Coach Mo
Episode: Job Search: It's Not an Event, It's a Lifestyle
Dr. Dawn Grahm
Podcast: Dr. Dawn on Careers
Episode: Making the Job Search a Lifestyle 
My name is Mark Anthony Dyson, and I am the Founder of The Voice of Job Seekers. I am a career advice writer, but more importantly, I hack and re-imagine the job search process.. I've worked with hundreds of job seekers one-on-one helping them to construct a narrative and strategy that appeals to hiring managers and recruiters. I present at colleges and organizations, and facilitated many workshops including my volunteer effort through a Job Lab. I write and create useful job search content on this blog and write career and workplace advice for blogs such as Glassdoor, Payscale, Job-Hunt.org, Prezi and more. Media Feature highlights: Forbes, Business Insider, NBC News, Glassdoor, LinkedIn's #GetHired, and NPR Freelance writer and content contributor: Glassdoor, Payscale, job-hunt.org, The Financial Diet, RippleMatch.com and more. Contact me to contribute career, job search, or workplace advice for your site at markanthonydyson@gmail.com.