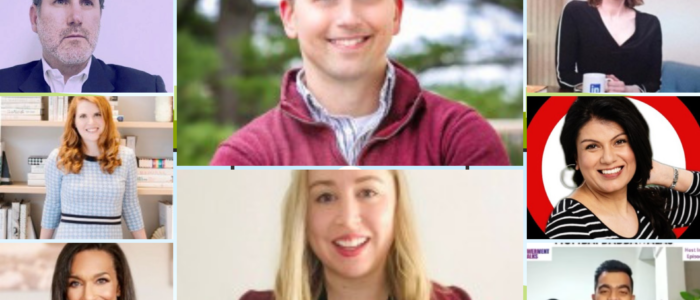 Podcast: Play in new window | Download | Embed
Subscribe: Apple Podcasts | RSS
Throughout the pandemic, I did a few guest podcast appearances, spoke a few times at events, co-host two live stream shows (well over 30 shows), and a lot of writing. My mission is clear: Help as many job seekers find jobs. I want to share part of this journey with you as the job search is constantly changing without an end in sight.
But, as far as "The Voice of Job Seekers," I will be on hiatus until Sept 12.
I decided to publish a montage of my appearances on podcasts and live streams.
If you like my message and mission, sign up for the free e-book, and join the secret Facebook group and the Saturday meet-up. But you can only participate in the FREE meet-up if you sign up for the e-book (oh yeah, you get a newsletter, too).
Here are the shows and the links where you can listen or view the entire show so that you'll hear the shows (the pictures above are not in order):
Hilary Sutton
podcast: Hustle & Grace
Episode: How to Make a Job Transition in 2021 with Careers Expert Mark Anthony Dyson
Host: Jack Kelly
podcast: WeCruitr podcast
Host: Dr. Pawan Argawal
Live stream: Empowerment Talks
Episode: 13 Strategies To Get The Most Out Of Your Salary Negotiation by Mark Anthony Dyson
Host: Sonal Bahl
Live stream: Supercharge Friday
Episode: Modern ways to supercharge your job search & career and Q&A with Mark Anthony Dyson
Host: Brad Minton
Podcast: Your GPS Career
Go to: Your GPS Career 
Host: Monique Betty
Podcast: Tuesdays With Coach Mo
Episode: Job Search: It's Not an Event, It's a Lifestyle
Dr. Dawn Grahm
Podcast: Dr. Dawn on Careers
Episode: Making the Job Search a Lifestyle 
I am the "The Voice of Job Seekers!" I offer compassionate career and job search advice as I hack and re-imagine the job search process. You need to be "the prescription to an employer's job description." You must be solution-oriented and work in positions in companies where you are the remedy. Your job search must be a lifestyle, and your career must be in front of you constantly. You can no longer shed your aspirations at the change seasons. There are strengths you have that need constant use and development. Be sure you sign up to download my E-Book, "421 Modern Job Search Tips 2021!" You can find my career advice and work in media outlets such as Forbes, Inc., Fast Company, Harvard Business Review, Glassdoor, and many other outlets.