Podcast: Play in new window | Download | Embed
Subscribe: Apple Podcasts | RSS

Welcome back to "The Voice of Job Seekers" podcast, this is Mark, your host of the show. I'm grateful you decided to listen to this episode. This is a solo edition of the podcast where I will lend my views in some areas where your job search possibly needs help. I would love to hear your thoughts, opinions, and ideas on this show. Here's how:
1) Leave a voice mail or text message at 708-365-9822. Let me know if I can share it on future shows
2) Email me: mark@thevoiceofjobseekers.com
3) Go to TheVoiceofJobSeekers.com and press the "Send Voicemail" button to leave a message online
You can do this on your phone, right now, if you want. All of this is set up so you'll have the most convenient access possible.
Announcements
I will be taking a short spring break and time to celebrate 25 years with my wife, so I won't publish another show until March 29.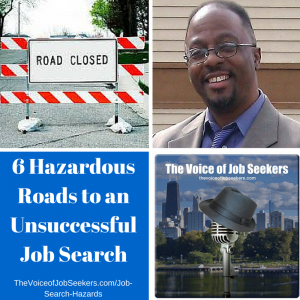 6 Hazardous Roads to an Unsuccessful Job Search
1. The rough road
You are not finishing anything completely to anyone's satisfaction. You read job search advice but rarely follow through completely. Then you go to someone who you respect saying you have tried everything. Your resume, cover letter, and other necessary marketing materials are done, but what about your social profiles, LinkedIn profile, or other efforts completing your branding? Why are they incomplete? LinkedIn picture? Other profiles incomplete? How about your networking efforts? Are you having great conversations? You get the point. You know what happens when you go down a road needing paving? Your car gets damaged in more ways than one. The same will happen in your job search when it's incomplete. Your job search efforts could be easier if you don't finish strong.
2. The long unwinding road
Did you know your references can sabotage your job search efforts? Are you sure that the people you have listed as references can speak to your competencies? You must know there are areas that your references can speak in your favor. Do you know what they will say? A few months ago, a client got the interview, completed the entire process until her reference check process didn't pan out. The interviewer knew (or, at least, had familiarity) with her boss, and asked about her. Her boss replied, "She can't be trusted!" Of course, my client was devastated but understand this could go on if you are not sure what your references will say. If they can't speak positively, it will be viewed negatively. Know what your references will say and avoid this road that will never end.
3. You underestimated how where the road leads
YOU UNDERESTIMATED THE DEPTH OF BACKGROUND CHECKS.I had a client who lied to me about her job situation but didn't know I knew the truth at the time. I recommended her to a friend who interviewed her, impressed by her, but the FBI background check was problematic. Not that they were able to verify what was wrong other than many other things that were unverifiable. This grey line is the road you don't know where it leads. I include a link to a report on the blog on background checks. You should know what each job you leave will say about you. This unnecessarily lengthens your job search and undermine your efforts if your former employer is unfavorably confirming employment. Now many companies today take the position of not giving much information at all. Don't assume your old employer is among them. Call the ones you're relying on to confirm employment. Ask them what are saying? If you're getting ready to leave or more importantly, terminated, how will the employer communicate it. In many cases, you can negotiate or request to just confirm employment. I know there different thoughts on it, but I have had two clients in particular who went and asked the verbiage to change.
4. The indecisive road
You don't know where to go. Sometimes, you quit or claim some type of moratorium.
5. This road went out of your way. You ignored the detour signs
Many job seekers don't sell themselves well during their job search, although there is a slight anomaly if you don't know what you're best looks like. You never thought about it. Or, in some cases, someone told you, and it's not what you wanted to hear. If you are unsure of your best features, then look at your old performance reviews, ask others who worked with you, or take strength assessments. Starting there will trigger other areas that you excel, then you'll be crystal clear what you can contribute.
6. The road only you know
No response to your requests for help because you offer no value. Are you the same person that keeps saying that my network sucks? You don't give, share, or interact! Like a road no one knows where to find it, it's a single route you keep to yourself. Networking shouldn't be an occasional event in your life; it warrants a lifestyle. The road only you know means several hazards within itself:
You can't re-route right away. It's likely you'll not find someone right away to redirect you
Maps have hesitations. A landmark 's hard to spot on a map.
You don't know the conditions of the road. It helps, to know the terms of the market you seek a career in
You get lost and don't ask directions, or you don't admit being lost
Need help with your career goals, directions, or efforts? Do you need coaching or instruction? I am here for it!Also, join our Linkedin community! You'll enjoy some of the insights shared by community members and other career pros!
I would still like to help self-published career professionals promote their books. If you're interested, find more info here.
For the first time in 1 1/2 years, I am opening to career professionals to write guest articles. If you're interested, you can go here for further topics and directions to submit.
I am the "The Voice of Job Seekers!" I offer compassionate career and job search advice as I hack and re-imagine the job search process. You need to be "the prescription to an employer's job description." You must be solution-oriented and work in positions in companies where you are the remedy. Your job search must be a lifestyle, and your career must be in front of you constantly. You can no longer shed your aspirations at the change seasons. There are strengths you have that need constant use and development. Be sure you sign up to download my E-Book, "421 Modern Job Search Tips 2021!" You can find my career advice and work in media outlets such as Forbes, Inc., Fast Company, Harvard Business Review, Glassdoor, and many other outlets.