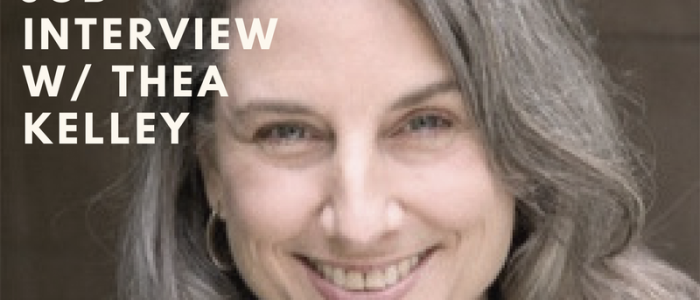 Podcast: Play in new window | Download | Embed
Subscribe: Apple Podcasts | RSS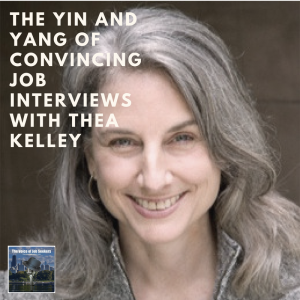 Welcome back to the fall edition of the podcast. Thank you for joining us as we'll have about eight episodes to deliver this fall plus a few bonus episodes.
My guest is Thea Kelley who wrote the book, Get That Job! The Quick and Complete Guide to a Winning Interview, called "Excellent" in a Forbes article. I love we discuss the importance of preparation, realness, and relaxed for a job interview.
How do you prepare for interviews? What is your mindset?
I would love to hear your thoughts about job interviews in one of three ways:
Call and leave a voicemail at 708-365-9822, or text your comments to the same number
Go to TheVoiceofJobSeekers.com, press the "Send Voicemail" button and leave a message
Send email feedback to 

[email protected]
Here more about Thea's background: 
She is a certified resume writer, job search and interview coach, and author. For years, she relieves stress from the interview process for clients. Here are some highlights of our discussion:
Being real and authentic comes through if your preparation shows in your answers.
It doesn't hurt to add a little humor to diffuse nervousness from both sides. A connection to the person you interview with is an important part of being memorable.
Keep in mind the interview wants to picture you working with them daily. Be relatable.
Using relaxation techniques are also a good way to relieve nervousness. Athletes who make millions of dollars use these techniques regularly
We discuss the importance of storytelling and how it adds to the authenticity. No one likes interrogation from either side of the interview.
Hear where Thea shares her three ways be real, relatable, and credible with stories
Do you need coaching or instruction?
I am here for it! Use my contact information above to inquire about individual or group coaching. You can also sign up for my weekly newsletter at the top of my page.
I am the "The Voice of Job Seekers!" I offer compassionate career and job search advice as I hack and re-imagine the job search process. You need to be "the prescription to an employer's job description." You must be solution-oriented and work in positions in companies where you are the remedy. Your job search must be a lifestyle, and your career must be in front of you constantly. You can no longer shed your aspirations at the change seasons. There are strengths you have that need constant use and development. Be sure you sign up to download my E-Book, "421 Modern Job Search Tips 2021!" You can find my career advice and work in media outlets such as Forbes, Inc., Fast Company, Harvard Business Review, Glassdoor, and many other outlets.