Podcast: Play in new window | Download | Embed
Subscribe: Apple Podcasts | RSS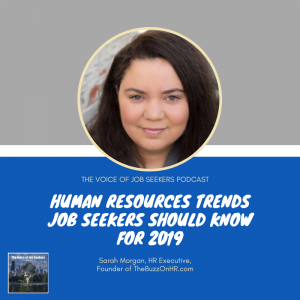 It's good to know what Human Resources is thinking during the interview process. That's why I brought HR Executive and expert Sarah Morgan to the show. She is also the founder of the fantastic blog,
The Buzz on HR
!
Got comments about the show? Here's how: 
– Call and leave a voicemail at 708-365-9822, or text your comments to the same number
– Go to 
TheVoiceofJobSeekers.com
, press the "Send Voicemail" button on the right side of your screen and leave a message
Here's more about Sarah Morgan: 
Sarah is an HR executive with a small company in North Carolina. She oversees the full team functions of the Human Resources department for her company. She manages the hiring process including recruiters and people who do the hiring.
Sarah has been featured in Black Enterprise, Computerworld, and Fortune. Her blog is one of the Human Resources most respected blogs.
Here are some highlights from our conversation:
Sarah said, "…it is appropriate to do a little loving social media stalking and build a natural rapport."

Relationship building is the name of the game now. How we look for jobs needs to evolve and relationships built (before you need it) is the way to go

Asking for the hook-up lacks authenticity if that is the way you start a relationship

Sarah offers some examples of how people have connected with her and her company

We discuss how to break into the Human Resources profession

Aspiring HR professionals need to get experience and be creative in "creating space."

"Persistence is necessary. Recruiters and hiring managers tend to be juggling lots of requisitions…Likely their time is spread out."

Follow-up is a must. Ask for a timeline to when you should call back for updates.

Thank you notes are essential – all panel interview participants should get a note
If you haven't signed up for my email list to get my free eGuide, 219 Easy Modern Job Search Tips for 2019, then you can get it 
immediately here
! You can also get up-to-date job search tips through this newsletter!
I am the "The Voice of Job Seekers!" I offer compassionate career and job search advice as I hack and re-imagine the job search process. You need to be "the prescription to an employer's job description." You must be solution-oriented and work in positions in companies where you are the remedy. Your job search must be a lifestyle, and your career must be in front of you constantly. You can no longer shed your aspirations at the change seasons. There are strengths you have that need constant use and development. Be sure you sign up to download my E-Book, "421 Modern Job Search Tips 2021!" You can find my career advice and work in media outlets such as Forbes, Inc., Fast Company, Harvard Business Review, Glassdoor, and many other outlets.