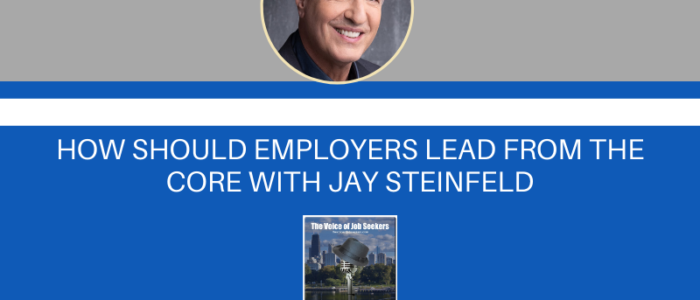 Podcast: Play in new window | Download | Embed
Subscribe: Apple Podcasts | RSS
In my featured conversation, Jay Steinfeld, author of "How to Lead From The Core," states why expressing yourself is a lead core value in his leadership, "I'm happy to express myself. It's one of my three core values to express yourself. And that means to be honest and authentic and say exactly what's on your mind as long as you are respectful."
Also, on today's show, I'll feature conversations I had with Jeff Altman on his podcast, "No B.S. Job Search Advice," and with Rhona Barnett-Pierce on my live stream show, "The Modern Job Search Checklist."
You are more than welcome to join the discussion. Here are three ways you can:
– Call and leave a voicemail at 708-365-9822, or text your comments to the same number
– Go to TheVoiceofJobSeekers.com, press the "Send Voicemail" button on the right side of your screen and leave a message
– Send email feedback to mark@thevoiceofjobseekers.com
Here's more about Jay:
Jay Steinfeld, the author of
Lead From The Core: The 4 Principles for Profit and Prosperity
, is joining me on "The Voice of Job Seekers LIVE." His company
Blinds.com
was the world's largest e-commerce site until he sold it to Home Depot. He's an Inc. Magazine online contributor and Entrepreneur-in-Residence at Rice University's Jones Graduate School of Business.
Here are highlights from our discussion:
As long you're respectful, self-expression is essential and part of Jay's three core values
"If they don't give you that voice if they don't give you the opportunity to say what you want. Then you're going to look elsewhere because they don't respect you. "
If you're transient and move from place to place, consider your network to help you find opportunities.
You will have more fun working for an employer whose core values align with yours.
"The missions can change the direction that you go can change. But the core values, don't the core values stay true because they are core. That's what drives your behavior."
Jay says that servant leadership is to make that decision and to provide whatever tools, money, support, technology, processes, and capital allocation to make sure that that happens. If you say you will but won't, the work won't happen.
If you make emotional and trust deposits, you can make withdrawals as a leader.
I will publish the last episode on May 10. The final episode for this season will be a montage of the best quotes, interviews, and job-search advice from the year.
I am the "The Voice of Job Seekers!" I offer compassionate career and job search advice as I hack and re-imagine the job search process. You need to be "the prescription to an employer's job description." You must be solution-oriented and work in positions in companies where you are the remedy. Your job search must be a lifestyle, and your career must be in front of you constantly. You can no longer shed your aspirations at the change seasons. There are strengths you have that need constant use and development. Be sure you sign up to download my E-Book, "421 Modern Job Search Tips 2021!" You can find my career advice and work in media outlets such as Forbes, Inc., Fast Company, Harvard Business Review, Glassdoor, and many other outlets.