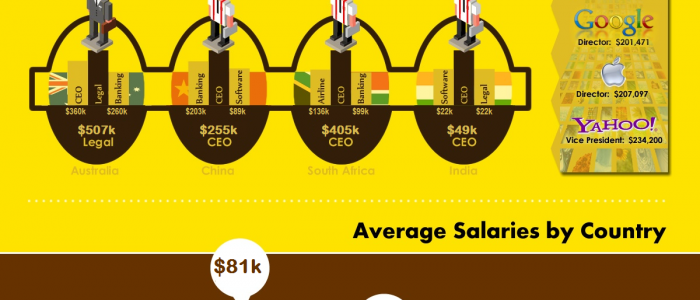 What are similar careers in the international job market pay in comparison to America? Although, the below infographic is not a complete scope of high paying jobs, it does offer perspective to what are some of the high paying jobs overseas.
Having a high paying job is the dream, but you may find the realities and worldwide statistics surprising. We explore which career areas pay the best, look at pay disparities on a global scale and look at which high-paying jobs come at a price.
The infographic below offers a wide range of possibilities if you're deciding on a career with a six figure salary.
Healthcare/STEM International Careers
Careers in the medical sector with salaries reaching as high as $682,704.83. While doctors and medical specialists lead the field in high salaries are followed closely by the Directors and CEOs, who take in around $675,894.80 per annum.
Some scientists could earn up to $255,375.87 yearly. The only area that isn't in six figures in our top eight are those in government, who earn approximately $158,333.04 per annum.
Listen to The Canada Job Hunt, and Can You Ignore Facebook for Your Job Search
Banking International Careers
If you're lucky enough to snag a high-paying career in the banking sector you can expect to earn $597,579.54, while highly paid workers in the legal sector earn approximately $514,156.75early.
Others International Careers to Consider
High-paid software engineers follow closely behind with $403,493.88 per annum, and highest paid airline pilots and executives earn around $340,501.16 a year.
While these are worldwide figures, each individual country differs on who pays the best. In the UK those in the banking sector top the pile, while medical practitioners are the most highly paid sectors in the United States.
In France you'll earn the most if you are a CEO of a successful company, similarly in German this is the best field to move into if you want to be a highly paid worker. In Australia a career in the legal profession is your best bet to top the highest paid list, while in China, South Africa and India is a CEO is the best way to earn big money.
Written by:  http://www.brightonsbm.com

I am the "The Voice of Job Seekers!" I offer compassionate career and job search advice as I hack and re-imagine the job search process. You need to be "the prescription to an employer's job description." You must be solution-oriented and work in positions in companies where you are the remedy. Your job search must be a lifestyle, and your career must be in front of you constantly. You can no longer shed your aspirations at the change seasons. There are strengths you have that need constant use and development. Be sure you sign up to download my E-Book, "421 Modern Job Search Tips 2021!" You can find my career advice and work in media outlets such as Forbes, Inc., Fast Company, Harvard Business Review, Glassdoor, and many other outlets.