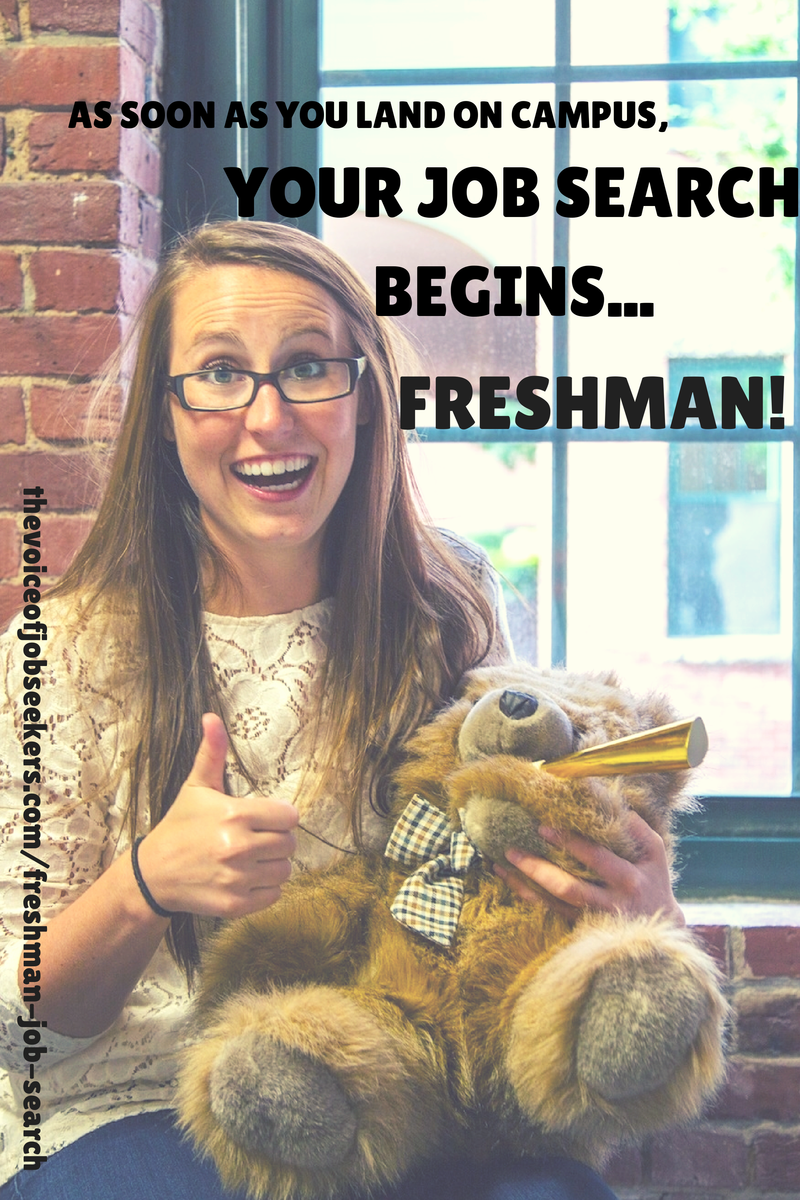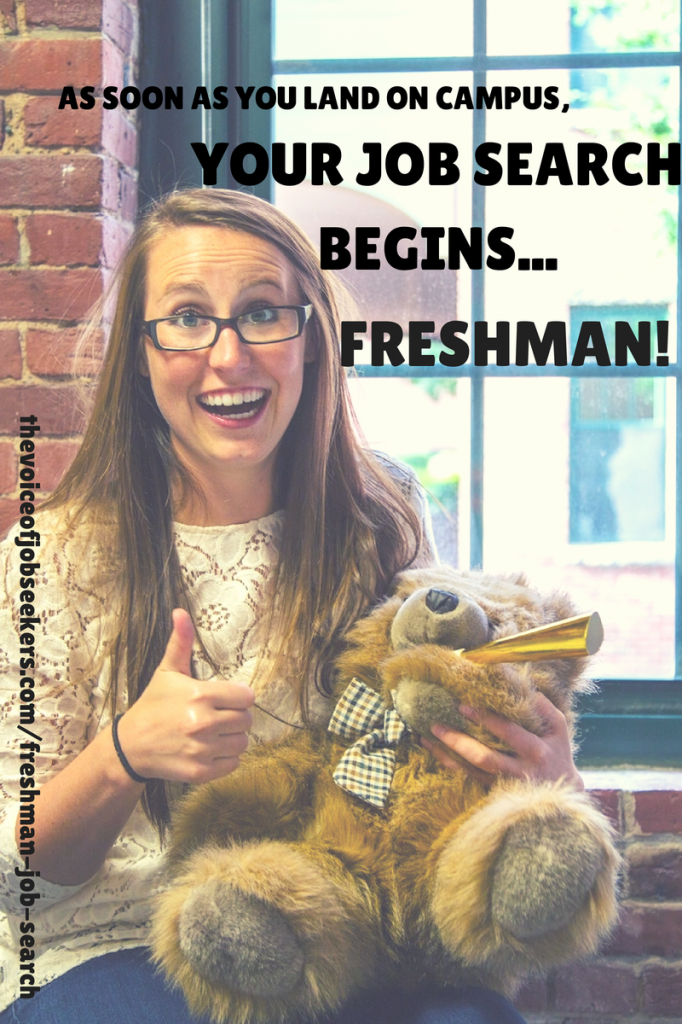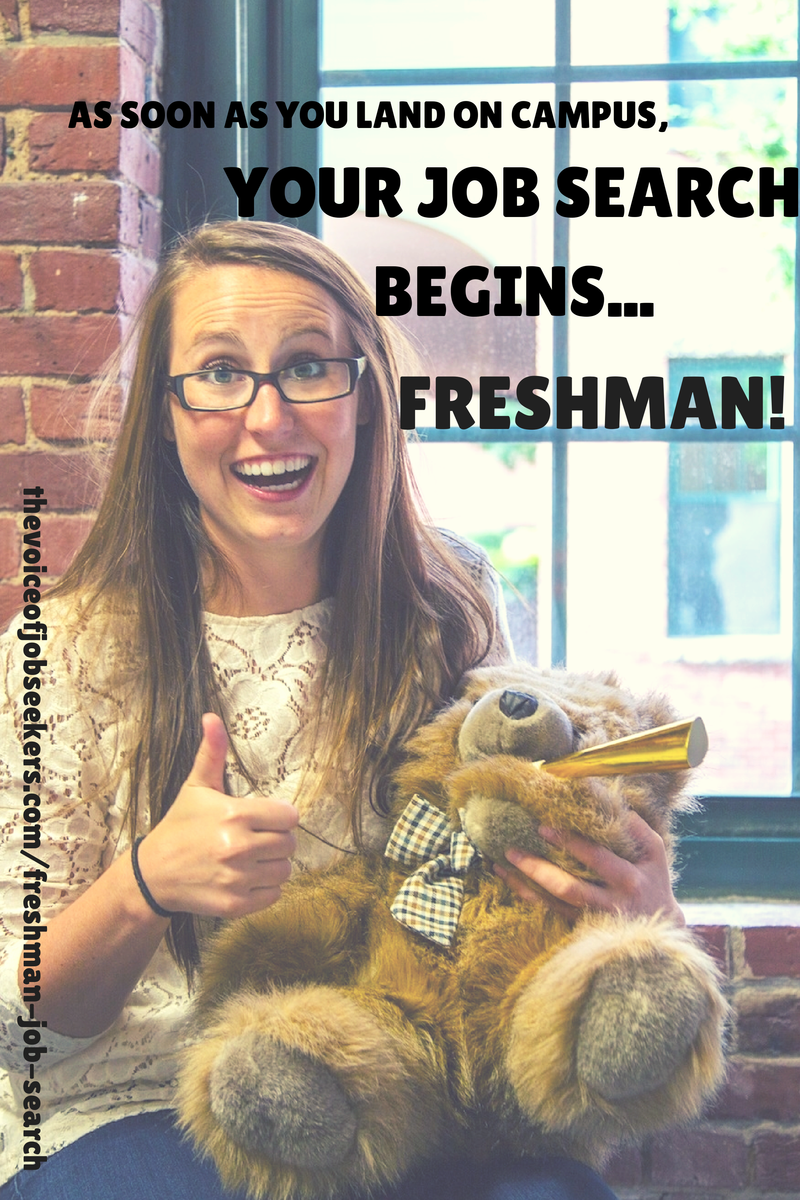 You own your own job search. With or without education, learning this job search thing is yours to master. There are many tools you'll have access to and hopefully will use in your next four or more years.
Meanwhile, students do not exercise the awareness needed until late junior or senior year, if then. I know I hear too many stories of parents angrily paying for career coaching for their child way after paying for college education. If you are a college freshman, I understand that you're in the honeymoon stage of freedom. But it gets real closer to graduation especially if the parental units have clearly stated that they no longer can carry you after graduation.
So you, the college freshman, need many things before you take the stage in four to six years or longer.  A career roadmap tool sheet would help, but I have truncated it for you here. Pick up and master these ideas, principles, strategies, and thoughts below:
Use college coursework to gain experience in projects and project management. Much of this could be used on a resume to obtain internships, and paving your way to a career. Coursework is useful as work experience if you can't work during the school year. So is volunteering 10 hours-a-week is so valuable. Don't underestimate the experience for your future.
Look to use summers for

internship

starting after the

freshman

year, and perhaps during the freshman year. A good place to start is with virtual internships through the government. They are 100% virtual allowing student flexibility during the year. Although these positions are unpaid, the project experience is invaluable.
Use the internships to hone strong verbal and written communication skills. There are opportunities for blogging and reporting that transfer to other professions.
Accept the challenges to assess, organize, and disseminate large amounts of information. Quantify and qualify results demonstrating accountability, skill, and responsibility. A resume with results ($ and %) catches the eyes of employers and help a student stand out.
Research

organizations thoroughly

and target companies. Not only a student should know his or her major, but also target the companies he or she wants to work for.
Companies want soft skills. Demonstrate soft skills such as flexibility, organizational, and customer service. These are a few of the transferable skills that add value to any

candidate right

out of college
Try a disruptive approach. At any level, a student or graduate should look past an older co-worker when he or she says, "This is just the way we do it." Look for

ways to show new

ways of applied knowledge
Back to #2, and think in terms of learning how to collaborate virtually . Business lines transcend borders and waters so bring that experience or at least exploring it shows that you have a global perspective. Perhaps that challenge won't be as difficult when you graduate. Then again, Skype is more than 10 years now, and companies are still afraid.
Students should spend the time gaining and displaying experience in connecting with co-workers and customers in a socially and emotionally intelligent way. Relating and communicating successfully to different ethnic cultures  are so important in truly having a global perspective. Emotional intelligence is important to connect with people because you are looking at walking in your customer or coworker's shoes.
The strongest tool a student can build is a professional network of students, mentors, professionals in  their field, and faculty. The next few years will bring more opportunities to work as independent contractors (or 1099 employees). A strong network will bring nearly endless job offers and opportunities as long as their network

are

relevant to his or her field.
There are so much more to learn, than I have time to write. But this is a once in a lifetime opportunity to look, try new things, make mistakes while very few are looking or care. My oldest son has had nine jobs from his junior year in high school to the beginning of his junior year in college. Only one of them he has been fired. He has learned how to present himself in a very professional way that is convincing and compelling.
Those are the things I couldn't teach him.
My name is Mark Anthony Dyson, and I am the Founder of The Voice of Job Seekers. I am a career advice writer, but more importantly, I hack and re-imagine the job search process.. I've worked with hundreds of job seekers one-on-one helping them to construct a narrative and strategy that appeals to hiring managers and recruiters. I present at colleges and organizations, and facilitated many workshops including my volunteer effort through a Job Lab. I write and create useful job search content on this blog and write career and workplace advice for blogs such as Glassdoor, Payscale, Job-Hunt.org, Prezi and more. Media Feature highlights: Forbes, Business Insider, NBC News, Glassdoor, LinkedIn's #GetHired, and NPR Freelance writer and content contributor: Glassdoor, Payscale, job-hunt.org, The Financial Diet, RippleMatch.com and more. Contact me to contribute career, job search, or workplace advice for your site at markanthonydyson@gmail.com.