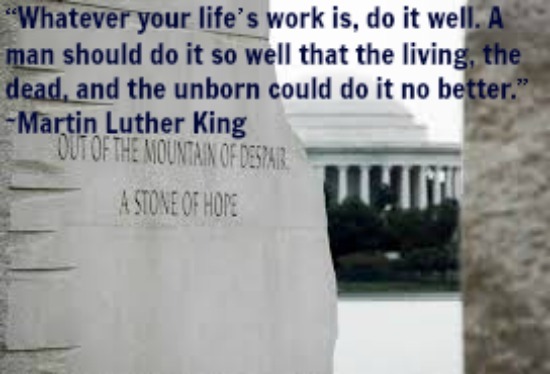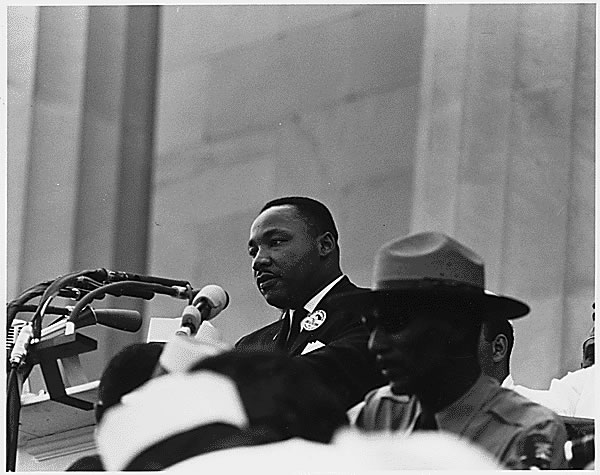 There is no man who Americans celebrate more who is not a President nor a Military hero as widely and prominently as Dr. Martin Luther King. He is quoted and heralded in many facets of American life in ways that shapes our faith and beliefs. Truly Dr. King is still a polarizing figure, and one that many people find moral and racial differences in what did and what he represents.
Job Seekers are generally looking for inspiration from many different sources, and Dr. King offers wisdom that inspire steadfastness in a difficult job search.
1. Answer questions directly, thoroughly, and with temperance. We're not talking about interviews, but generally conversations. People will inquire of you in an unkind, not so cordial manner, and you must ignore the behavior that may otherwise drive you crazy. Even when people in a business setting may not say "hello," "good morning," or "good evening."
Dr. King exemplified temperance in everyway, and trained people that marched with him the same way. People who marched were trained to respond non-violently where they were the object of hostility, violence, and hatred. In the same way, train yourself for adverse reactions through rejection. Sometime strange interview questions are given to test your reaction.
2. Dr. King had unswerving focus. If you never read "A Letter from the Birmingham Jail," then you will never know how to tactfully thwart haters and take a stand without being personal in your response. During your job search, people will give you bad advice about finding a job. It is likely antiquated advice that doesn't apply anymore. Dr. King's response to a bunch of his peers asking him to stop his marches was generally, a resounding, "NO!" He just didn't tell them no, but examined and disseminated his reasoning soundly and profoundly.
3. Constantly collaborated. People came from all over the country to help in the marches, but ultimately, many risked their well-being and their havens to be associated with the movement. As part of my coaching with job search clients is to help them form coalitions because it takes a village to find a job and/or advance your career. We all need people to "join the march" to fulfill our career purpose. You must make this an intentional strategy to build this "village," and they must believe in you.
4. Dr. King understood his purpose requires longevity. I recently heard from a former client who is still enduring a job search for a couple of years now. She is hanging in there and realizes how important to stay engaged in every way possible. Dr. King's speeches often point to "…one day." I am only suggesting that patience is a part of any job hunt, and it takes time even you are doing everything right.
A job search from any perspective challenges your patience, confidence, and faith in people. Don't let the day go buy without improving your social profiles, or to start that blog that you've thought about, or to call someone to help them.
Make a difference today.
My name is Mark Anthony Dyson, and I am the Founder of The Voice of Job Seekers. I am a career advice writer, but more importantly, I hack and re-imagine the job search process.. I've worked with hundreds of job seekers one-on-one helping them to construct a narrative and strategy that appeals to hiring managers and recruiters. I present at colleges and organizations, and facilitated many workshops including my volunteer effort through a Job Lab. I write and create useful job search content on this blog and write career and workplace advice for blogs such as Glassdoor, Payscale, Job-Hunt.org, Prezi and more. Media Feature highlights: Forbes, Business Insider, NBC News, Glassdoor, LinkedIn's #GetHired, and NPR Freelance writer and content contributor: Glassdoor, Payscale, job-hunt.org, The Financial Diet, RippleMatch.com and more. Contact me to contribute career, job search, or workplace advice for your site at markanthonydyson@gmail.com.