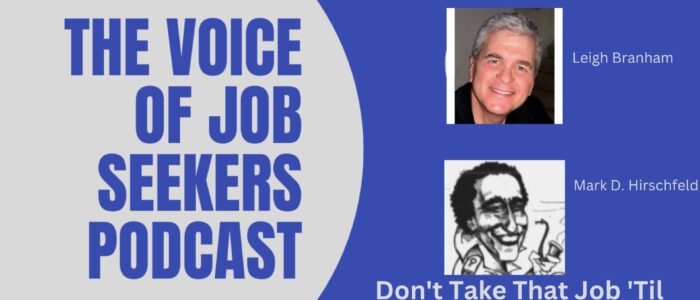 Podcast: Play in new window | Download | Embed
Subscribe: Apple Podcasts | RSS
Don't Take That Job 'Til You Read This Book will help you control your career in a way most job seekers don't. Leigh Branham and Mark Hirschfield authored this book (and included contributions from me and others) to help you navigate the post-pandemic changes in the world of work.
Leigh Branham is the founder of Keeping of the People, Inc. He has authored several books and is a speaker and consultant. 
Mark D. Hirschfield is the Vice President of Consulting Services and Strategic Partnerships of BI Worldwide.
This is the second book Leigh and Mark authored together. Both have long career coaching and consulting experiences.
You are more than welcome to join the discussion. Here are three ways you can:
– Call and leave a voicemail at 708-365-9822, or text your comments to the same number
– Go to TheVoiceofJobSeekers.com, press the "Send Voicemail" button on the right side of your screen and leave a message
– Send email feedback to [email protected]
Discussion highlights:
The book's primary purpose was to look at all the possible pitfalls and the main reasons employees leave, flip the coin, and look at it and say, these might be one of the reasons you would leave your next employer.
They use the lenses from Lee's last book to say what leadership is like. What are career opportunities like? We know that if people don't experience those things, it oftentimes can lead them to be demoralized and then, in turn, leave.
Leigh and Mark stepped back and thought about the pandemic effect, and what happened was people had money coming from the government, and they had a little bit of cushion.
Technology and innovation created more possibilities, such as daily compensation.
Is your employer helping you feel valued from a compensation and reward point of view?
I am the "The Voice of Job Seekers!" I offer compassionate career and job search advice as I hack and re-imagine the job search process. You need to be "the prescription to an employer's job description." You must be solution-oriented and work in positions in companies where you are the remedy. Your job search must be a lifestyle, and your career must be in front of you constantly. You can no longer shed your aspirations at the change seasons. There are strengths you have that need constant use and development. Be sure you sign up to download my E-Book, "421 Modern Job Search Tips 2021!" You can find my career advice and work in media outlets such as Forbes, Inc., Fast Company, Harvard Business Review, Glassdoor, and many other outlets.