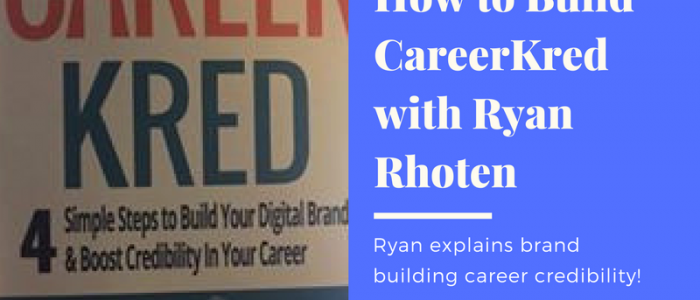 Podcast: Play in new window | Download | Embed
Subscribe: Apple Podcasts | Android | RSS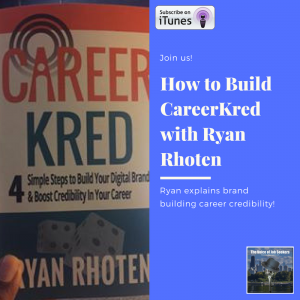 Glad to have my friend Ryan Rhoten back on the show to discuss his first book, CareerKred: 4 Simple Steps to Build Your Digital Brand & Boos Credibility In Your Career. We discuss in depth the importance of brand building in 2017 and how critical it is to establish credibility online.
Do you think it's important to build credibility online? Let us know what you think:
– Call and leave a voicemail at 708-365-9822, or text your comments to the same number
– Go to TheVoiceofJobSeekers.com, press the "Send Voicemail" button on the right side of your screen and leave a message
– Send email feedback to mark@thevoiceofjobseekers.com
Ryan is the founder of RyanRhoten.com and the podcast, "The Brand New You." His blog and podcast are among the best in personal branding and career advice. Ryan's media features include The Muse, Mashable, and Forbes.
Here are some of the highlights of our discussion:
– Ryan described his process behind writing the book, took people on the journey, learned from colleagues and peers
– Stumbling and mistakes are useful for motivation, help others avoid the mistakes you made
– Demonstrating knowledge and skills are critical for employers to see online
– Using personal branding data from technology such as artificial intelligence
– We discuss the job seeker needing to view and approach branding as a consultant
– Can you apply (show employers) competency online before an interview?
– Ryan describes the term "CareerKred" – Why showing credibility at the job is not enough
– Must strive to show credibility globally – Are others able to vouch for your skills?
– Ryan says the biggest risk in not building a brand is not being found and not putting in the effort
Do you need coaching or instruction?
I am here for it! Use my contact information above to inquire about individual or group coaching. You can also sign up for my weekly newsletter at the top of my page.
Don't forget–
I will not publish a podcast for the week of July 4 and no shows between July 19-Sept 11. I will post articles throughout the summer at least twice a week. Love to hear from you about your challenges and how I can help.
My name is Mark Anthony Dyson, and I am the Founder of The Voice of Job Seekers. I am a career advice writer, but more importantly, I hack and re-imagine the job search process.. I've worked with hundreds of job seekers one-on-one helping them to construct a narrative and strategy that appeals to hiring managers and recruiters. I present at colleges and organizations, and facilitated many workshops including my volunteer effort through a Job Lab. I write and create useful job search content on this blog and write career and workplace advice for blogs such as Glassdoor, Payscale, Job-Hunt.org, Prezi and more. Media Feature highlights: Forbes, Business Insider, NBC News, Glassdoor, LinkedIn's #GetHired, and NPR Freelance writer and content contributor: Glassdoor, Payscale, job-hunt.org, The Financial Diet, RippleMatch.com and more. Contact me to contribute career, job search, or workplace advice for your site at markanthonydyson@gmail.com.