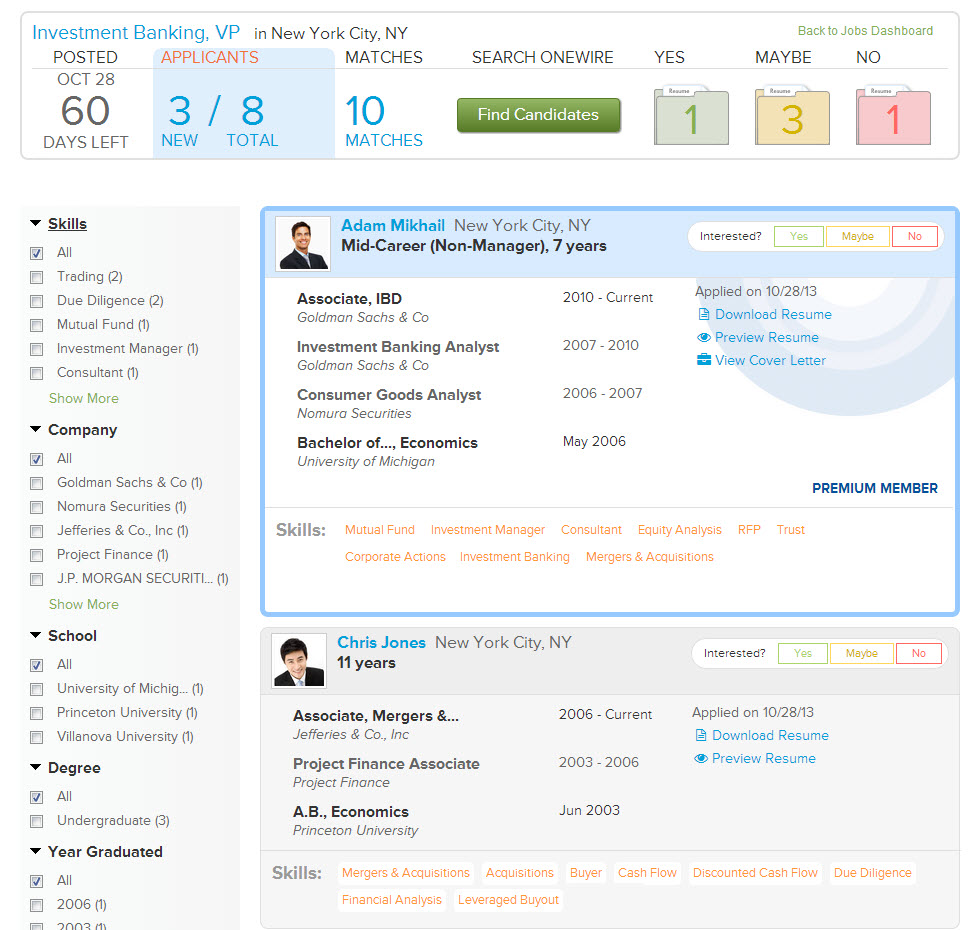 As part of promoting STEM careers and featuring job search innovation, today's spotlight is on OneWire Edge, a leading career site for finance professionals from the creators of  Open Door — an exclusive interview series with influential leaders across the financial services sector and beyond.
Eric Stutzke, EVP, Finance and Operations at OneWire answered a few questions for me about the site  and why it is helpful to finance graduates to compete for jobs:
 1. What is so unique about OneWire Edge other than the finance focus?
"At OneWire, we know how aggressive the job climate currently is for both entry-level and experienced hires. We are dedicated to creating the best career site and tools to provide talented finance professionals everything they need to stay competitive in their job search.
gaining visibility via placement at the top of the employer's applicant list, as well as staying "in the know" about new opportunities."
2. What feature of your site would be most useful to a young finance graduate?
"It's so important for young finance graduates to stand out among the competition. That's exactly what OneWire Edge helps them do. Our site features competition reports that allow applicants to view in-depth analytics on their competition, including the total number of applicants, years of experience, along with top skills, degrees, and education. Having an inside view into other applicants' skill-sets allows finance graduates to help position themselves more effectively, whether it's emphasizing the skills they have that others lack, or addressing areas where they haven't had as much experience."
3. Could you please explain the statement in the PR release, "…so we created this tool in order to help talented workers get a leg up on the competition…?"
"The variety of features provided to OneWire Edge users work together to completely transform the job search for finance professionals. The search for your dream job in the hyper-competitive world of finance requires more than the average job search. OneWire Edge provides tools that are essential for finance job seekers to gain the competitive edge over other applicants. For instance, premium status as a OneWire Edge user automatically boosts you to the top of an employer's applicant list, while you also have access to the "behind-the-scenes" details of who you're competing against for the position.
"Everyone's looking for an edge in today's competitive job market. The features that we rolled out are specifically designed to provide insight and analytics into the job search, and allow candidates to stand out from the pack. Having an understanding of the competitive landscape for a particular position gives OneWire Edge users a unique advantage in how they position themselves and prepare for interviews. The same holds true when evaluating your current skill set against an aspirational position further down the road. OneWire Edge users receive a 'headstart' at reviewing and ultimately applying to jobs. Within minutes of positions being posted online, they receive instant notification of the opportunities that match their keywords and/or location, helping them get a leg up over the competition."
4. What competitive edge would career changers have in using the site over your competitors?
"Switching careers, especially later in life, can be extremely challenging. With OneWire Edge, finance professionals can streamline their job search by being the first to know when new, relevant jobs are posted, applying before the competition, and being fast-laned to the top of the employer's applicant list. Also,
This is valuable for professionals who are evaluating the information that may qualify or disqualify them when pursuing a change in direction for their career."
5. In the release it also states, "Instant job alerts allow Edge users to be the first to know when new, relevant jobs are posted…" Could you explain how that would work?
"OneWire Edge users have the ability to create instant job alerts, by keyword and/or location, that are sent to their email the minute they are posted online by an employer or hiring manager. The immediate email gives users an edge when actively or passively searching for a job, as they get the first crack to review and ultimately apply for the position."
6. How much confidentiality do you recommend users allow for effectiveness?
"We leave it up to the candidate to tell the system how accessible they want their information to be – everyone is in a different situation, and some may be actively looking, or just dipping their toe in the market to see if any opportunities arise in the future.
"For starters, when OneWire candidates create an account, the default setting blocks their current employer from viewing their profile. In addition, the information is secure behind the wall and is not indexed by third-party search engines. Confidentiality is a core pillar here at OneWire, and we provide our users with the flexibility they need to control their visibility across the platform."
7. Do you have any success stories from your users that you can share?
"During the beta phase of OneWire Edge, we received very positive feedback regarding the instant job alerts and our concept of priority placement on an employer's applicant list. However, since we only recently exited beta phase in late October, it's still too early to showcase formal testimonials."
My name is Mark Anthony Dyson, and I am the Founder of The Voice of Job Seekers. I am a career advice writer, but more importantly, I hack and re-imagine the job search process.. I've worked with hundreds of job seekers one-on-one helping them to construct a narrative and strategy that appeals to hiring managers and recruiters. I present at colleges and organizations, and facilitated many workshops including my volunteer effort through a Job Lab. I write and create useful job search content on this blog and write career and workplace advice for blogs such as Glassdoor, Payscale, Job-Hunt.org, Prezi and more. Media Feature highlights: Forbes, Business Insider, NBC News, Glassdoor, LinkedIn's #GetHired, and NPR Freelance writer and content contributor: Glassdoor, Payscale, job-hunt.org, The Financial Diet, RippleMatch.com and more. Contact me to contribute career, job search, or workplace advice for your site at markanthonydyson@gmail.com.