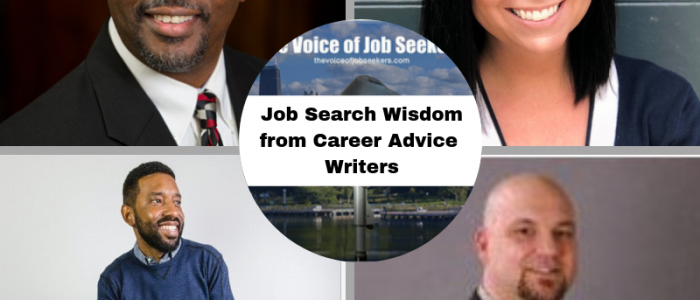 Podcast: Play in new window | Download | Embed
Subscribe: Apple Podcasts | RSS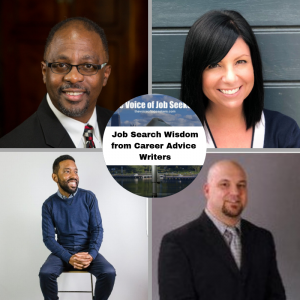 In this special edition, I gathered three career advice writers to join me for their perspective on the job search. We tackle several questions adding a different twist to what you usually hear. Each of them knows I stalked their Twitter and Linkedin profiles for months and hand-picked each to come on the show. 
Want to participate in the discussion?
Call and leave a voicemail at 708-365-9822, or text your comments to the same number
Christopher Taylor is a former recruiter who writes for The Muse and is also a career practitioner. His articles appeared in TIME, Business Insider, and Forbes. You can learn more about him and what he does at Occupational Optimist. 
Matt Krumrie has written for many career advice blogs and job sites. Some of the sites include Flexjobs, Monster, and ZipRecruiter.com. You can learn more about his resume service at  ResumesbyMatt.com! 
Jaclyn Westlake is a career and lifestyle columnist for The Muse. You may have seen her work on Forbes, Business Insider, Mashable, Fast Company, or Life Hacker.
Here are the questions for career advice we explore in this episode:
What celebrity's career models the best career advice in 2018?

Old career advice you can't stand, but it works for a few?

Is the resume living and breathing, on a respirator, or DOA (Dead on Arrival)?

What rules would you recommend job seekers break or bend?

What would you like for job seekers to know about reading or hearing job advice?

What are the most critical elements in having a great career?
Use my contact information above to inquire about individual or group coaching. Or leave a message anytime on the "send voicemail" button on the side of any page of my blog.
You can also sign up for my weekly newsletter at the top right of my page to be on the early list of my free e-Guide, "219 Modern Job Search Tips for 2019!" If you have already subscribed to the newsletter, it's in your email box as of this morning!
I am the "The Voice of Job Seekers!" I offer compassionate career and job search advice as I hack and re-imagine the job search process. You need to be "the prescription to an employer's job description." You must be solution-oriented and work in positions in companies where you are the remedy. Your job search must be a lifestyle, and your career must be in front of you constantly. You can no longer shed your aspirations at the change seasons. There are strengths you have that need constant use and development. Be sure you sign up to download my E-Book, "421 Modern Job Search Tips 2021!" You can find my career advice and work in media outlets such as Forbes, Inc., Fast Company, Harvard Business Review, Glassdoor, and many other outlets.