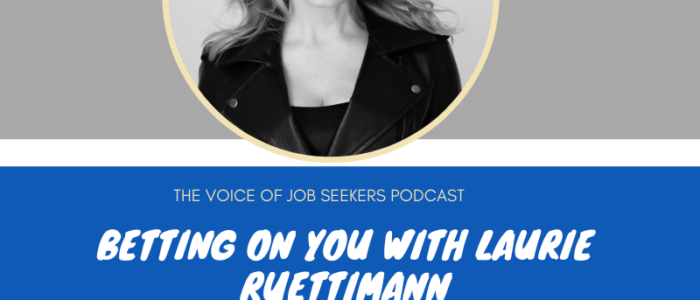 Podcast: Play in new window | Download | Embed
Subscribe: Apple Podcasts | RSS
You've heard many of my guests, and I advise you to take control of your career. Laurie Ruettimann tells you how to in her latest book, "Betting On You: How to Put Yourself First and (Finally) Take Control of Your Career."
You are more than welcome to join the discussion. Here are three ways you can:
– Call and leave a voicemail at 708-365-9822, or text your comments to the same number
– Go to TheVoiceofJobSeekers.com, press the "Send Voicemail" button on the right side of your screen and leave a message
– Send email feedback to [email protected]
More about Laurie:
Laurie is a consultant and advisor to CEOs, CFOs, and CHROs who want to fix work. She speaks around the country on all things HR (Human Resources). She is also a podcaster and a writer.
Highlights from our conversation: 
😎COVID has exposed broken systems but shone a light on what was going on in the marketplace
😎We talk about how we can't go back to the things that we wrong
😎People can live on less social and money.
😎Professionals will ask in an interview, "How did you treat people during the pandemic?"
😎Control your career by creating more choices: Time, attention, and attitude.
😎Laurie describes "professional detachment" as treating their job like a client.
😎Being scared doesn't help to make the best decision. Take small steps rather than large ones.
😎"Practice in the small moments."
Three more episodes until my summer hiatus.
April 20
May 4
May 18
The new episode of the podcast will start on Sept. 14. But since you know me, content is constant writing on a few career platforms, new videos on my YouTube channel, and two LinkedIn Live streams.
I will continue the newsletter on a once-a-month basis during the summer after May 18. Or, if there is something major, I will send out a special one.
I am the "The Voice of Job Seekers!" I offer compassionate career and job search advice as I hack and re-imagine the job search process. You need to be "the prescription to an employer's job description." You must be solution-oriented and work in positions in companies where you are the remedy. Your job search must be a lifestyle, and your career must be in front of you constantly. You can no longer shed your aspirations at the change seasons. There are strengths you have that need constant use and development. Be sure you sign up to download my E-Book, "421 Modern Job Search Tips 2021!" You can find my career advice and work in media outlets such as Forbes, Inc., Fast Company, Harvard Business Review, Glassdoor, and many other outlets.