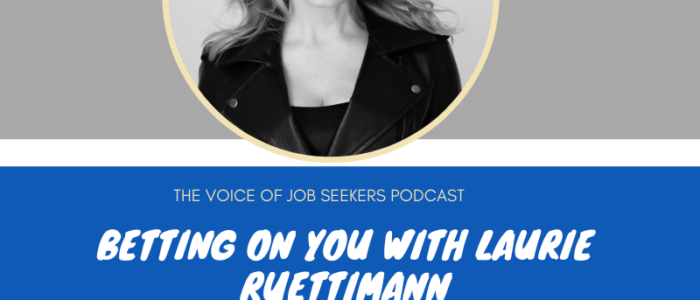 Podcast: Play in new window | Download | Embed
Subscribe: Apple Podcasts | RSS
You've heard many of my guests, and I advise you to take control of your career. Laurie Ruettimann tells you how to in her latest book, "Betting On You: How to Put Yourself First and (Finally) Take Control of Your Career."
You are more than welcome to join the discussion. Here are three ways you can:
– Call and leave a voicemail at 708-365-9822, or text your comments to the same number
– Go to TheVoiceofJobSeekers.com, press the "Send Voicemail" button on the right side of your screen and leave a message
– Send email feedback to mark@thevoiceofjobseekers.com
More about Laurie:
Laurie is a consultant and advisor to CEOs, CFOs, and CHROs who want to fix work. She speaks around the country on all things HR (Human Resources). She is also a podcaster and a writer.
Highlights from our conversation: 
😎COVID has exposed broken systems but shone a light on what was going on in the marketplace
😎We talk about how we can't go back to the things that we wrong
😎People can live on less social and money.
😎Professionals will ask in an interview, "How did you treat people during the pandemic?"
😎Control your career by creating more choices: Time, attention, and attitude.
😎Laurie describes "professional detachment" as treating their job like a client.
😎Being scared doesn't help to make the best decision. Take small steps rather than large ones.
😎"Practice in the small moments."
Three more episodes until my summer hiatus.
April 20
May 4
May 18
The new episode of the podcast will start on Sept. 14. But since you know me, content is constant writing on a few career platforms, new videos on my YouTube channel, and two LinkedIn Live streams.
I will continue the newsletter on a once-a-month basis during the summer after May 18. Or, if there is something major, I will send out a special one.
My name is Mark Anthony Dyson, and I am the Founder of The Voice of Job Seekers. I am a career advice writer, but more importantly, I hack and re-imagine the job search process.. I've worked with hundreds of job seekers one-on-one helping them to construct a narrative and strategy that appeals to hiring managers and recruiters. I present at colleges and organizations, and facilitated many workshops including my volunteer effort through a Job Lab. I write and create useful job search content on this blog and write career and workplace advice for blogs such as Glassdoor, Payscale, Job-Hunt.org, Prezi and more. Media Feature highlights: Forbes, Business Insider, NBC News, Glassdoor, LinkedIn's #GetHired, and NPR Freelance writer and content contributor: Glassdoor, Payscale, job-hunt.org, The Financial Diet, RippleMatch.com and more. Contact me to contribute career, job search, or workplace advice for your site at markanthonydyson@gmail.com.