Podcast: Play in new window | Download | Embed
Subscribe: Apple Podcasts | RSS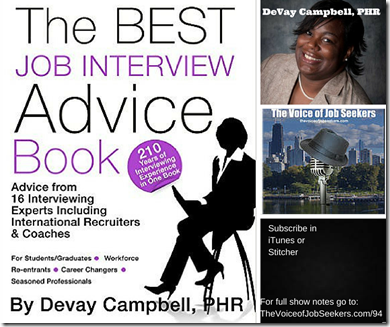 How could you not be curious about the title of this interview book? It was released on June 30, and it's #1 on Amazon's internship book list. Listen to this episode, get the book, and reap the benefits of job interview best practices. DeVay Campbell is a career coach and human resource professional, author of The Best Interview Advice Book, craves the success of job seekers. She wanted to help job seekers interview better and understand the entire process.
Another interview show? Yes, many of my clients over the years fail to interview well and often misguided in their approach before and after. This show has practical steps you can take right after listening. Let me know what your "interview faux-pas" is in one of three ways:
1) Leave a voice mail or text message at 708-365-9822. Let me know if I can share it on future shows
2) Email me: mark@thevoiceofjobseekers.com
3) Go to TheVoiceofJobSeekers.com and press the "Send Voicemail" button to leave a message online
DeVay Campbell, PHR is a certified Human Resources Partner and Career Coach, who bridges communication gaps, builds trust and manages change in Retail, Manufacturing, Government and Healthcare organizations with 150 -16,000 + employees. She is a 10-year veteran in Human Resources, but her heart is all about helping job seekers thrive in the interview process.
Here are some highlights from our discussion:
DeVay wanted to address common questions she's received as a career coach and a recruiter
It's easy to take for granted the repeated questions that people ask
She wanted to handle the entire process instead of answer frequently asked questions
With 16 different perspectives, it addresses many ways to approach interview preparedness
Research and overall preparation are often discounted by job seekers, and coaching re-emphasizes being purposeful and intentional
Being honesty and confidence are key in defining your weak spots and making significant progress in landing interviews and performing
At times, career coaches become life coaches needing to unlock life's obstacles that keep them from having confidence and faith in his or her abilities
Personal events like divorce or having your self-esteem affected can diminish the ability to communicate value
Have you subscribed to this show on iTunes? If you haven't, please do so. iTunes is a great place to write an honest review and increase the show's visibility. Enjoy listening to the show. Let us know what you think.
Do you need help with resume writing or career direction? Do you need coaching or instruction?I can help.
Also, join our Linkedin community! You'll enjoy some of the insights shared by community members and other career pros!
By the way, congratulations to Richard Long for winning a copy of Scott Behson's book, "The Working Dads" Survival Guide. He left a review on iTunes, qualifying him to win the copy of the book!
I am the "The Voice of Job Seekers!" I offer compassionate career and job search advice as I hack and re-imagine the job search process. You need to be "the prescription to an employer's job description." You must be solution-oriented and work in positions in companies where you are the remedy. Your job search must be a lifestyle, and your career must be in front of you constantly. You can no longer shed your aspirations at the change seasons. There are strengths you have that need constant use and development. Be sure you sign up to download my E-Book, "421 Modern Job Search Tips 2021!" You can find my career advice and work in media outlets such as Forbes, Inc., Fast Company, Harvard Business Review, Glassdoor, and many other outlets.