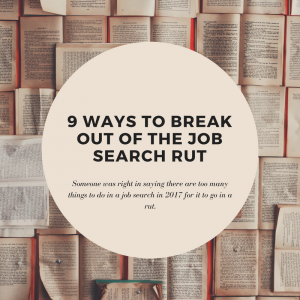 I answered the following query on Quora I'd like to share. The inquiring person contacted me after I posted to share additional thoughts, but in a job search rut, you can't stop asking questions:
How do you break out of a job search rut? I've been on the job hunt for over a year, and it's gone cold. Any advice?
If you're applying to just any job listed, stop it! It's futile. I know many people want to use the easiest and most passive method —online job boards. I am assuming this is the case when your job hunt has lasted a year and as you've said, "…gone cold." There is no other way to accept your query other than you filling out 30 applications a week. I'll repeat it, stop it! It's wasting time.
The other thing you say is your job search is in a rut. There are too many things to do in a job search in 2017 for it to go in a rut. I can visualize you are asking for a job and not for intel on who to meet to take you to the next step. Although I understand a job search is long and hard depending on the career goal, yes, but ultimately says you're bored. No leads. No new people in your network who can put you on a path to a referral. A rut.
Ultimately you want to focus on what you want to do and where. It probably counters all the advice most will give, but a single-minded approach is better than casting a wide net. Most job seekers find it hard to become that focused.
Assuming you've done nothing else, here are some short term and long term suggestions to help you or anyone in a similar predicament:
Focus  
There are enough strength assessments like Strengthsfinder for you to narrow down the professional and personal attributes to build your next career around.
Tighten up on finances
See what expenditures you need to cut back on for the long term. It's likely the time you're out of work, and you're losing money
Focus on self-improvement
There are podcasts, blogs, and other free online tools to help you grow and increase your skills. Employers love the perpetual learner and
Volunteer
Since you don't have a job, you can create a relevant experience through charity. If there is a career field you're interested, then you can explore options by offering your time. This can also be positioned as a job especially if it's something you're interested in doing. For more, check out this podcast
Improve communication skills
If you haven't been writing, then you need to get moving. Companies may have you complete a few assessments before seeing you in person. Many times a writing assessment is done online
Practice interviewing
You'll likely need someone to help you remain sharp in responding to questions. Unless you're job interviewing regularly, start practicing
Network incessantly
This is the most important and the one needing to be the priority. Every social situation has potential to bring you towards your next employer. Don't be desperate and don't act destitute. Be open, friendly, and helpful. If you're networking regularly, your job search rut will go away.
Become a Linkedin all-star
I hope you are as diligent with your Linkedin profile as you've been with your resume. There are so many Linkedin articles I won't expand here. But if you haven't looked at in the last six months, make it a priority to complete with a photo
Informational interviews
This is a powerful strategy for you to use as a networking tool and a way to find out the qualifications you need once decide what you want to do. This article is one of the best on informational interviewing.
There are other strategies to benefit from, but you can start here. Good luck and keep us posted. I apologize for some of the grammar errors which I'll come to edit later, but I wanted it to get it out there for you or anyone needing additional specifics.
I am the "The Voice of Job Seekers," career consultant, job seeker advocate, career writer, and founder of this award-winning blog. I help the employed, unemployed, underemployed, and under-appreciated find jobs using job search strategies to navigate the new job market. I aim to give a safe place online to those with different needs, cultures, and ethnicities to find their voice in the job market. Thousands have read my career advice throughout the web as I write about everything from job search strategies to the mobile job search. I have published more than 400 articles on this blog and some of the largest career sites such as Recruiter.com, YouTern, and Come Recommended. I've been quoted in major online publications such as Monster, TIME/Money, Fortune, Business Insider and MSN. FlexJobs, JobMonkey, Aerotek, Career Pivot, and CareerSherpa listed my podcast as one of the top podcasts to help your job search. Love for you to sign up for the weekly newsletter. I share the latest articles I've written, new podcast episodes, and answer any questions you may have. The new job search is scary and if you need help, I am here for it!