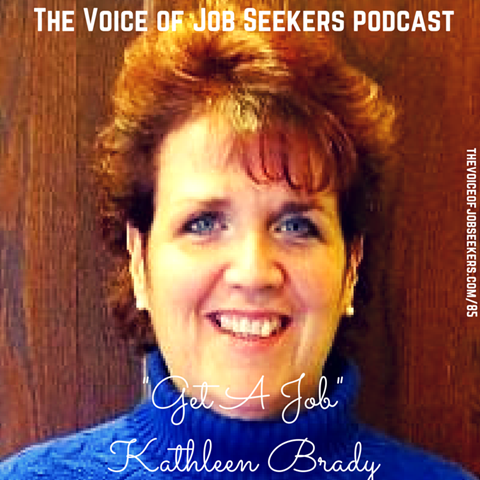 Podcast: Play in new window | Download | Embed
Subscribe: Apple Podcasts | RSS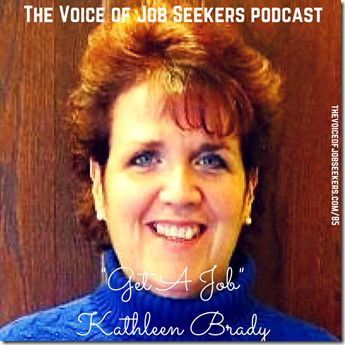 I am happy to have Kathleen Brady, author of "Get a Job" back on the show. She was on episode 4 back in October 2013. She is the founder of Brady & Associates Career Planners, LLC and Career Services Director at Georgian Court University. Her advice has been nationally shared on news outlets such as CNN, CBS, NPR, FoxNews. Her book, advice and this conversation will get down to it with you finding the job you were called to do, and not what you "should" do.
Do you look for jobs that you "should" take or are you looking for the job you are called to do? I would love to hear your thoughts on this in one of the following three ways:
1) Leave a voice mail or text message at 708-365-9822. Let me know if I can share it on future shows
2) Email me: mark@thevoiceofjobseekers.com
3) Go to TheVoiceofJobSeekers.com and press the "Send Voicemail" button to leave a message online
Kathleen rewrote the first chapter of "Get a Job" (first version published in 2013) while keeping her pragmatic approach to worksheets and questions to answer after reflection
As career pros, we have an aerial view to guide people in the right way of conducting a job search. The mindset is the common denominator. Job seekers who focus on the obstacles and find it difficult to achieve success. Our role as career pros is to help others focus on a positive mindset and dig deeper with a reflective approach
The best way to put changes and improvements into your job search is to use "baby steps." Trying to take large steps for most job seekers is overwhelming
Although "values" have been talked about,  they must be a prime motivator at the core of his or her job search
"What do I value?" and "How do I want to show up?" is at the core of finding meaningful work more than the mechanics of the job search such as a resume or cover letter
Kathleen also advises job seekers to be careful of what they post on social media. Even in the comments sections of threads such as Facebook discretion must  used
Job seekers often prioritize"should" goals, or the path of least resistance rather than what they are called to do or natural gifts
Kathleen states that people are better off thinking about their job search goals holistically as it impacts their life goals
There are multi-layered career paths now that did not exists years ago. Job seekers need to be realistic and disciplined about his or her choices
Have you subscribed to this show on iTunes? If you haven't, please do so. This is also a great place to write an honest review. Enjoy listening to the show. Let us know what you think.
Do you need help with resume writing or career direction? Do you need coaching or instruction?I can help.
Also, join our community on Linkedin! You'll enjoy some of the insights shared by community members and other career pros!
I am the "The Voice of Job Seekers!" I offer compassionate career and job search advice as I hack and re-imagine the job search process. You need to be "the prescription to an employer's job description." You must be solution-oriented and work in positions in companies where you are the remedy. Your job search must be a lifestyle, and your career must be in front of you constantly. You can no longer shed your aspirations at the change seasons. There are strengths you have that need constant use and development. Be sure you sign up to download my E-Book, "421 Modern Job Search Tips 2021!" You can find my career advice and work in media outlets such as Forbes, Inc., Fast Company, Harvard Business Review, Glassdoor, and many other outlets.