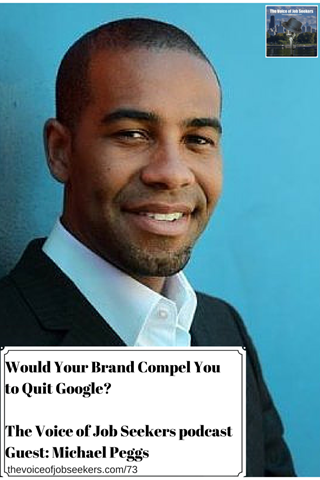 Podcast: Play in new window | Download | Embed
Subscribe: Apple Podcasts | RSS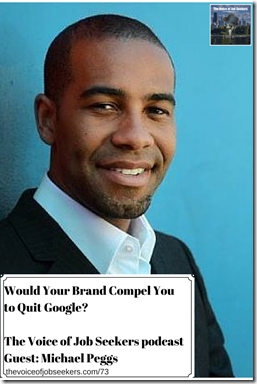 Before you leave your job this time, have you considered the quality of your personal brand? Have you invested time in building your brand? Are you making efforts in learning more to hone your craft/skill and add value to your current or future coworkers? This show will help you get started. Fearful? Yep, this show is for you.
How are you building your personal brand? We would love to hear from you!
Here are three ways to provide feedback:
Call and leave a voicemail at 708.365.9822
Email: mark@thevoiceofjobseekers.com
Go to TheVoiceofJobSeekers.com/73, press the Send Voicemail button on the left, which will activate your laptop microphone, then leave a message
By the time that Michael Peggs of MichaelPeggs.com was working for Google, he knew what he wanted to do for the rest of his career. After four years of a workplace had accessible recreation and free food, he was ready to move on. After he officially resigned he created a goodbye video that he uploaded to YouTube. He didn't realize that this video to date received over 510,000 views!
Three years before leaving Google, Mike (or Peggs) created a blog where he wrote about careers and social media. He has been featured in Fast Company, Huffington Post, and Business Insider. He is now helping individuals and companies reach their brand building goals through story-telling.
Here are some of the highlights of our conversation:
Mike was intentional in building his personal brand
Mike's video "I Quit Google" has received over 510,000 views. The video was done after his official resignation.
He made himself more attractive at his blog, "Career 101" that added his views, perspective, and value to future employers. He thought of himself as a product and brand before his job at Google
Mike positions himself as a brand and has planned it that way because it's woven into every conversation that he has included his parents, clients, or employer
Mike prepared and sought advice about his personal brand
He had an internship every year in college especially during the school year. He worked for Goldman-Sachs for several years which helped him to stand out for other opportunities
In addition to his internships, he started several businesses such as a t-shirt company and a food delivery company (he credits this experience as his foray into tech)
One thing he learned as an entrepreneur was to have an "exit strategy" especially when he worked for Google. Mike says he spent four years in building "a story."
Mike was looking to "fail forward" to strengthen his personal brand
Mike stated how much he loved Google, but I asked him as would others, "Why would you quit a company you loved?" I thought he had a pretty unique answer here (around 10:50)
When he realized that he was no longer going to grow at Google, in order to grow, he needed to "fail, fail fast and to fail forward!"
Mike said that our, "… feelings about failure is one of our impediments to progress…" and we act when "…our faith is more than our fear." People should work with mentors and coaches to help them instill the faith he/she needs
If you are a career professional, I would love for you to contribute to the show. Do you have additional advice to offer? Do you agree or disagree? If you leave feedback, leave your web site or blog URL and I'll mention it in the show and include it in the following week's blog post. Enjoy the show!
My name is Mark Anthony Dyson, and I am the Founder of The Voice of Job Seekers. I am a career advice writer, but more importantly, I hack and re-imagine the job search process.. I've worked with hundreds of job seekers one-on-one helping them to construct a narrative and strategy that appeals to hiring managers and recruiters. I present at colleges and organizations, and facilitated many workshops including my volunteer effort through a Job Lab. I write and create useful job search content on this blog and write career and workplace advice for blogs such as Glassdoor, Payscale, Job-Hunt.org, Prezi and more. Media Feature highlights: Forbes, Business Insider, NBC News, Glassdoor, LinkedIn's #GetHired, and NPR Freelance writer and content contributor: Glassdoor, Payscale, job-hunt.org, The Financial Diet, RippleMatch.com and more. Contact me to contribute career, job search, or workplace advice for your site at markanthonydyson@gmail.com.