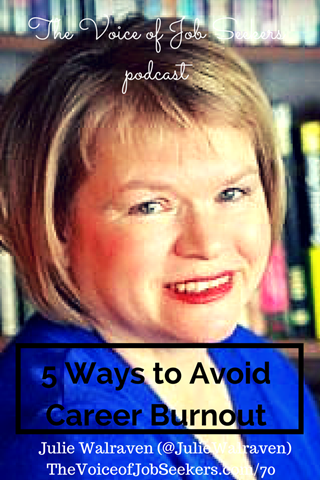 Podcast: Play in new window | Download | Embed
Subscribe: Apple Podcasts | RSS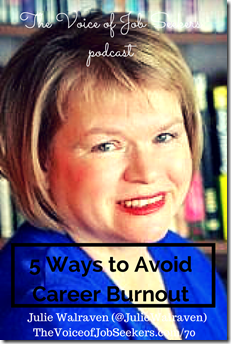 Career management requires constant monitoring, especially during a job search. Most job seekers must consider the time that it takes to be successful without burning out. I thought that Julie Walraven of Design Resumes wrote an article awhile ago will be useful to job seekers and those employed.
Are you facing career burnout? Have you ever suffered job search burnout before? What did you experience during this time? I would love your feedback! You can participate in one of three ways:
Blog: TheVoiceofJobSeekers.com (Use the send voicemail feature)
Email: mark@thevoiceofjobseekers.com
Voicemail:
708.365.9822
Julie Walraven (@JulieWalraven) is one of 37 Certified Master Resume Writers worldwide through Career Directors International and founder of Design Resumes. She is a new writer for Job-Hunt.org's new contract worker section and has been quoted in numerous newspaper articles and blogs.
Here are Julie's suggestions on identifying and managing career burnout:
Technology-Both is a blessing and a curse. Email inboxes are usually a challenge in keeping up. Phones are always ringing and not letting it manage you. Julie suggests not responding immediately to each as they fly in. Keeping applications and sites closed so notifications won't be distracting. I suggested YouMail, an app that helps you manage voicemail calls.
The Jumbo Job-This is the person that takes on multiple roles to where their life at work and home are unmanageable. If you are receiving a job offer and dual titles/responsibilities are being offered, delay the decision, and if it doesn't fit, decline. If you have accepted the offer, and you have staff delegate. I asked Julie what if the multiple roles include "… other tasks as assigned." Job seekers must ascertain if that job description is their job description, and ask other employees.
Too much going on-Many opportunities are always present, but not always best. Develop a "just say no" policy in your life. Saying no is good business management.
Social obligations-Upper management whose job is to entertain clients after work are susceptible to become overwhelmed. Ask for comp time, which would give you exchange time off for hours worked beyond your regular hours. Research your company (or ask during the interview) to see if there is a comp time policy.
Education-Course work extends past the work day. Slow down, don't take more courses than what you can handle.
Love to hear your suggestions on how you manage career burnout. If you're a career coach, advisor, resume writer or help job seekers I would love to hear from you too. If you leave feedback I will reward you with a link back to your website if I read your advice on the show. I will use my discretion in which ones get read, so there is no guarantee that I will.
See you next week!
My name is Mark Anthony Dyson, and I am the Founder of The Voice of Job Seekers. I am a career advice writer, but more importantly, I hack and re-imagine the job search process.. I've worked with hundreds of job seekers one-on-one helping them to construct a narrative and strategy that appeals to hiring managers and recruiters. I present at colleges and organizations, and facilitated many workshops including my volunteer effort through a Job Lab. I write and create useful job search content on this blog and write career and workplace advice for blogs such as Glassdoor, Payscale, Job-Hunt.org, Prezi and more. Media Feature highlights: Forbes, Business Insider, NBC News, Glassdoor, LinkedIn's #GetHired, and NPR Freelance writer and content contributor: Glassdoor, Payscale, job-hunt.org, The Financial Diet, RippleMatch.com and more. Contact me to contribute career, job search, or workplace advice for your site at markanthonydyson@gmail.com.