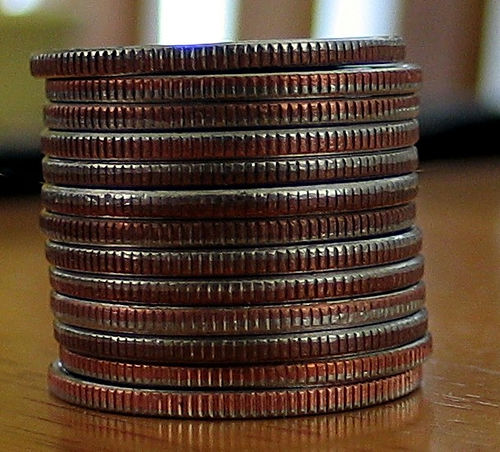 Two years ago, my parents had worked hard to obtain a quarter (the new quarters) from each state to give to my sons. They spent time reviewing quarters to ensure accuracy and asked their friends to trade the old quarters for the new. Then they asked if they could give it to the boys.
I told mom and dad to keep the quarters. As generous as it was for my parents diligently save the way they did , I told them the boys won't appreciate it as much. Well, at least they wouldn't value the quarters as I do and keep them until they increase in value over the years. I can see the boys spending them as they see it as casual money, or losing them, but the value of them is beyond the gratification of saving money. It would be wasted.
To put it simply, the boys weren't ready to appreciate the time spent to get a new quarter representing each state. They see the value entirely differently. You know, splurge! The grandparents, of course, would be visibly disappointed.
Well, many job seekers don't measure his or her career value. It's the wall that separates you and the potential employer as a candidate that does not stand out. Employers are unlikely to spend any time to a job candidate who misunderstands his or her career worth.
That is how you should feel about your skills, experiences, and the knowledge you share anywhere. The following is showing you are selling yourself short:
No plan to be hired. Well it doesn't look like you'll be getting hired soon. Does anyone know you are looking for work? Can't tell by your online profiles, nor your conversations. Frankly, you are not selling yourself at all. What a shame. You want a job but you give a quarter's worth of professional value. C'mon now!
Not learning from one interview to the next. Or from one hiring process to the next. Think back through the interviews that you had and see if you communicated the extent of your personal menu. If not, the interviewer may not know you offer dinner, drink, and dessert.
No third-party validation.  Have you received a quarter and given back change? Everyone needs third-party validation through letters of recommendation, through a mentor, or professionals telling you why he or she appreciates your work. Are you who do people say you are? Enlist people who can speak to your strengths and accomplishments.
No preparation. No research. Not researching what the trend in your career holds. There isn't a career bible scripture that says that this is a sin, but there is this wall between you and a desired career because you don't investigate position nor its qualifications. Find out exactly how much that quarter is worth. Maybe the value has changed.
Unused skills during unemployment. Volunteer. Help people. Look for opportunities to contribute by volunteering. The word "internship" is not a bad word either.
Your skills have never passed the stress test. Do you back down during great challenges? Do you rise to the challenges? Have you communicated that to potential employers? Share this as you put your super hero cape on when it's time to sell yourself to people you network and others that can lead you to an interview.
Your bottom-line is salary. The way you negotiate also says something about you as an employee, and lose a job if only money matters. You miss opportunities to sell yourself based on skill set and capability because you offer yourself as a product rather than a service.
The ideal employer would understand that you would need a mutually gratifying opportunity. Not one that wouldn't grow in value. Nor not one you would splurge or waste. Your value is not something you can attach a salary to it at the bottom line. Look at yourself and ask, "Do I offer value that employers expect to see?"
Do you understand the value you offer employers? I'd like to hear your thoughts. Please share in the comments section.
I am the "The Voice of Job Seekers!" I offer compassionate career and job search advice as I hack and re-imagine the job search process. You need to be "the prescription to an employer's job description." You must be solution-oriented and work in positions in companies where you are the remedy. Your job search must be a lifestyle, and your career must be in front of you constantly. You can no longer shed your aspirations at the change seasons. There are strengths you have that need constant use and development. Be sure you sign up to download my E-Book, "421 Modern Job Search Tips 2021!" You can find my career advice and work in media outlets such as Forbes, Inc., Fast Company, Harvard Business Review, Glassdoor, and many other outlets.