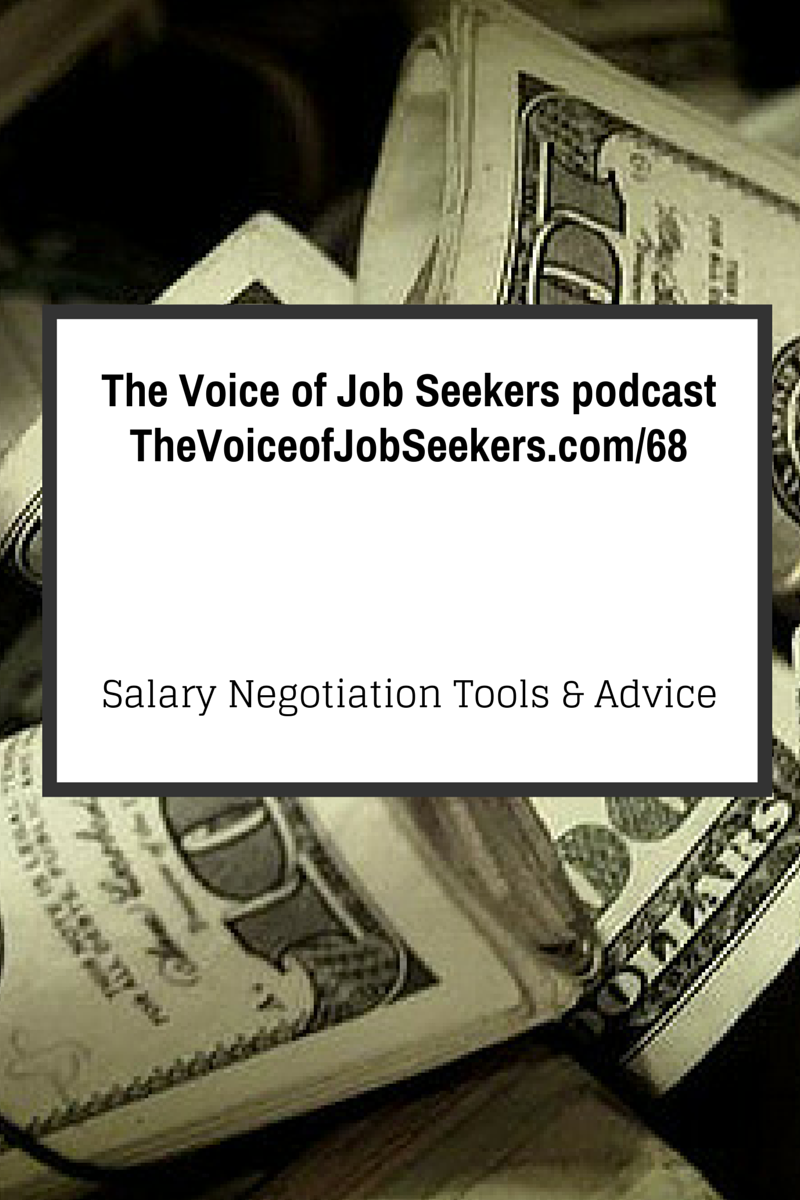 Podcast: Play in new window | Download | Embed
Subscribe: Apple Podcasts | Android | RSS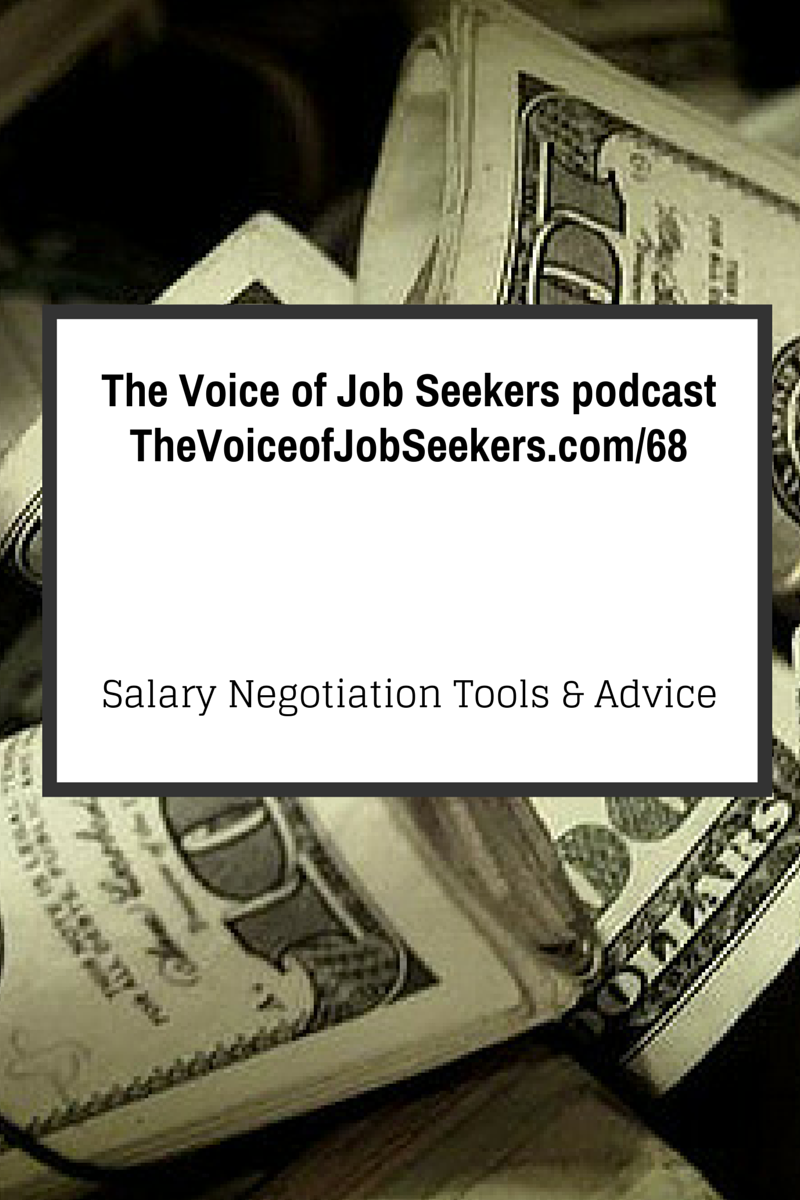 By the end of this episode, you're likely to be sick of all the money and opportunity you previously left on the table. On a regular basis, I see clients well into their careers fail to negotiate. Let today be your last day by listening and implementing the strategies highlighted in this show. Potentially, you could raise your salary negotiation IQ because you asked.I love hearing from you, as always, to give feedback to all subjects we discuss on the show including this one. There are three ways to reach me with comments about your experiences in salary negotiation:

Email me at mark@thevoiceofjobseekers.com
Go to TheVoiceofJobSeekers.com, press the "Send Voicemail" button to your right, which activate the mic on your computer and leave a message
Call us at 708-365-9822 and leave your message, question, or feedback

Were you uncomfortable in asking for more money, time off, or working conditions? Does this resonate with you? Perhaps you are a career coach or resume writer, and you have additional suggestions. Let me know what your thoughts are, and the advice you give to your clients.

Most people do not put the time or effort in learning how to negotiate salary or asking for a raise. According to PayScale's Salary Negotiation Guide featuring results of their poll of 31,000 people revealed 57% of them never asked for a raise! Listen to the show for the reasons why as Lydia Frank (@Lydia_West) (@PayScale) from PayScale.com goes into the details what people cited as their reason.

Respondents from the survey received a report back to use for his or her research to move forward. PayScale compiled a variety of advice from several experts ranging from personal finance to career experts
The survey also asked who is pursuing a raise and how did he or she succeed in receiving a raise. PayScale did the same with those who are not receiving a raise
Less than half of respondents never asked, and half of those respondents felt uncomfortable in asking or didn't want to appear pushy
The PayScale's guide addresses three issues: 1) How doing salary research, 2) how to strategize before it's time to negotiate and 3) tips to ensure that it's successful
Underemployed workers still have negotiating power even if you are in a job you don't like. Many people do not use their education to negotiate (and should) especially if they are in that role for a while longer
Since young people are more educated to compete, they must find to set themselves apart, especially those with Liberal Arts and Humanities education. They should learn to hack those degrees and add certifications or STEM education on top of it.

Lavie Margolin (@laviemarg) was my guest for episode 41 discussing his book, Winning Answers to 500 Interview Questions. Since then, he has written a new book, Winning the Salary Negotiation: Learn the Skills to Earn the Highest Job Offer released this week. The book is short and could be completed in 1-2 hours. Every job seeker should consider buying this book if you don't have a salary negotiation book on your shelf.

Here are some of the highlights from our discussion:

Lavie and I discuss his helping me with some advice for a client that I had, but the point was to emphasize people should ask for help
Most people do not feel comfortable negotiating nor do they want to. Negotiating has to do with the new job, not the old one
Employers do start contributing to retirement funds early or start acquiring vacation time. Negotiate and interview like you have a job even if you're unemployed. If  you are the best candidate, then employers will want you, and it doesn't matter whether you are working or not
Many people don't negotiate because they are fearful and lack confidence. Your goal is to negotiate to the upper range of salary
People should practice negotiating their benefits and compensation to understand the entire package, not just the salary and become comfortable saying it
"Winning the Salary Negotiation…" has a script that is great to practice (and not to use verbatim)
The goal of negotiating is to avoid discussing salary as much as possible without creating friction with the employer. You want to goal through as many processes as possible

Links mentioned in this segment:
My name is Mark Anthony Dyson, and I am the Founder of The Voice of Job Seekers. I am a career advice writer, but more importantly, I hack and re-imagine the job search process.. I've worked with hundreds of job seekers one-on-one helping them to construct a narrative and strategy that appeals to hiring managers and recruiters. I present at colleges and organizations, and facilitated many workshops including my volunteer effort through a Job Lab. I write and create useful job search content on this blog and write career and workplace advice for blogs such as Glassdoor, Payscale, Job-Hunt.org, Prezi and more. Media Feature highlights: Forbes, Business Insider, NBC News, Glassdoor, LinkedIn's #GetHired, and NPR Freelance writer and content contributor: Glassdoor, Payscale, job-hunt.org, The Financial Diet, RippleMatch.com and more. Contact me to contribute career, job search, or workplace advice for your site at markanthonydyson@gmail.com.