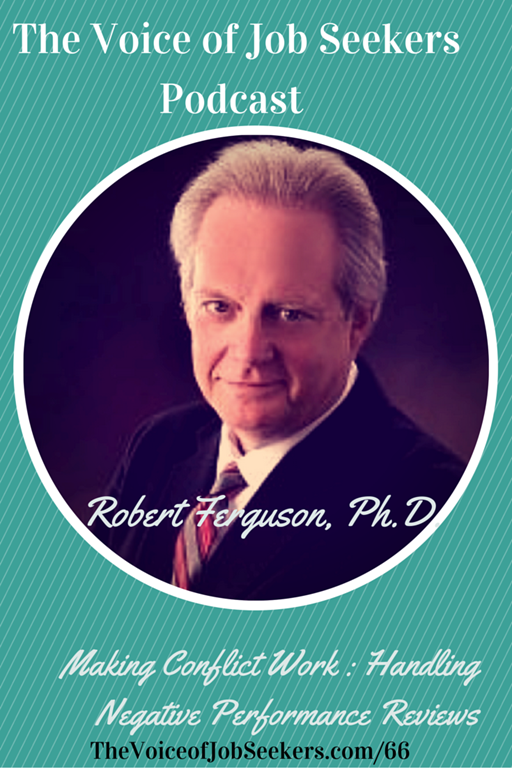 Podcast: Play in new window | Download | Embed
Subscribe: Apple Podcasts | Android | RSS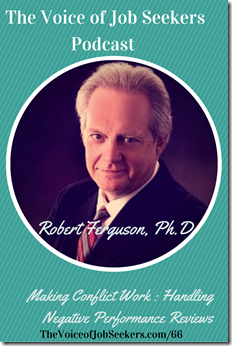 An employee can go from gainful employment to job seeker status in one moment based on a performance review. It happens daily where polarizing views of work performance is seen. The end of the year performance review can reshape someone career.
Robert Ferguson, along with Peter Coleman wrote MAKING CONFLICT WORK: Harnessing the Power of Disagreement. I talk with Robert about how to temper a competitive and conflicting performance review. Robert explains how there are ways the employee can exercise "under power," making a negative review into something useful for his or her career.
What was the worse review for you? Did you quit? Did you thrive after your review? I'd like to hear how from you how you handled conflicting performance review in one of three ways:
Blog: TheVoiceofJobSeekers.com (Use the send voicemail feature)
Email: mark@thevoiceofjobseekers.com
Voicemail: 708.365.9822
Robert Ferguson has a Ph.D in Psychology, a Management Consultant and Executive Coach whose client list includes Merril-Lynch, Navistar Corporation, and the University of Kentucky. MAKING CONFLICT WORK is a book published by Houghton-Mifflin-Harcourt.
Highlights of our discussion:
Although most people are uncomfortable with conflict, there is a way to harness the energy to work to your advantage. Conflict happens within the context of a relationship such as a performance review with your supervisor
Relationships with your supervisor should help the surprises that often result in the lack of a relationship. This is tempered with continual feedback during the year when the official review is once-a-year
Often understated is the difference of power, and the book offers strategies to help people realize and leverage how to make them more cooperative
We talked about how people come ready for a showdown and often the performance review becomes a "competitive conflict"
Seeking "cooperative feedback" during the year builds the relationship resulting in a productive performance review
Robert and I discuss how the employee  has options with the unprepared competitive or dictatorial bosses who expect you to be "cooperative" without resistance. "Having less power doesn't make you powerless…"
There are informal sources of power but with a strategy you will not be the victim such as having "power-under"
The key to having a productive and successful performance review is knowing your goals
Robert also provides specific instances where the strategies were implemented and successful
Join us next week for our Christmas show. There will be a lot of job search nuggets and surprises!
My name is Mark Anthony Dyson, and I am the Founder of The Voice of Job Seekers. I am a career advice writer, but more importantly, I hack and re-imagine the job search process.. I've worked with hundreds of job seekers one-on-one helping them to construct a narrative and strategy that appeals to hiring managers and recruiters. I present at colleges and organizations, and facilitated many workshops including my volunteer effort through a Job Lab. I write and create useful job search content on this blog and write career and workplace advice for blogs such as Glassdoor, Payscale, Job-Hunt.org, Prezi and more. Media Feature highlights: Forbes, Business Insider, NBC News, Glassdoor, LinkedIn's #GetHired, and NPR Freelance writer and content contributor: Glassdoor, Payscale, job-hunt.org, The Financial Diet, RippleMatch.com and more. Contact me to contribute career, job search, or workplace advice for your site at markanthonydyson@gmail.com.