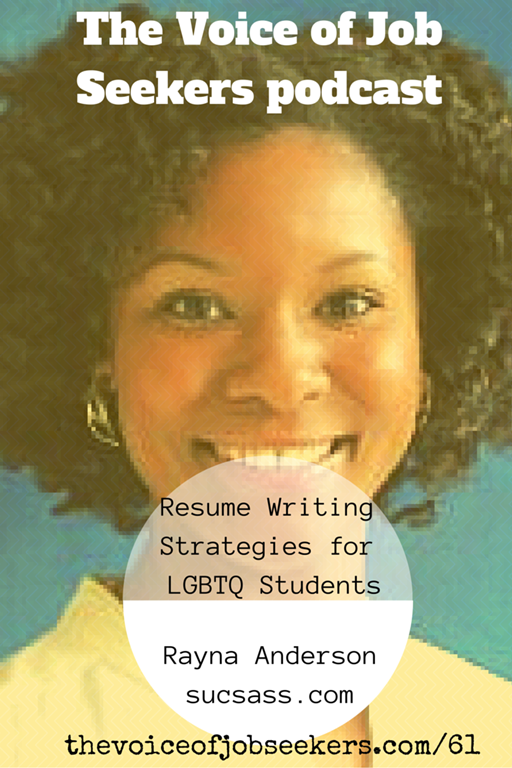 Podcast: Play in new window | Download | Embed
Subscribe: Apple Podcasts | RSS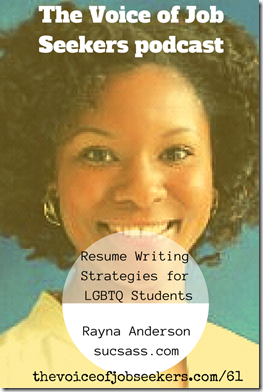 College students from 18-25 are very impressionable, but when they discover their identity as Lesbian, Gay, Bi-Sexual, Transgender, and Questioning (LGBTQ) students their world becomes complicated, not by choice. The lack of resources for LGBTQ students and the people who will provide unbiased counseling, depending where they live, are few. Rayna Anderson found that out when she decided to write her graduate paper last year, "Assessing the Readiness to Reveal: Resume Writing Strategies for LGBTQ Students."
Let's be clear: Rayna's paper has more to do with LGBTQ students finding opportunities where he or she can be open and authentic within their profession. Not how or when to employ traditional advice that discourages lifestyle disclosure. Today's topic is related to the conversation with Tonie Snell a few weeks back.
Rayna's advice is not only useful for career service professionals, but also for all career professionals such as recruiters, resume writers and career counselors. LGBT job seekers would be interested in her paper and her thoughts as she experienced what some would say apathy in meeting the unique needs of this community. Feel free to add your thoughts on the blog, or review this episode in iTunes. I always invite your feedback by one of three ways:
Blog: TheVoiceofJobSeekers.com (Use the send voicemail feature)
Email: mark@thevoiceofjobseekers.com
Voicemail:
708.365.9822
Rayna Anderson, CPCC, is a certified Career Coach, and founder of sucsass.com. Rayna completed her Masters of Arts in Education last year at Louisiana State University in 2013. She currently works as a career services professional at the University of Houston. The subject of our conversation is Rayna's graduate paper where she discovered that antiquated advice attitudes were predominant among her peers and the lack of overall resources elsewhere. She decided that she would be one of the few available resources by writing the paper.
Rayna understands no cookie cutter methods are available to advise or coach anyone, and there needed to be places where LGBTQ students can go to for sound advice and an empathetic ear.
Here are some highlights from our discussion:
The idea came through casually counseling another student. She was looking for resources outside of what career services had available and didn't find any
None of her colleagues was able to provide a straight answer because it was considered a "touchy" subject. She saw that many of her professional colleagues personal beliefs transferred into their professional practices. Many of them suggested that an LGBTQ student leave their orientation off his or her resume until "a fair shot at an interview" was presented
Rayna said that career services across the country are fighting against the idea that they are these parental figures, 85 and older, and look the same giving similar advice as a parent would
Rayna stated that the culture and climate of colleges were changing so quickly that career professionals need to keep up in spite of traditional beliefs
She said that LGBTQ community members respond openly and willingly once they that the adviser is an advocate. Career professionals will need to balance the information given: The "ugly reality" that discrimination shouldn't happen, the fact that LGBTQ population is unprotected in every state, and groups and companies that are advocates
Rayna referenced the Human Rights Campaign and the Corporate Equality Index as great places for LGBTQ members could go for companies that are "LGBTQ friendly." Larger corporations tend to promote inclusion efforts locally so students can target for internships
She stated that it was important that career professionals be willing to lead them to resources, encouraging them to research, and come to conclusions on their own. College students are very impressionable, and it's important not to make the conversation a bigger deal than it should be
I would love your thoughts on this topic. If you are a member of the LGBTQ community, do you feel that career advice is hard to find. Are career professionals giving you the company line? Have you found that career advisors are helpful when you want to be authentic and open? Please, go to the blog at The Voice of Job Seekers and leave your comment, or just use the contact info at the beginning of the show notes.
I am the "The Voice of Job Seekers!" I offer compassionate career and job search advice as I hack and re-imagine the job search process. You need to be "the prescription to an employer's job description." You must be solution-oriented and work in positions in companies where you are the remedy. Your job search must be a lifestyle, and your career must be in front of you constantly. You can no longer shed your aspirations at the change seasons. There are strengths you have that need constant use and development. Be sure you sign up to download my E-Book, "421 Modern Job Search Tips 2021!" You can find my career advice and work in media outlets such as Forbes, Inc., Fast Company, Harvard Business Review, Glassdoor, and many other outlets.