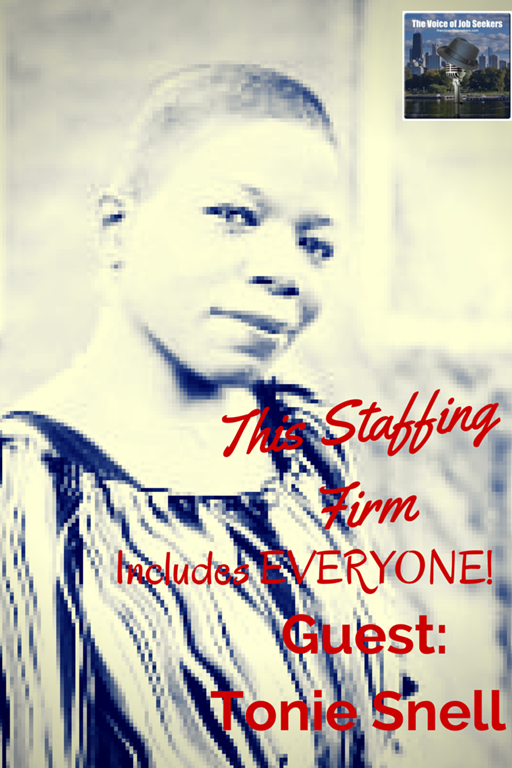 Podcast: Play in new window | Download | Embed
Subscribe: Apple Podcasts | RSS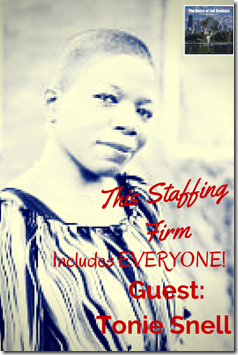 925 Hire, LLC, a company founded by Tonie Snell, is an all inclusive staffing firm to help job seekers from all walks of life. Although Tonie is part of the LGBT community. She desires to build a diversestaffing company accessible to anyone in all states. She also wants former incarcerated men and women to have access to gainful employment as everyone else does.
I invite your feedback on this episode, and any episode:
Voicemail: 708.365.9822
email: [email protected]
Blog: TheVoiceofJobSeekers.com/56
Tonie Snell, a recruiter for more than 15 years, started her company in 2010. As a result of a discouraging conversation she had with a peer, she decided to be a solution as an inclusive supplier of diversity (listen to the story at around  3:00).
She wanted form a company where LGBT candidates (or anyone else) can feel free to be "…their authentic self." Since that time, her cloud-based company has a staffing presence in most states. Her clients include Fortune 500 companies that have contacted her for staffing help.
Here are some highlights from our conversation:
3:55 Tonie says that people are still intrigued, but assures them that they are no different than any of the familiar staffing firms
4:50 Tonie said that she had turned away companies that do not allow LGBT candidates to be their authentic self in a safe working environment.
5:30 She helps corporate clients to see that in order to compete globally that their talent is their brand. The LGBT believes in brand loyalty and will reciprocate if shown loyalty.
7:00 925Hire is an LGBT certified company, and she has been talking with other companies to bring about awareness.
17:30 Tonie stated that she intentionally created a cloud-based company so that her recruiters will stay grounded to build one-to-one relationships with potential clients. She emphasized that relationship building is the key to success.
If you want to subscribe to our iTunes feed, and if you enjoy the show, please write a review for us about this interview.
What questions would you have asked? What would you like to know? Let me know what you think?
I am the "The Voice of Job Seekers!" I offer compassionate career and job search advice as I hack and re-imagine the job search process. You need to be "the prescription to an employer's job description." You must be solution-oriented and work in positions in companies where you are the remedy. Your job search must be a lifestyle, and your career must be in front of you constantly. You can no longer shed your aspirations at the change seasons. There are strengths you have that need constant use and development. Be sure you sign up to download my E-Book, "421 Modern Job Search Tips 2021!" You can find my career advice and work in media outlets such as Forbes, Inc., Fast Company, Harvard Business Review, Glassdoor, and many other outlets.