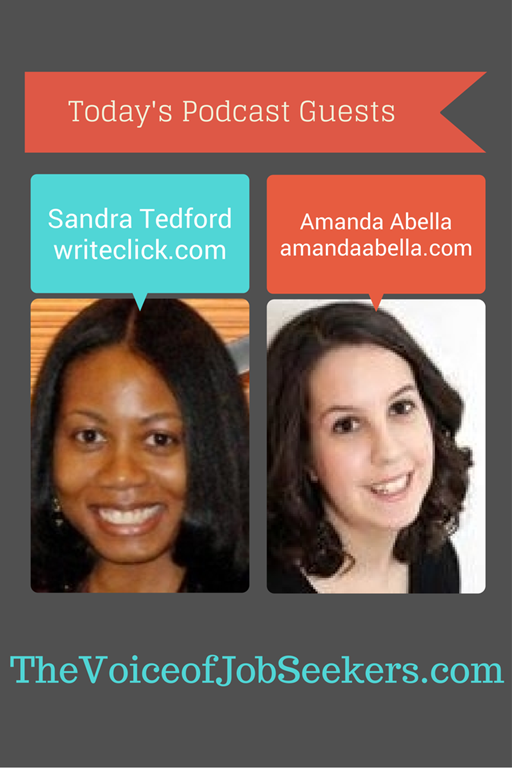 Podcast: Play in new window | Download | Embed
Subscribe: Apple Podcasts | RSS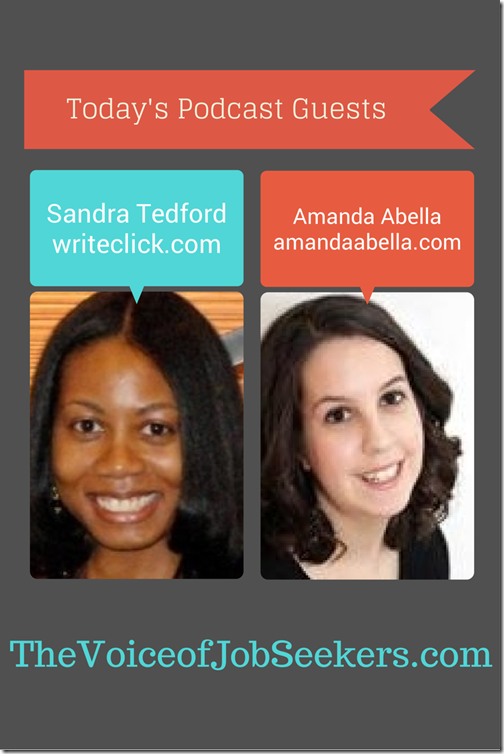 This episode introduces an e-book that Sandra Tedford and I wrote, Free Guide: 5 Easy Ways You Can Create An Amazing Online Presence. Amanda Abella offers advice about having the right perspective of money in order to create financial freedom. Job seekers will achieve long-term success if their finances and online presence trajectory is clear for his or her career.
What? Finances no big deal to you and your career? No online presence? For you, this is a MUST LISTEN episode!
Contact info:
Blog: TheVoiceofJobSeekers.com
email: mark@thevoiceofjobseekers.com
Phone: 708.365.9822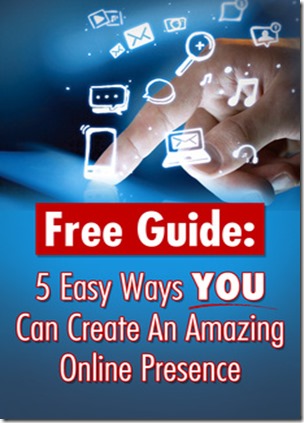 Sandra Tedford has contributed to this blog frequently. Her most recent contribution was my guest host on episode 24. She is the founder of WeTalkToday.com and writeclik.com. Sandra helps small businesses off the ground, establish an online presence, and produce online marketing content. She is the author of a couple of books including the newly released, LinkedIn Profile Mastery: Learn the Secrets to Get Noticed, Get Hired and Build Your Business Network.
At 3:00
Here are some highlights from this two part discussion:
Sandra shares about how she was running into so many business owners how to use the social profiles, and who didn't have an online presence.

Many successful people still do not have an online presence to match their message

Business today is about global and working from anywhere, not limited to local. An online presence establishes you and validates your credibility.
At 11:33…
Amanda Abella is a Writer, Motivational Speaker, Career and Business Coach, who authored the book, "Make Money Your Honey." Her advice was featured in Huffington Post, Chicago Tribune, and Forbes. She is also a friend of Coach Jennie, one of episode 48 guests.  I first saw Amanda on an episode of All Things Career (shout out to @KevinKermes), and I remembering liking the interview. Jennie was so generous in suggesting a guest, so when she mentioned Amanda, I asked if Jennie could introduce us. The rest, as they say is history.
Highlights of our discussion:
Lack of financial control skews our career view and limits our choices

What does financial freedom mean? It means different things to different people

Financial freedom means making the right choices, not necessary sacrifices

Out of control debt puts people in a situation where the wrong career is realized after chasing money

The view of the debt or someone else's view can affect your decision, and are affected by not having his or her conviction about finances
At 33:44
Sandra and I resume discussing the importance of having an online presence and potential  components such as, published articles, press, blogs, PowerPoint Presentations on Slide Share, YouTube, and more. In this segment, we discussed:
It won't be feasible to all that we suggested, but test what may be cost-effective to achieve a result ROI (Return on Investment)

Your online presence is easier now than ever before especially with YouTube or audio content such as podcasting

The world is in the mobile space now so your online presence must reach users in a way that is convenient for potential followers, clients, or employers

Google plus is a very viable option to build an online presence because of the tools such as YouTube, Google Hangouts, Google Drive, and your content presence showing in Google results
My name is Mark Anthony Dyson, and I am the Founder of The Voice of Job Seekers. I am a career advice writer, but more importantly, I hack and re-imagine the job search process.. I've worked with hundreds of job seekers one-on-one helping them to construct a narrative and strategy that appeals to hiring managers and recruiters. I present at colleges and organizations, and facilitated many workshops including my volunteer effort through a Job Lab. I write and create useful job search content on this blog and write career and workplace advice for blogs such as Glassdoor, Payscale, Job-Hunt.org, Prezi and more. Media Feature highlights: Forbes, Business Insider, NBC News, Glassdoor, LinkedIn's #GetHired, and NPR Freelance writer and content contributor: Glassdoor, Payscale, job-hunt.org, The Financial Diet, RippleMatch.com and more. Contact me to contribute career, job search, or workplace advice for your site at markanthonydyson@gmail.com.