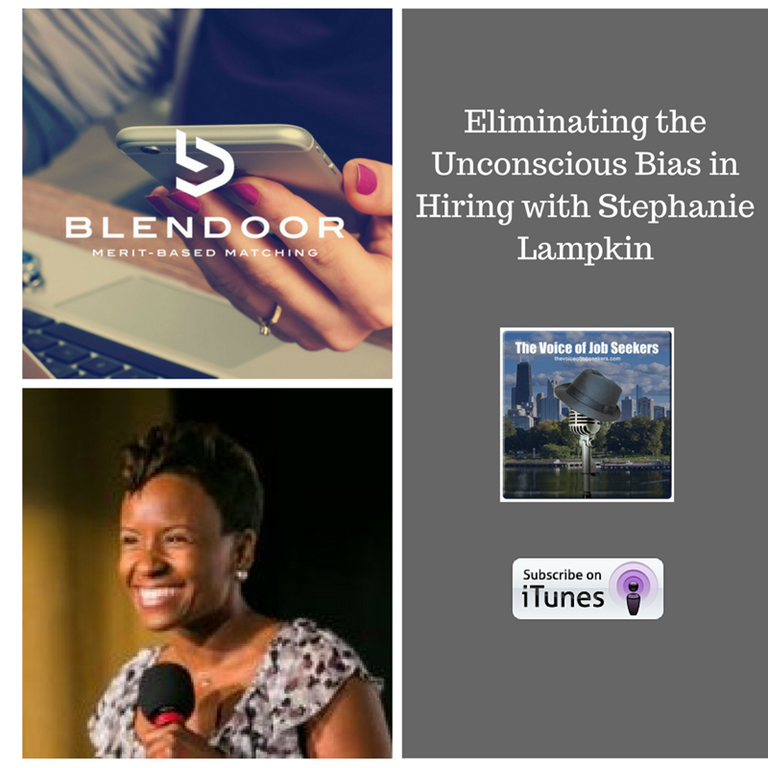 Podcast: Play in new window | Download | Embed
Subscribe: Apple Podcasts | Android | RSS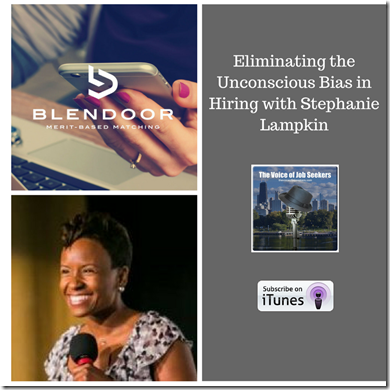 I was fascinated by articles discussing the Blendoor app. It was developed and founded by Stephanie Lampkin was able to get venture capital funding for it. The Blendoor app is a blind recruiting tool  eliminating features used to screen candidates from "unconscious bias." I consider this a game changer especially if it minimizes or eliminates discrimination. The only important elements in hiring are skills and experience.
Let me now what you think about the Blendoor app's possibilities. Here's how you can comment:
Call and leave a voicemail at 708-365-9822, or text your comments to the same number
Go to TheVoiceofJobSeekers.com, press the "Send Voicemail" button on the right side of your screen and leave a message
Send email feedback to mark@thevoiceofjobseekers.com
Stephanie has degrees from Stanford and MIT and at one point, worked for Microsoft and Google. After seeing studies of how bias plays a major factor in hiring, she wanted to make an app eliminating bias based on race, creed, ethnicity etc. Stephanie has been featured in Forbes, Fast Company, Black Enterprise, and TechCrunch.
Stephanie created the Blendoor app out of seeing the need to provide more diverse job seekers
We discussed how ethnic names are negatively subject to bias
Directly combats the myth diversity hiring means "lowering the bar"
The goal is for the app to provide 100% merit based hiring
Stephanie stated although women are more likely to graduate from college and score higher on tests, bias unconsciously is a major obstacle
We discuss the features in the app and why it stands out
Need help with your career goals, directions, or efforts? Do you need coaching or instruction? I am here for it!
Also, join our Linkedin community! You'll enjoy some of the insights shared by community members and other career pros!
If you're a career pro and love giving career advice, let me know. Thanks for being among the thousands who listen every month. There's so much more to come so stay tuned.Remember, I will not release a show next week because of Thanksgiving. The next show will be on November 29.
Remember, I will not release a show next week because of Thanksgiving. The next show will be on November 29.
I am the "The Voice of Job Seekers," career consultant, job seeker advocate, career writer, and founder of this award-winning blog. I help the employed, unemployed, underemployed, and under-appreciated find jobs using job search strategies to navigate the new job market. I aim to give a safe place online to those with different needs, cultures, and ethnicities to find their voice in the job market. Thousands have read my career advice throughout the web as I write about everything from job search strategies to the mobile job search. I have published more than 400 articles on this blog and some of the largest career sites such as Recruiter.com, YouTern, and Come Recommended. I've been quoted in major online publications such as Monster, TIME/Money, Fortune, Business Insider and MSN. FlexJobs, JobMonkey, Aerotek, Career Pivot, and CareerSherpa listed my podcast as one of the top podcasts to help your job search. Love for you to sign up for the weekly newsletter. I share the latest articles I've written, new podcast episodes, and answer any questions you may have. The new job search is scary and if you need help, I am here for it!