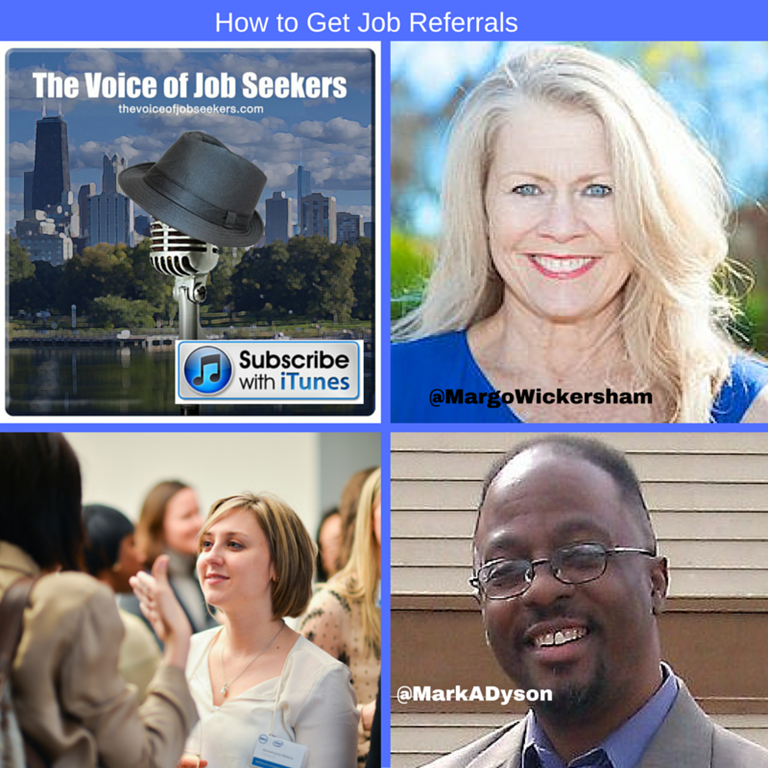 Podcast: Play in new window | Download | Embed
Subscribe: Apple Podcasts | RSS
For this last summer episode, this is a recent interview with Margo Wickersham who has a Blab show. Originally, she was going to have Hannah Morgan on her show. However, at the last minute Hannah couldn't do it so Margo called me to fill in. You will see we had quite a robust conversation–get that coveted external referral!
How important are referrals to your career? Let's talk about it. I would love your feedback in one of three ways:
Call and leave a voicemail at 708-365-9822, or text your comments to the same number
Go to TheVoiceofJobSeekers.com, press the "Send Voicemail" button on the right side of your screen and leave a message
Send email feedback to mark@thevoiceofjobseekers.com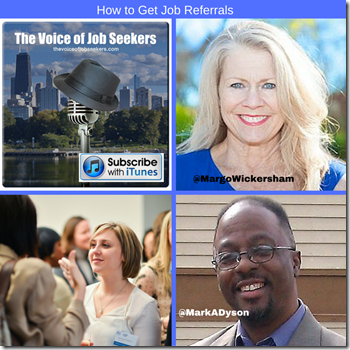 Let me tell you a little bit more about Margo Wickersham. She provides business coaching and training for entrepreneurs through her website, MargoWickersham.com. She is a long-time executive and senior manager in the marketing space. Her Blab show is geared towards helping business people and job seekers thrive with advice and tools useful to achieve success.
Here are some of the highlights of our conversation:
Everyone has a skill set regardless of who you are. Even if you're a Certified Nurse Assistant who has to sit with a patient with behavioral challenges, you have to be patient and courageous. Everyone has to extract from themselves what makes them marketable and referable
Investing in your network's worth is the way to engage future referrers way before you need to find the next job
Your family and friends are still part of your network. Many unemployed job seekers don't want family and friends to know, although not always as useful, they are emotionally vested
Margo added a good referral network doesn't happen overnight but overtime
Many levels and layers are essential but it's about relationships, context, and community
Being a good referrer helps you understand the dynamic. Margo mentioned "paying it forward" was essential in adding value to your network
Referrals whether giving or receiving should be an overflow of the heart. Build context!
Disrupt the hiring process by getting a referral. You "jump the shark" and automatically considered with candidates deemed highly-qualified by the ATS (Applicant Tracking System)
Margo shares a story of how she was able to re-connect with LinkedIn contacts and got a referral and a job
Familiarity is practically everything, even if it is not a close contact
Trust equity is associated with the person who refers you. The interview becomes a conversation rather than interrogation
Referrals can be positively disruptive, often meaning you'll be memorable
Relationships even after the referrals is essential to your career and personally. Gratitude and the value exchange positively adds value
Giving more than taking says much about your character
How do  you connect to more people when you just are in contact with 20? LinkedIn is the best at increasing your connection numbers quickly
Need help with your career goals, directions, or efforts? Do you need coaching or instruction? I am here for it!
Also, join our Linkedin community! You'll enjoy some of the insights shared by community members and other career pros!
This is the last show of the summer. The next one will be Sept 6. I will be publishing new articles (up to 3x a week) on the blog. If you're a career pro and love giving career advice, let me know. I would love to have more guest writers during my hiatus and beyond. Thanks for being among the thousands who listen every month. There's so much more to come so stay tuned!
I am the "The Voice of Job Seekers!" I offer compassionate career and job search advice as I hack and re-imagine the job search process. You need to be "the prescription to an employer's job description." You must be solution-oriented and work in positions in companies where you are the remedy. Your job search must be a lifestyle, and your career must be in front of you constantly. You can no longer shed your aspirations at the change seasons. There are strengths you have that need constant use and development. Be sure you sign up to download my E-Book, "421 Modern Job Search Tips 2021!" You can find my career advice and work in media outlets such as Forbes, Inc., Fast Company, Harvard Business Review, Glassdoor, and many other outlets.