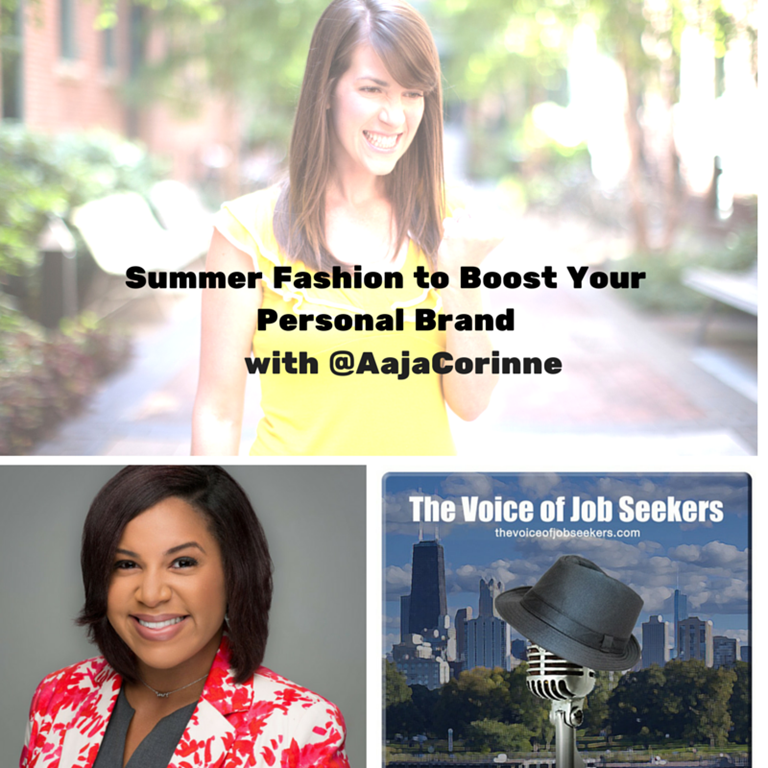 Podcast: Play in new window | Download | Embed
Subscribe: Apple Podcasts | Android | RSS

It's summer, and once again Aaja Corinne is back to share her summer fashion and brand advice.
I always enjoy these shows as we provide some light-hearted commentary to help boost your personal brand.
To add your voice or comments to the show you can:
1) Leave a voice mail or text message at 708-365-9822. Let me know if I can share it on future shows
2) Email me: mark@thevoiceofjobseekers.com
3) Go to TheVoiceofJobSeekers.com and press the "Send Voicemail" button to leave a message online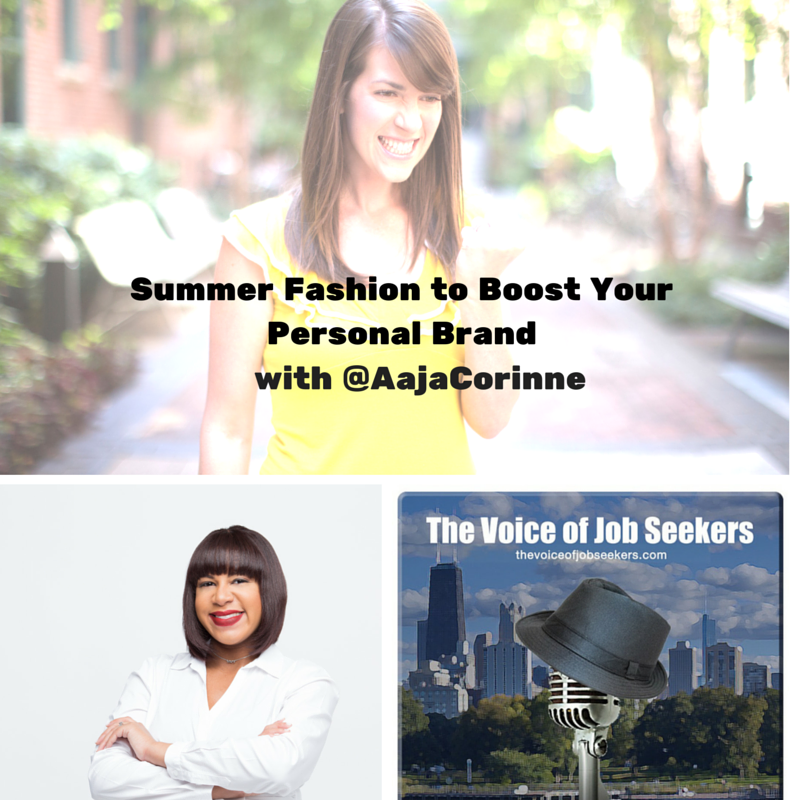 Aaja is an image consultant and brand strategist whose client list includes Babyface (yes, the singer/songwriter/producer) and Bianca Golden, America's Top Model Contestant. Aaja's media features include WVON in Chicago, JET Magazine, and Today's Chicago Woman Magazine.
Here are a few highlights from our conversation:
-Best professional looks for the summer especially the interview
-Layer and dress for comfort
-Think light, patterns, a little jewelry
-Men well groomed, beard trimmed, nails manicured, and shirts tucked in
-Men must be sure the half-shaved look is good for the interview. Authenticity is important, but when in doubt
-For women, grooming is as important as clothes
-Humid temperatures need adjustments in office wear
-What to have for the ever-changing weather — sunny to rain to 100% humidity in some places–and keep it professional and on-brand
–Best shoe wears for rainy weather
-Rain boots are essential and more professional
-Arrive early to transition from outside wear
-Trench coat is classic, polished, and professional to maintain day look
-Umbrella quality is necessary, worth the investment and show personality
Need help with your career goals, directions, or efforts? Do you need coaching or instruction? I am here for it!
Also, join our Linkedin community! You'll enjoy some of the insights shared by community members and other career pros!
I will not publish a show on the week of July 4. Please enjoy the catalog available on iTunes and many other podcast directories.
Don't forget the last show for the season is July 26, and the new one will begin on Sept. 6. I will be publishing new articles (up to 3x a week) on the blog. If you're a career pro and love giving career advice, let me know. I would love to have more guest writers during my hiatus and beyond.
I am the "The Voice of Job Seekers," career consultant, job seeker advocate, career writer, and founder of this award-winning blog. I help the employed, unemployed, underemployed, and under-appreciated find jobs using job search strategies to navigate the new job market. I aim to give a safe place online to those with different needs, cultures, and ethnicities to find their voice in the job market. Thousands have read my career advice throughout the web as I write about everything from job search strategies to the mobile job search. I have published more than 400 articles on this blog and some of the largest career sites such as Recruiter.com, YouTern, and Come Recommended. I've been quoted in major online publications such as Monster, TIME/Money, Fortune, Business Insider and MSN. FlexJobs, JobMonkey, Aerotek, Career Pivot, and CareerSherpa listed my podcast as one of the top podcasts to help your job search. Love for you to sign up for the weekly newsletter. I share the latest articles I've written, new podcast episodes, and answer any questions you may have. The new job search is scary and if you need help, I am here for it!