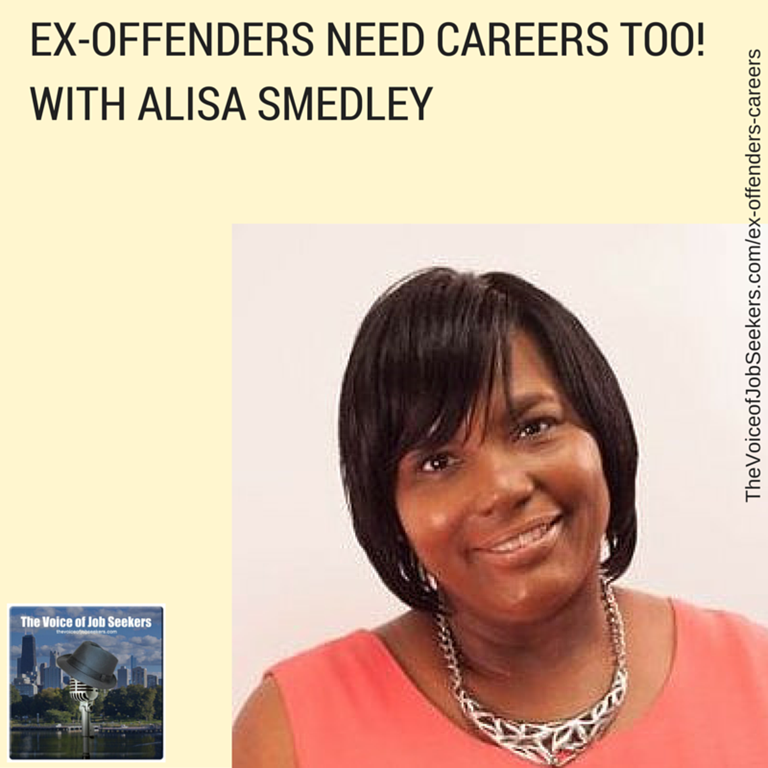 Podcast: Play in new window | Download | Embed
Subscribe: Apple Podcasts | Android | RSS
Note: My side of the conversation this week has noise I could not filter out in post production. However, Alisa's side of the conversation had perfect audio. I published this show because of the outstanding content Alisa provides about ex-offenders find careers. I apologize for the audio quality, but it is a worthwhile investment of your time.
It is important ex-offenders find work and be productive members of society. Like many of us, they need direction and inspiration from many sources. Alisa Smedley can relate to how important it is personally and professionally. She has taught and coached thousands how to find jobs and to be a money-earning, tax-paying citizen. All of us can learn and know how we can be a positive influence in their lives, jobs, and careers.
Are you an ex-offender who is working? I would love for you to contribute to this conversation. Here's how:
Call and leave a voicemail at 708-365-9822
Go to TheVoiceofJobSeekers.com, press the "Send Voicemail" button on the right side of your screen and leave a message
Send email feedback to mark@thevoiceofjobseekers.com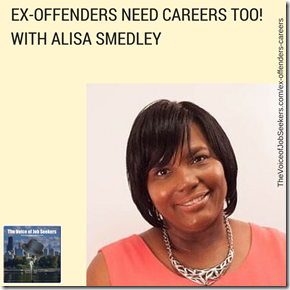 Alisa is a MCCF American Job Coordinator for the Montgomery County Office of Human Rights. She has won several awards for her work such as the Excellence Award and a Human Rights Hall of Fame Nominee. She has appeared on CNN, NPR, and Wall Street Journal as an expert in helping ex-offenders in transition to find jobs and careers to contribute to society. Here are a few highlights from our conversation:
Alisa shares her personal story of a family member's crime affecting her life and career forever
One of her goals for ex-offenders she teaches is to identify criminal thinking
"Fast money does not last…" hard work is essential
Her program helps their awareness of the alternatives of career production versus crime
Many industries don't care about your prison record, they care if you can do the job
Get the first job you can to get the discipline, then career mobility will come
Any job – better job – career is a realistic progression for ex-offenders
"Education, preparation, and training must be done…"
"Planting seeds and changing their minds is a great first step…"
Ex-offenders should hang around people who are like-minded with dreams and goals
Inspiring and visualizing better places will help them shift their thinking and often works as a deterrent
Need help with your career goals, directions, or efforts? Do you need coaching or instruction? I am here for it!Also, join our Linkedin community! You'll enjoy some of the insights shared by community members and other career pros!
I would still like to help self-published career professionals promote their books. If you're interested, find more info here.
For the first time in 1 1/2 years, I am opening to career professionals to write guest articles. If you're interested, you can go here for further topics and directions to submit.
I am the "The Voice of Job Seekers," career consultant, job seeker advocate, career writer, and founder of this award-winning blog. I help the employed, unemployed, underemployed, and under-appreciated find jobs using job search strategies to navigate the new job market. I aim to give a safe place online to those with different needs, cultures, and ethnicities to find their voice in the job market. Thousands have read my career advice throughout the web as I write about everything from job search strategies to the mobile job search. I have published more than 400 articles on this blog and some of the largest career sites such as Recruiter.com, YouTern, and Come Recommended. I've been quoted in major online publications such as Monster, TIME/Money, Fortune, Business Insider and MSN. FlexJobs, JobMonkey, Aerotek, Career Pivot, and CareerSherpa listed my podcast as one of the top podcasts to help your job search. Love for you to sign up for the weekly newsletter. I share the latest articles I've written, new podcast episodes, and answer any questions you may have. The new job search is scary and if you need help, I am here for it!