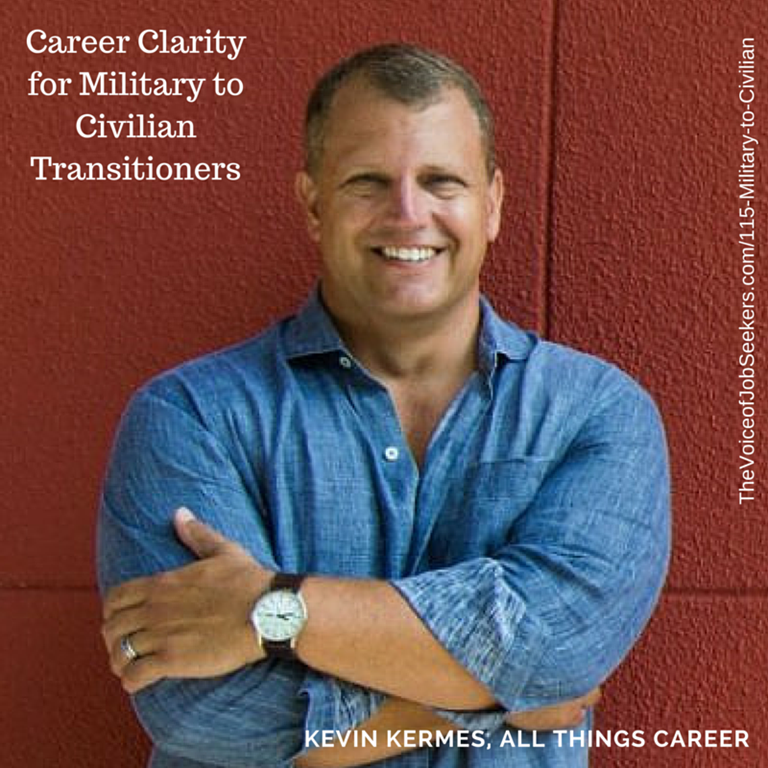 Podcast: Play in new window | Download | Embed
Subscribe: Apple Podcasts | Android | RSS

This week's show is special because we are digging deeper into the military to civilian career transition experience. Kevin Kermes was a lieutenant in the Army and worked as a headhunter for ten years before founding All Things Career.  Clarity is essential for your job search. Kevin's advice and story is paramount to understanding why. I want to thank our mutual friend Michelle Lederman for introducing us and suggesting him as a potential guest.
I would love to hear about your military to civilian transition if this show resonates with you:
Call and leave a voicemail or text me at 708-365-9822
Go to TheVoiceofJobSeekers.com, press the "Send Voicemail" button on the right side of your screen and leave a message
Send email feedback to mark@thevoiceofjobseekers.com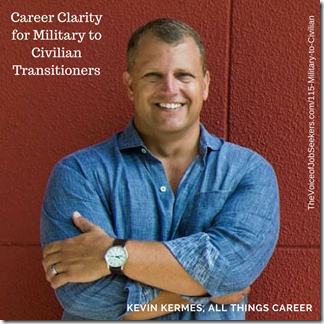 Kevin founded All Things Career in 2008. He has also founded the sites Career Attraction,Every Veteran Hired, and CareerMeh. They have been featured in major sites such as Forbes, CareerBuilder, and the Wall Street Journal.
Here are a few highlights from our discussion:
Kevin shares about his transition from military to civilian experience
Transition back to civilian life is on going. There are "landmines" on the road to finding work that you love
Kevin and many other military veterans are"…crystal clear about what they are moving away from but not what you're moving towards."
"It's a little bit of a calibration process…because something doesn't work doesn't mean that you've failed."
Working with a headhunter only presented opportunities available through them, not the whole career landscape
Before getting out beef up your civilian network to gather wider job market intelligence
Going back to school is not always the answer
The cultural shift is huge and thinking everyone has the same background as yours is a major adjustment
Finding what you are looking for in a culture is important, perhaps even longevity. Working with a team with the same goals and objectives
Your military unit and its value is difficult to find in a company
Finding purpose is a journey, takes sorting out beyond salary
In finding your purpose and work you love, Kevin suggests you go back to people you've worked with and ask, "What did I do to make your life easier?"
Listen to how you made people feel
Need help with your career goals, directions, or efforts? Do you need coaching or instruction? I am here for it!Also, join our Linkedin community! You'll enjoy some of the insights shared by community members and other career pros!
I would still like to help self-published career professionals promote their books. If you're interested, find more info here.
My name is Mark Anthony Dyson, and I am the Founder of The Voice of Job Seekers. I am a career advice writer, but more importantly, I hack and re-imagine the job search process.. I've worked with hundreds of job seekers one-on-one helping them to construct a narrative and strategy that appeals to hiring managers and recruiters. I present at colleges and organizations, and facilitated many workshops including my volunteer effort through a Job Lab. I write and create useful job search content on this blog and write career and workplace advice for blogs such as Glassdoor, Payscale, Job-Hunt.org, Prezi and more. Media Feature highlights: Forbes, Business Insider, NBC News, Glassdoor, LinkedIn's #GetHired, and NPR Freelance writer and content contributor: Glassdoor, Payscale, job-hunt.org, The Financial Diet, RippleMatch.com and more. Contact me to contribute career, job search, or workplace advice for your site at markanthonydyson@gmail.com.