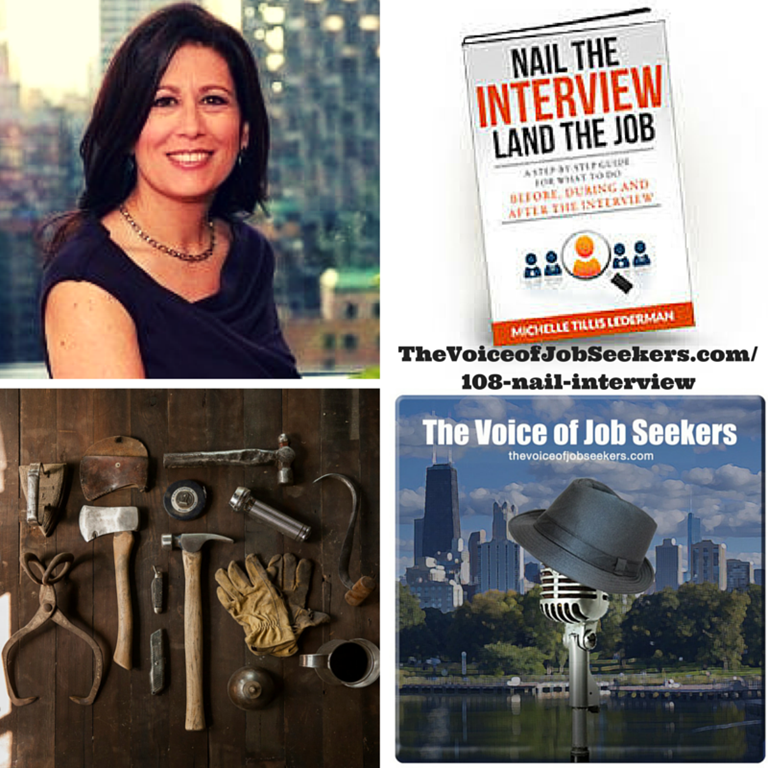 Podcast: Play in new window | Download | Embed
Subscribe: Apple Podcasts | RSS
I presented several interview experts and books in this podcast including Michelle Lederman's last interview book for veterans, Heroes Get Hired. Her latest book focuses on reframing the limiting beliefs preventing a confident presentation and standing out. The book also details what needs to be done after the interview process.
What are your interview challenges? I would love to hear your thoughts in one of three ways:
Call and leave a voicemail at 708-365-9822
Go to TheVoiceofJobSeekers.com, press the "Send Voicemail" button on the right side of your screen and leave a message
Send email feedback to

[email protected]
If you are a career professional who advise job seekers and adds feedback whether it's advice or a differing opinion, I will include a link in future show notes and read your comments on an upcoming show. Just let me know if it's OK with you.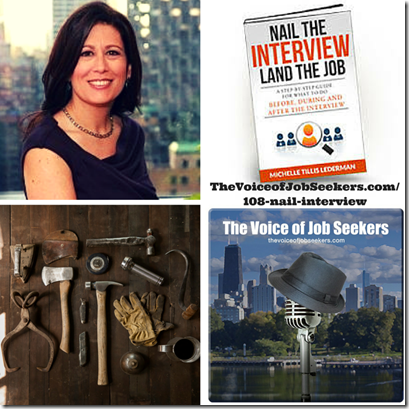 Michelle Lederman is one of my favorite people and a friend of the blog. Michelle is founder of executiveessentials.org, and author of the new book, Nail The Interview Land the Job. Her book, The 11 Laws of Likability from four years ago is now a Rutgers class, and "Heroes Get Hired" is an interview book specifically for Military, military veterans, and their families. Her media credits include CBS, Fox, NPR, NY Times, Forbes & MSNBC).
Highlights from our conversation include:
Michelle said one of the common challenges to interviewing is limiting beliefs, yet most are unaware of this as a challenge and rarely talked about
Limiting beliefs are statements such as, "They are not going to let a new graduate into this position."
One way to overcome this is to reframe the limiting messages inside of our heads
Michelle has her clients do a tracking of their inner self-talk, frequency, what do these messages say
These messages and reframing limiting beliefs reach beyond interviewing and into our lives
The feeling of judgment affects our overall limiting belief, uncomfortable, feeling awkward
"The mind drives the body, and the body drives the mind" (defensive body positions, reveals lack of confidence
Reframe by making yourself bigger (in mind and physical) broaden chest, larger hand gestures, and through adding confidence
Michelle references the Amy Cuddy TED talk about "power-posing."
Too much practice can appear inauthentic
"Practice but do not script…" –Understand the structure in your mind as you tell stories of "How did you resolve a complaint?"
What stories highlight your strengths? Tell those stories.
Michelle offered personal stories of corporate interviews she had out of college
We talk about her section of the book on "mind games" which is much like "truth or dare."
Two more episodes before the end of this season of the show. Dec. 16 is the last show and I'll resume on Jan. 12 with a special Salary Negotiation show that focuses on helping WOMEN!
Have you subscribed to this show on iTunes? If you haven't, please do so. iTunes is a great place to write an honest review and increase the show's visibility. Enjoy listening to the show.
Let us know what you think.
Do you need help with resume writing or career direction? Do you need coaching or instruction?I can help.
Also, join our LinkedIn community! You'll enjoy some of the insights shared by community members and other career pros!
I would still like to help self-published career professionals promote their books. If you're interested, find more info here.
I am the "The Voice of Job Seekers!" I offer compassionate career and job search advice as I hack and re-imagine the job search process. You need to be "the prescription to an employer's job description." You must be solution-oriented and work in positions in companies where you are the remedy. Your job search must be a lifestyle, and your career must be in front of you constantly. You can no longer shed your aspirations at the change seasons. There are strengths you have that need constant use and development. Be sure you sign up to download my E-Book, "421 Modern Job Search Tips 2021!" You can find my career advice and work in media outlets such as Forbes, Inc., Fast Company, Harvard Business Review, Glassdoor, and many other outlets.