Podcast: Play in new window | Download | Embed
Subscribe: Apple Podcasts | RSS

Welcome to the 2nd annual Veteran's Day edition. This episode is dedicated to veterans everywhere who are transitioning back to the civilian sector. We wish you (veterans) much success during your transition, and hopefully, this show will contribute to your needs in finding the right job for you.
I would love your feedback, especially if there are tools you need for your job search. Perhaps we can cover them in future episodes. Here's how you can let me know:
Call and leave a voicemail at 708-365-9822
Go to TheVoiceofJobSeekers.com, press the "Send Voicemail" button on the right side of your screen and leave a message
Send email feedback to mark@thevoiceofjobseekers.com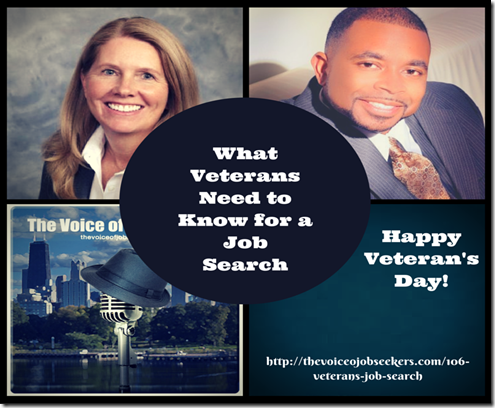 If you are a career professional who advise job seekers and adds feedback whether it's advice or a differing opinion, I will include a link in future show notes and read your comments on an upcoming show. Just let me know if it's OK with you.
Sultan Camp (@careersultan) is a military recruiter and headhunter who works for Orion International, a company  that finds civilian careers for Military Officers, Enlisted Technicians, and strong NCO leaders, as well as Veterans who have already transitioned but are seeking a career change. His contributions have included in media outlets such as Career Builder, Monster, Career Attraction, and Military Times.  Sultan's company sources, screens, and guides veterans to civilian jobs (think eHarmony).
His focus is on veterans technical or mechanical skill set. He puts them directly with a hiring manager
Hardest positions for veterans to fill: High-voltage technicians
Challenges remain to interpret military duties to civilian unless the company has a lot of experience, especially in interviews
Most veterans talk about what the team did before what "I did"
Veterans should try more conversations in interviews than monopolize it (less is more)
The mental pivot from wearing the uniform to civilian is a challenge. The word "fired' and "quit" are never used in the military. It's either the "end of contract" or "end of term"
Many who transition are given some time to start finding opportunities wait too long to find other opportunities. If you have a year, you should immediate start looking
"What are your preferences?" What are the priorities?" Those are the first two question is preparing transitioners
90-120 day mark before leaving is when he or she should be interview ready; not much time is spent on the resume, jobs again are technical
For those who don't interview well, the companies Sultan works with giving feedback for remedial training. They use their local branch transition office
Karin Durkee (@karindurk) is the Director of Social Media for Corporate Gray. She is a military spouse, educator, technology consultant, and author of Social Media and Your Job Search: Maximizing Your Network for a Successful Transition, an ebook for members of Corporate Gray. Karin presents social media workshops to transitioning military members on installations in the Washington, D.C. area. She is a frequent participant in The Voice of Job Seekers Linkedin group.
One of the myths of military is that they should avoid using social media if he or she has security clearance
Recruiters often look for security clearance, and it should be in a LinkedIn profile (although company rules and approval may determine how much info can be published)
Comfort level is also a consideration when determining if and how you want to be found online
High ranking officers use social media but care about not communicating clearance information
Social media is great place for research in a military transition
Find out how your expertise meets an employer's needs
A professional photo is critical on LinkedIn, personalizes your presence, and get noticed
It is highly recommended to use a professional civilian photo than your military photo
Joining LinkedIn groups keeps you apprised of your field and military groups
Twitter is great for military spouses, easy to set up profiles, follow companies and industry experts
Twitter hashtags are great for research and trends. HootSuite, a Twitter client, allows to follow conversations, trends, information
Don't: Don't use military jargon to describe your experience, recruiters must understand what your experience means to their civilian clients
Do: Define your accomplishments that is understood by civilians
Don't: When you say "retire" means you're done
Do: "Transitioning," says you are actively looking
You can Google "military terms translator" to help with military terms and acronyms
As a additional resource, go to www.everyveteranhired.com for the 100% complimentary tool for veterans called "The Job Ruck." The tool is useful to help high performers find their purpose after service. It's all about identifying purpose.
Have you subscribed to this show on iTunes? If you haven't, please do so. iTunes is a great place to write an honest review and increase the show's visibility. Enjoy listening to the show.
Let us know what you think.
Do you need help with resume writing or career direction? Do you need coaching or instruction?I can help.
Also, join our Linkedin community! You'll enjoy some of the insights shared by community members and other career pros!
I would still like to help self-published career professionals promote their books. If you're interested, find more info here.
My name is Mark Anthony Dyson, and I am the Founder of The Voice of Job Seekers. I am a career advice writer, but more importantly, I hack and re-imagine the job search process.. I've worked with hundreds of job seekers one-on-one helping them to construct a narrative and strategy that appeals to hiring managers and recruiters. I present at colleges and organizations, and facilitated many workshops including my volunteer effort through a Job Lab. I write and create useful job search content on this blog and write career and workplace advice for blogs such as Glassdoor, Payscale, Job-Hunt.org, Prezi and more. Media Feature highlights: Forbes, Business Insider, NBC News, Glassdoor, LinkedIn's #GetHired, and NPR Freelance writer and content contributor: Glassdoor, Payscale, job-hunt.org, The Financial Diet, RippleMatch.com and more. Contact me to contribute career, job search, or workplace advice for your site at markanthonydyson@gmail.com.