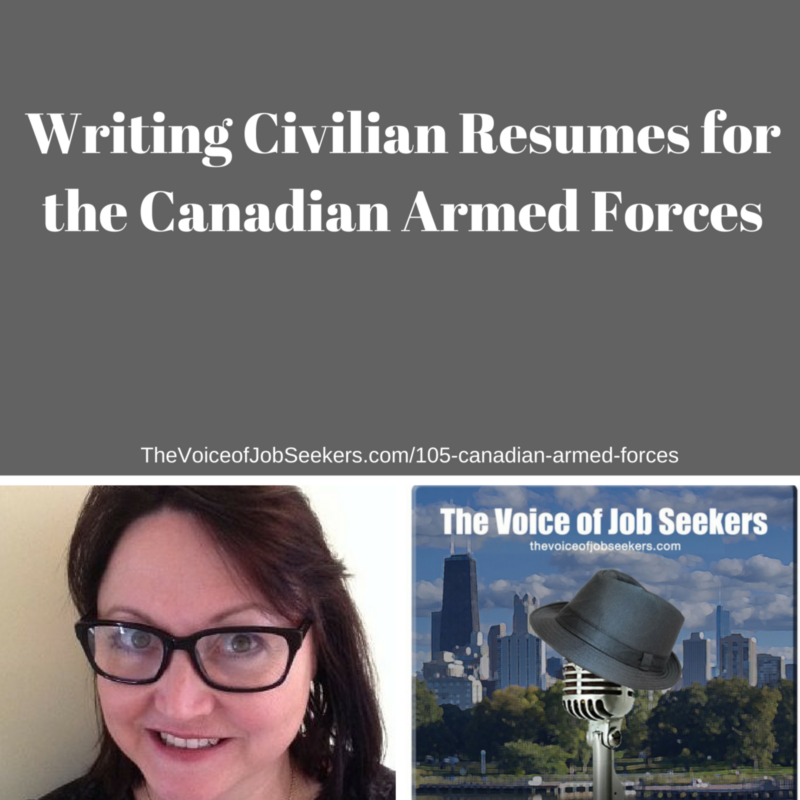 Podcast: Play in new window | Download | Embed
Subscribe: Apple Podcasts | Android | RSS

I thought that people would benefit if I had Audrey Prenzel back on the show to talk about her approach to resume writing for her Canadian Armed Forces to Civilian clients. This show complements next week's annual Veteran's day show. Be sure that you have subscribed so you can hear that special edition.
Are you in the military looking for civilian careers? If so, let me know in one of three ways:
Call and leave a voicemail at 708-365-9822
Go to TheVoiceofJobSeekers.com, press the "Send Voicemail" button on the right side of your screen and leave a message
Send email feedback to mark@thevoiceofjobseekers.com
If you are a career professional who advise job seekers and adds feedback whether it's advice or a differing opinion, I will include a link in future show notes and read your comments on an upcoming show. Just let me know if it's OK with you.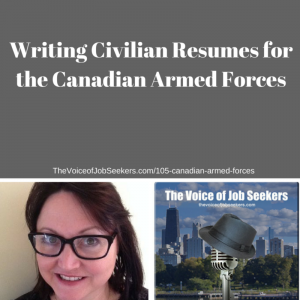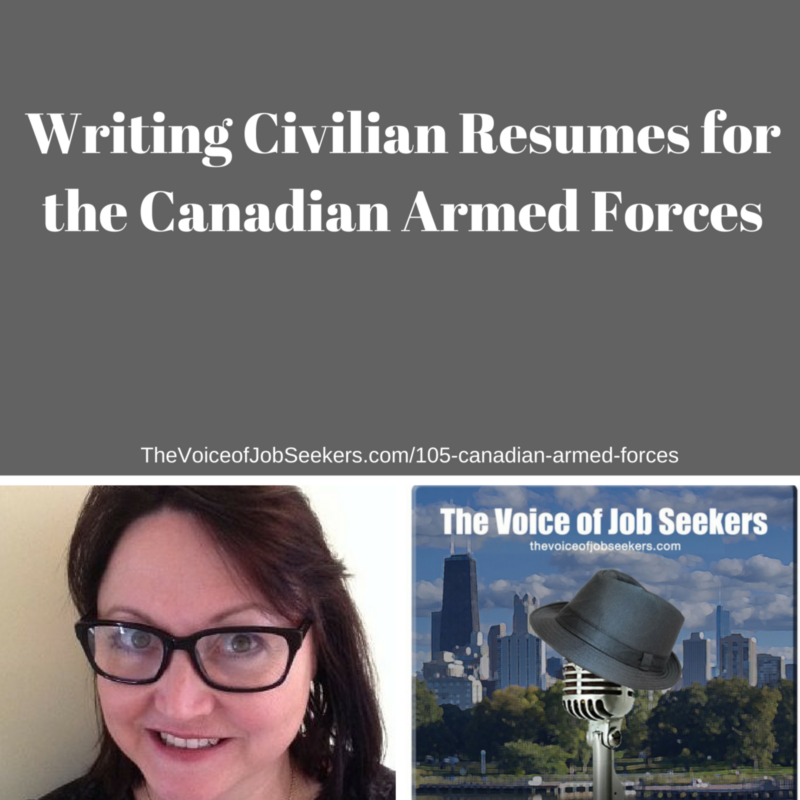 Audrey Prenzel of resumeresources.ca (@AudreyPrenzel) is a career transition strategist and an award-winning resume writer who specializes in writing and coaching for those in the Canadian Armed Forces. She has been published in multiple magazine, newspapers, and career publications.
Canada is unique for it has a melting pot population, so language is a major consideration. Many Canadian armed forces members speak French and English fluently
Military bases in Canada are primarily French-speaking. Audrey coaches her military clients to showcase their bilingual abilities (some speak more than two) to civilian employers
Audrey also coaches them to have a dedication language section as they would on a LinkedIn profile
Interestingly enough, most resumes are written in English unless the province is predominantly or solely French
The summary is a key spot on a Canadian armed forces to civilian resume, but provide a dedicated title for what you what to be known as e.g., "IT Bilingual Executive." Your summary will support your description
Audrey says that infusing personality in your summary is a great way to stand out. Hard skills and soft skills are important to include
Audrey recommends side step cheesy-overused-clichés such as "results-oriented" or "team-player
Your resume should answer many questions so the reader will have a good sense of who the applicant is
A sense of entitlement will keep you from selling your accomplishments. No one will hire on reputation alone
Reverse chronological is the preferred style by employers highlighting what the applicant did and how well they did it
One of the challenges in helping Canadian armed forces to Civilian Transition is translating the acronyms. Audrey has a file with more than 10,000 acronyms
"Tell me what you want to do" is important to target opportunities. Too much information is good to start

Have you subscribed to this show on iTunes? If you haven't, please do so. iTunes is a great place to write an honest review and increase the show's visibility. Enjoy listening to the show.
Let us know what you think.
Do you need help with resume writing or career direction? Do you need coaching or instruction?I can help.
Also, join our Linkedin community! You'll enjoy some of the insights shared by community members and other career pros!
I would still like to help self-published career professionals promote their books. If you're interested, find more info here.
My name is Mark Anthony Dyson, and I am the Founder of The Voice of Job Seekers. I am a career advice writer, but more importantly, I hack and re-imagine the job search process.. I've worked with hundreds of job seekers one-on-one helping them to construct a narrative and strategy that appeals to hiring managers and recruiters. I present at colleges and organizations, and facilitated many workshops including my volunteer effort through a Job Lab. I write and create useful job search content on this blog and write career and workplace advice for blogs such as Glassdoor, Payscale, Job-Hunt.org, Prezi and more. Media Feature highlights: Forbes, Business Insider, NBC News, Glassdoor, LinkedIn's #GetHired, and NPR Freelance writer and content contributor: Glassdoor, Payscale, job-hunt.org, The Financial Diet, RippleMatch.com and more. Contact me to contribute career, job search, or workplace advice for your site at markanthonydyson@gmail.com.