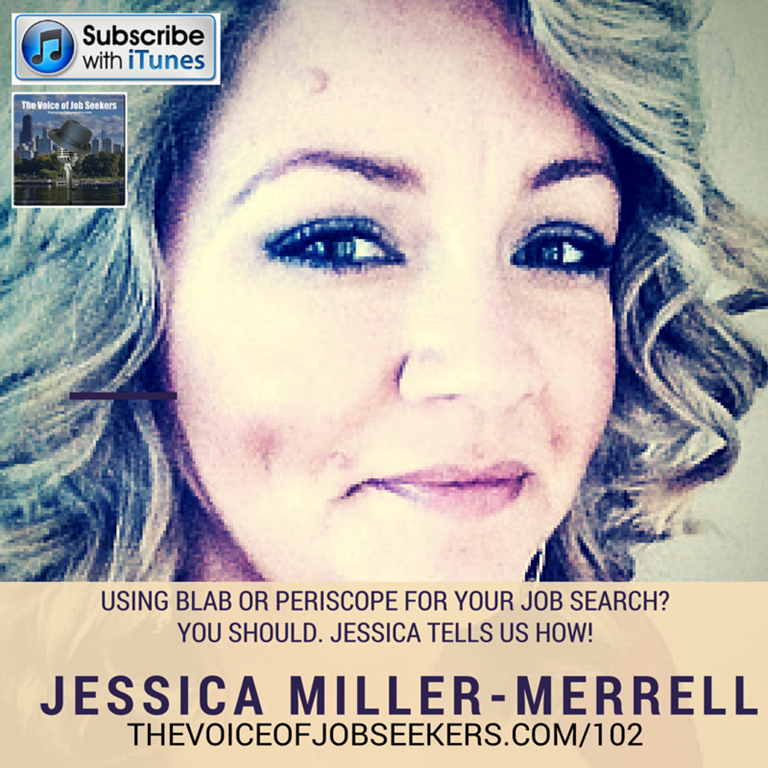 Podcast: Play in new window | Download | Embed
Subscribe: Apple Podcasts | RSS
Just don't think of Blab or Periscope only as a means of entertainment or to watch someone else use it to sell you stuff. Become an active participant to embellish your brand or as a strategic part of your job search. Jessica Miller-Merrell suggests that job seekers use it to connect with employers, share about your day, and even for informational interviews.
Have you started using Blab or Periscope yet? Would you use it to connect with employers? I would love to know what you think. As always, there are several ways to share your thoughts on the question or this show's interview:
1) Leave a voice mail or text message at 708-365-9822. Let me know if I can share it on future shows
2) Email me: [email protected]
3) Go to TheVoiceofJobSeekers.com and press the "Send Voicemail" button to leave a message online
Those of you who are career professionals can receive the additional bonus by leaving your blog on the message, and I will link to it.
Let me share a little bit about Jessica Miller-Merrell (@jmillermerrell). She is the founder of the Forbes 100 Top Career Website Blogging4Jobs (and podcast) and the publisher of The Recruiters Lounge. Her media features include Forbes, Fortune, and Entrepreneur Magazines as well as many other media outlets. She is the CEO and founder of Xceptional HR and writes a lot about HR technology.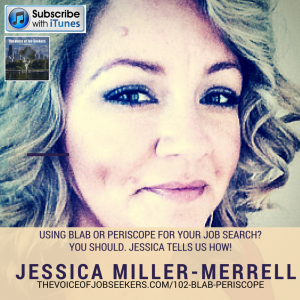 She recently wrote about using Blab or Periscope for your job search, and I asked her to discuss the "why" and strategies anyone can use:
What are the purpose and goal are helpful strategies in using video through Blab or Periscope
Jessica said that lighting, fresh face, and make-up are important elements in connecting with recruiters and hiring managers
You don't have to target one particular subject as you can talk about your mantra for today, or taking people on your journey with Blab or Periscope
Video interviewing is more commonplace now, so people have to become more comfortable with cameras
Video also unveils the voices in the back of our heads in how it shows what we perceive as negative (hair, facial expressions, etc.). Blab and Periscope can help with the need for practice
You want to use these tools to be comfortable and collective enough to "Wow" the hiring manager
Jessica said we don't have to be experts but provide a platform to be noticed and not necessarily perfect
Think about your industry and how it uses video. How can you contribute in a special way?
You can  use Periscope or Blab as a way of introducing yourself or as a demo. Are you in the hospitality industry? Do you interface with customers? This will demonstrate your strengths
Companies can't train great personalities so using these tools in an opportunity to demonstrate when a resume or other career marketing tools can't
You can use Periscope or Blab as a tool for informational interviews (or business conversations). Have a show where you put companies in the spotlight and ask them about their hiring process, what positions they're hiring for, etc
More companies are beginning to use Periscope and Blab to connect with potential candidates
Live recording audio or video is scary for employers because they can't take it back. Jessica shares her experience with employers using social networks tools
Do you need help with resume writing or career direction? Do you need coaching or instruction?I can help.
Also, join our Linkedin community! You'll enjoy some of the insights shared by community members and other career pros!
I would still like to help self-published career professionals promote their books. If you're interested, find more info here.
I am the "The Voice of Job Seekers!" I offer compassionate career and job search advice as I hack and re-imagine the job search process. You need to be "the prescription to an employer's job description." You must be solution-oriented and work in positions in companies where you are the remedy. Your job search must be a lifestyle, and your career must be in front of you constantly. You can no longer shed your aspirations at the change seasons. There are strengths you have that need constant use and development. Be sure you sign up to download my E-Book, "421 Modern Job Search Tips 2021!" You can find my career advice and work in media outlets such as Forbes, Inc., Fast Company, Harvard Business Review, Glassdoor, and many other outlets.