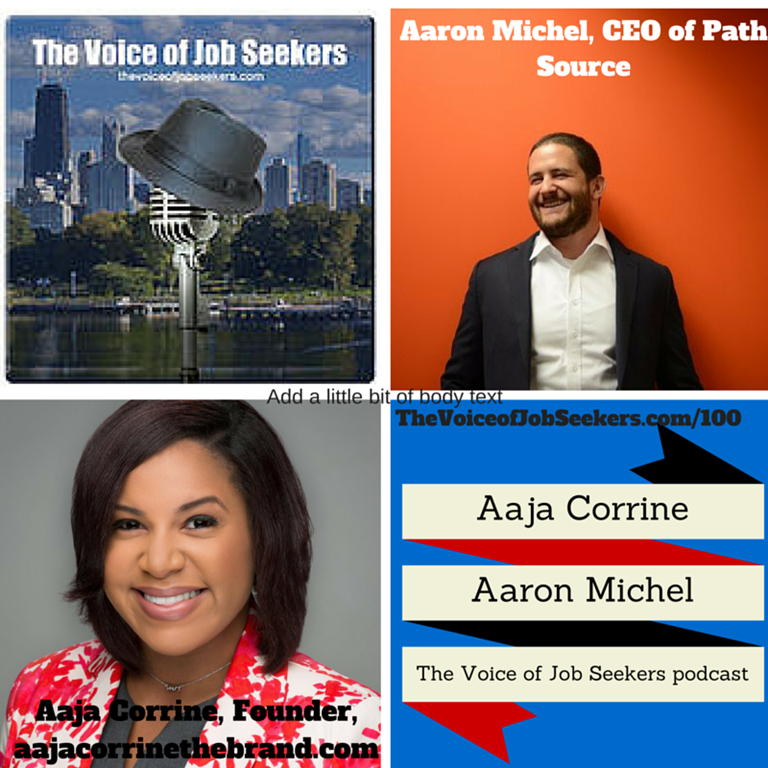 Podcast: Play in new window | Download | Embed
Subscribe: Apple Podcasts | RSS
Thanks for joining us for this double guest episode of the podcast. For segment one, I bring back Aaja Corinne, the show's fashion expert and brand strategist. The second segment features Aaron Michel, co-founder of PathSource home of the job search app of the same name which helps you track your career interests, provides tools for you to find the career and resources for your job search.
Segment 1-Aaja Corinne
What is your favorite color for fall? Here are three ways you can add value to our conversation:
1) Leave a voice mail or text message at 708-365-9822. Let me know if I can share it on future shows
2) Email me: [email protected]
3) Go to TheVoiceofJobSeekers.com and press the "Send Voicemail" button to leave a message online
Those of you who are career professionals can receive the additional bonus by leaving your blog on the message and I will link to it.
Aaja has appeared in JET magazine, N'DIGO,  and WVON 1390, as well as consulting with a few well-known clients such as Babyface.
Stock up on transitional and layer pieces for the constant change of weather in the fall
Outer wear is an opportunity to express your personality along with colors and textures
Plaid and chex patterns are popular this season
For women, belted outer wear add a little more polish to it
For men, over coats that have soft shoulders
Men should invest in more gray suits, versatile, and professional
Black boots for women is chic and has versatility
Aaja suggests a personal stylist or image consultant as the best resource because of their ability to customize to your style
Consider chatting with one seasonally and your image is an investment, unlocks opportunity
More department stores such as Nordstrom and JCrew have on-site personal stylist (not just sales associates)
Stylists and image consultants provide insights from all price points including thrift stores
Fit for curvy and shapely women should look at structured garments (belted, button down skirts)
The wrap dress is a curvy woman's secret weapon, garments falling at the right places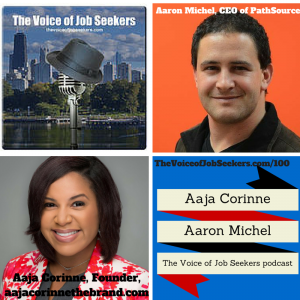 Segment 2 – Aaron Michel (pronounced like Michael)
Aaron Michel is the co-founder and CEO of PathSource, the company whose job search app focuses on career navigation. He is a serial entrepreneur and his companies have received several high-profile features.
His app, PathSource is free and is simple to use. It has hundreds of reviews in the app store and mostly used by 18-29-year-olds. This job search app is also useful for high school users who want to start their career navigation early.
Here are some of the highlights of our conversation:
PathSource takes people from square one usually not knowing what to do through a robust but fun career exploration process in helping them get the job
Aaron shares how his experience as an intern helped him decide that law was the wrong career choice
His experience helped him discover a common problem — provide a tool that will help people with career path experience
We discussed how the app provides an easy to use interface through Linkedin and Facebook logins
Aaron wanted the app users to have a customized experience and solve problems
More than 1500 reviews and ratings show an average of 4.8 out of 5.0 stars
Questions range from lifestyle and a desired salary range to getting specific about career goals
Aaron says that the app contains 3,000 videos, world's largest library of short online informational interviews on video along with a suite of cutting edge tools to connect the dots between education, careers, lifestyle and budget
Aaron describes specific parts of the app assessments and its usefulness
Although the target audience for the app is 18-29, it is useful for those a little over thirty, and as early as high school students

Have you subscribed to this show on iTunes? If you haven't, please do so. iTunes is a great place to write an honest review and increase the show's visibility. Enjoy listening to the show.

Let us know what you think.

Do you need help with resume writing or career direction? Do you need coaching or instruction?I can help.

Also, join our Linkedin community! You'll enjoy some of the insights shared by community members and other career pros!

I would still like to help self-published career professionals promote their books. If you're interested, find more info here.
I am the "The Voice of Job Seekers!" I offer compassionate career and job search advice as I hack and re-imagine the job search process. You need to be "the prescription to an employer's job description." You must be solution-oriented and work in positions in companies where you are the remedy. Your job search must be a lifestyle, and your career must be in front of you constantly. You can no longer shed your aspirations at the change seasons. There are strengths you have that need constant use and development. Be sure you sign up to download my E-Book, "421 Modern Job Search Tips 2021!" You can find my career advice and work in media outlets such as Forbes, Inc., Fast Company, Harvard Business Review, Glassdoor, and many other outlets.