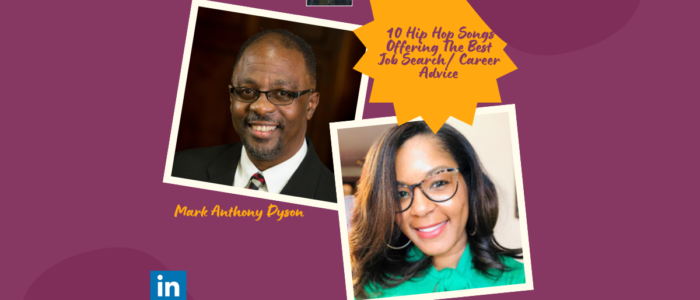 Podcast: Play in new window | Download | Embed
Subscribe: Apple Podcasts | RSS
My fall co-host and buddy Keirsten Greggs explores ten hip-hop songs that offer career advice relevant to our times. We thought this would give people a different way to look at the guidance provided in these songs from other perspectives.
Some of the highlights of our discussion:
Structure and a foundation in your career planning are needed, especially if you plan to renovate or change careers.
There is nothing wrong with in-between jobs to live.
We share our view of what "working harder" and "working smarter looks like.
Collaborations are assets to your career.
Niches are where the riches are or are they? It depends.
More about Keirsten:
Keirsten is the "Trap Recruiter" and has experience in talent acquisition and is a career coach. Her advice has been found in Forbes, HR Morning Brew, Sirius XM, and other media outlets.
You are more than welcome to join the discussion. Here are three ways you can:
– Call and leave a voicemail at 708-365-9822, or text your comments to the same number
– Go to TheVoiceofJobSeekers.com, press the "Send Voicemail" button on the right side of your screen and leave a message
– Send email feedback to [email protected]
Contact me on LinkedIn or Twitter for more job search tidbits, news, and advice.
I am the "The Voice of Job Seekers!" I offer compassionate career and job search advice as I hack and re-imagine the job search process. You need to be "the prescription to an employer's job description." You must be solution-oriented and work in positions in companies where you are the remedy. Your job search must be a lifestyle, and your career must be in front of you constantly. You can no longer shed your aspirations at the change seasons. There are strengths you have that need constant use and development. Be sure you sign up to download my E-Book, "421 Modern Job Search Tips 2021!" You can find my career advice and work in media outlets such as Forbes, Inc., Fast Company, Harvard Business Review, Glassdoor, and many other outlets.