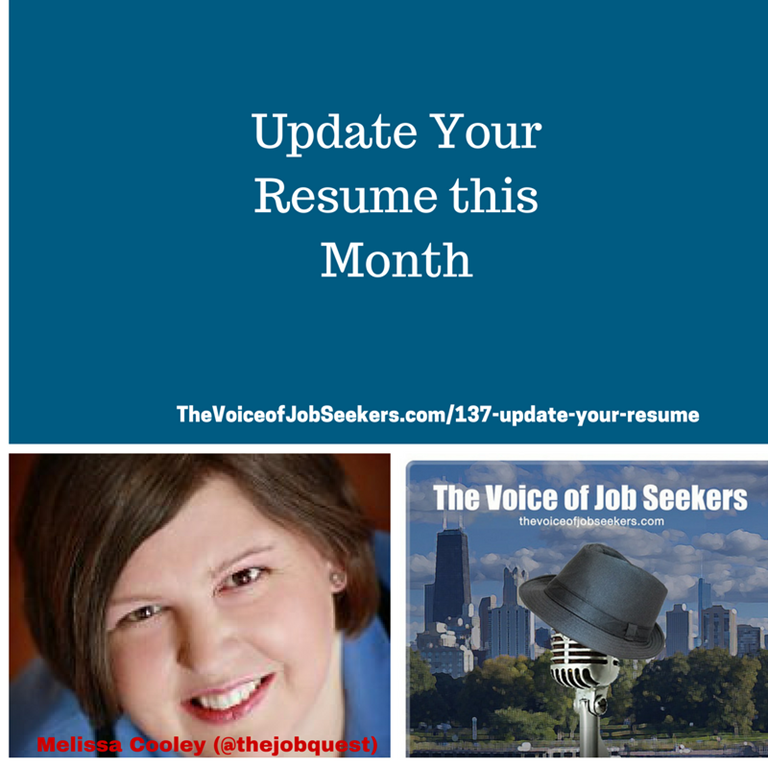 Podcast: Play in new window | Download | Embed
Subscribe: Apple Podcasts | RSS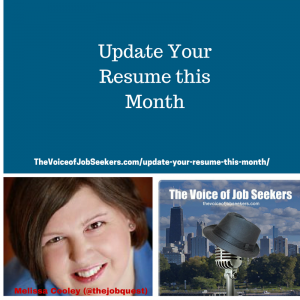 This week we will tackle resume updates for those who are pursuing new opportunities and want to know  the current trends in resume writing. This is also "Update Your Resume" month so I thought this was a good time to publish a show about resumes.
I bring back my friend Melissa Cooley, a certified advanced resume writer, who helps me dissect the resume trends and look back at some of the differences from 2009 until today.
Let's talk about some of your resume challenges. Here's how:
Call and leave a voicemail at 708-365-9822, or text your comments to the same number
Go to TheVoiceofJobSeekers.com, press the "Send Voicemail" button on the right side of your screen and leave a message
Send email feedback to mark@thevoiceofjobseekers.com
Melissa has been writing resumes as a business since 2009, and her blog The Job Quest found at MelissaCooley.com is an award-winning blog. Her advice has been featured on Careerbuilder, Monster, and Dice.com.
Here are some of the highlights from our discussion:
It is still an important marketing document for job seekers
Melissa states the "resume is dead" claim has existed since she started in 2009
One of the significant changes in hiring—it's done by panel
The resume needs to deliver quickly in value to the reader
The profile (formerly known as the objective) needs to be brief. It's best at 1-2 sentences instead of 3-5. Brief and powerful is the goal
Getting essential accomplishments, results, and impact is an excavation
Melissa shares a few of the questions she asks clients to help them
Need help with your career goals, directions, or efforts? Do you need coaching or instruction? I am here for it!
Also, join our Linkedin community! You'll enjoy some of the insights shared by community members and other career pros!
If you're a career pro and love giving career advice, let me know. I would love to have more guest writers during my hiatus and beyond. Thanks for being among the thousands who listen every month. There's so much more to come so stay tuned!
I am the "The Voice of Job Seekers!" I offer compassionate career and job search advice as I hack and re-imagine the job search process. You need to be "the prescription to an employer's job description." You must be solution-oriented and work in positions in companies where you are the remedy. Your job search must be a lifestyle, and your career must be in front of you constantly. You can no longer shed your aspirations at the change seasons. There are strengths you have that need constant use and development. Be sure you sign up to download my E-Book, "421 Modern Job Search Tips 2021!" You can find my career advice and work in media outlets such as Forbes, Inc., Fast Company, Harvard Business Review, Glassdoor, and many other outlets.