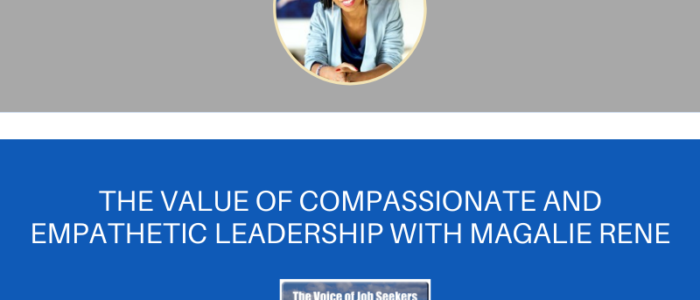 Podcast: Play in new window | Download | Embed
Subscribe: Apple Podcasts | RSS
The incidents of the last two years exposed a need for compassionate and empathetic leadership. This was grossly missing from leaders from all sectors. If you're in a job search today and aspire to arrive higher on the leadership ladder, showing these attributes will get you noticed. I am talking with Magalie Rene to discuss how compassion and empathy are needs employers are looking for.
In today's show, you'll also hear a clip from "The Modern Job Search Checklist" LinkedIn live stream. Damian Birkel and I talk to Sweta Regmi about preparing and responding to news of layoffs.
You are more than welcome to join the discussion. Here are three ways you can:
– Call and leave a voicemail at 708-365-9822, or text your comments to the same number
– Go to TheVoiceofJobSeekers.com, press the "Send Voicemail" button on the right side of your screen and leave a message
– Send email feedback to mark@thevoiceofjobseekers.com
More about Magalie:
Transformational Business and Executive Coach, Author, CEO & Founder of Workplace Catalyst, a professional coaching and workplace training firm. She often shares teachable moments for leaders on compassionate leadership through workshops, coaching, and speaking. She is featured in Forbes, Good Morning America, Business Insider, and more.
Highlights from our conversation:
The racial awakening (George Floyd events), pandemic shutdown, burnout, and the vaccine controversy showed the need for compassionate and empathetic leadership.
Perception by many people is anything softer than the usual line leadership will lead to a lack of accomplishment and reaching your goals.
Magalie says there's a "remote revolution."
Leaders need to support in bridging compassionate leadership, wellbeing, and belonging.
Magalie states, "Instead of allowing it to keep you constricted and small and fit in a box, right? Use the fear as a catalyst to do something different, to step outside of your comfort zone and get excited about being uncomfortable, get excited about being afraid because that's, that means it's an opportunity for your next."
She recommends personal development from any source.
Magalie recommends reading "You Can Heal Your Life," by Louise Hayes.
I am the "The Voice of Job Seekers!" I offer compassionate career and job search advice as I hack and re-imagine the job search process. You need to be "the prescription to an employer's job description." You must be solution-oriented and work in positions in companies where you are the remedy. Your job search must be a lifestyle, and your career must be in front of you constantly. You can no longer shed your aspirations at the change seasons. There are strengths you have that need constant use and development. Be sure you sign up to download my E-Book, "421 Modern Job Search Tips 2021!" You can find my career advice and work in media outlets such as Forbes, Inc., Fast Company, Harvard Business Review, Glassdoor, and many other outlets.