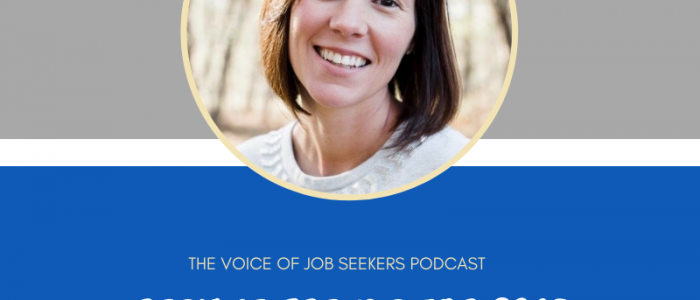 Podcast: Play in new window | Download | Embed
Subscribe: Apple Podcasts | RSS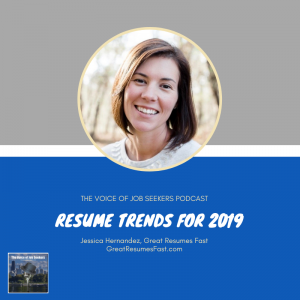 Welcome to my annual "Resume Trends" show! Jessica Hernandez, multiple award-winning resume writer and founder of Great Resumes Fast is my guest today.
This is the show to get resume tips and resources to brand your resume for 2019. If you've been struggling with writing one, or need to refresh for the new year, this is the show for you!
Want to add tips to this show or have questions about resume writing, feel free to contribute to our conversation. If you're a resume writer, and have a tip to help job seekers, let me know. If fact, if you want to add a resume tip for me to play on a future show, this is how you can do so:
– Call and leave a voicemail at 708-365-9822, or text your comments to the same number
– Go to 
TheVoiceofJobSeekers.com
, press the "Send Voicemail" button on the right side of your screen and leave a message
More about Jessica:
Jessica has been an executive resume writer and educator on resume writing for more than 15 years. Her resume writing company, Great Resumes Fast has won multiple awards and accolades. She has written many articles and featured in numerous publications. Her media features include Forbes, Fortune, Fast Company and many other major media publications!
Here are some of the highlights from our discussion:
Why are personal branding and your resume synonymous
We talk about her infographic of 127 resume tips 
People miss how to frame value and offer a great impression
Importance of functional keyword usage
Job seekers should use a team in their job search and the resume writing process
We discuss how templates can water down your brand
We talk about new services that scan resumes including Jobscan – many of them offer generic feedback
Word cloud software are still useful and have value
If you haven't signed up for my email list to get my free eGuide, 219 Easy Modern Job Search Tips for 2019, then you can get it immediately here!
I am the "The Voice of Job Seekers!" I offer compassionate career and job search advice as I hack and re-imagine the job search process. You need to be "the prescription to an employer's job description." You must be solution-oriented and work in positions in companies where you are the remedy. Your job search must be a lifestyle, and your career must be in front of you constantly. You can no longer shed your aspirations at the change seasons. There are strengths you have that need constant use and development. Be sure you sign up to download my E-Book, "421 Modern Job Search Tips 2021!" You can find my career advice and work in media outlets such as Forbes, Inc., Fast Company, Harvard Business Review, Glassdoor, and many other outlets.