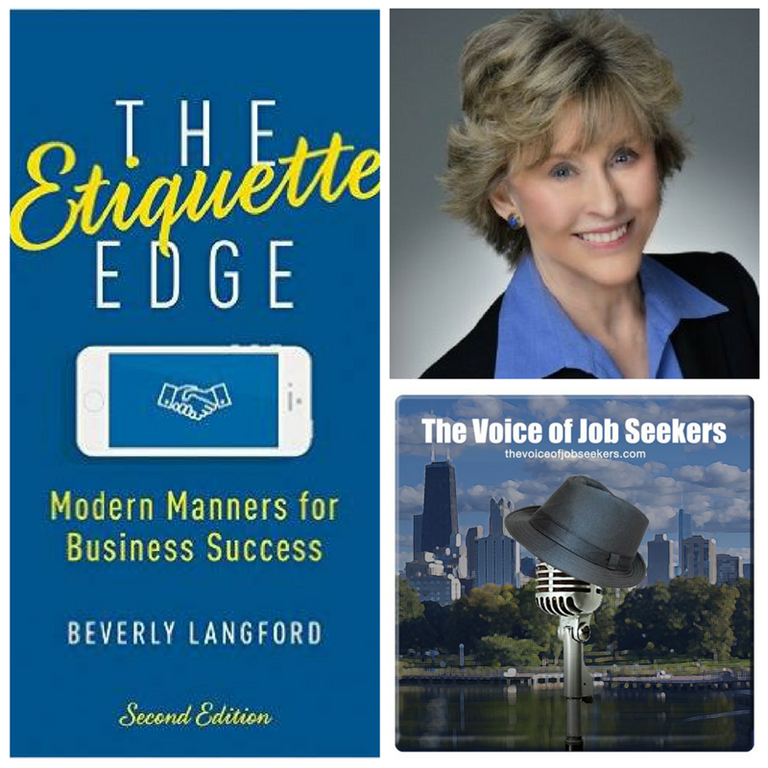 Podcast: Play in new window | Download | Embed
Subscribe: Apple Podcasts | Android | RSS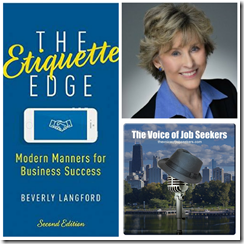 We know networking is essential to success in business and career management. It should be a staple in your career strategy, but I know it's not for everyone. I think the book, The Etiquette Edge; Modern Manners for Business Success by Dr. Beverly Langford is perfect for those who are struggling with networking as a thing rather than networking as a way of life.
How has networking helped you and your career? I would love to hear from you in one of three ways:
Call and leave a voicemail at 708-365-9822, or text your comments to the same number
Go to TheVoiceofJobSeekers.com, press the "Send Voicemail" button on the right side of your screen and leave a message
Send email feedback to mark@thevoiceofjobseekers.com
Beverly Langford, Ph.D. is president of LMA Communication, that specializes in strategic communication and interpersonal effectiveness. She is a professor at Robinson College of Business at Georgia State University. She has been quoted in large print and online publications such as the New York Times and Forbes.
Here are a few highlights of our conversation:
Networking is essential for mutual benefit, not just the job seeker
Plan to give much more than receiving (perhaps 5-6 times more)
Schmoozing could intimidate an introvert but he or she may have the advantage because they listen intently
Schmoozing is most effective when it's "others focused"
Clarity is essential for the initiator of the coffee or lunch meeting. Have one or two clear objectives before meeting
Also, join our Linkedin community! You'll enjoy some of the insights shared by community members and other career pros!
If you're a career pro and love giving career advice, let me know. I would love to have more guest writers during my hiatus and beyond. Thanks for being among the thousands who listen every month. There's so much more to come so stay tuned!
My name is Mark Anthony Dyson, and I am the Founder of The Voice of Job Seekers. I am a career advice writer, but more importantly, I hack and re-imagine the job search process.. I've worked with hundreds of job seekers one-on-one helping them to construct a narrative and strategy that appeals to hiring managers and recruiters. I present at colleges and organizations, and facilitated many workshops including my volunteer effort through a Job Lab. I write and create useful job search content on this blog and write career and workplace advice for blogs such as Glassdoor, Payscale, Job-Hunt.org, Prezi and more. Media Feature highlights: Forbes, Business Insider, NBC News, Glassdoor, LinkedIn's #GetHired, and NPR Freelance writer and content contributor: Glassdoor, Payscale, job-hunt.org, The Financial Diet, RippleMatch.com and more. Contact me to contribute career, job search, or workplace advice for your site at markanthonydyson@gmail.com.