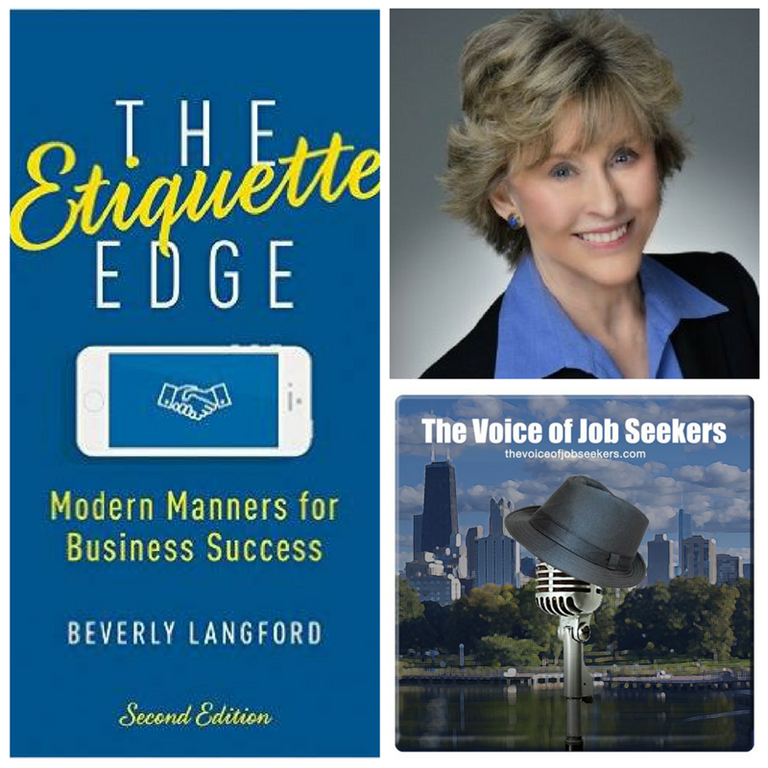 Podcast: Play in new window | Download | Embed
Subscribe: Apple Podcasts | RSS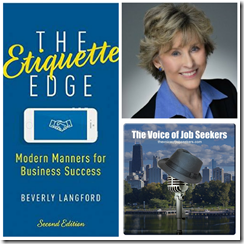 We know networking is essential to success in business and career management. It should be a staple in your career strategy, but I know it's not for everyone. I think the book, The Etiquette Edge; Modern Manners for Business Success by Dr. Beverly Langford is perfect for those who are struggling with networking as a thing rather than networking as a way of life.
How has networking helped you and your career? I would love to hear from you in one of three ways:
Call and leave a voicemail at 708-365-9822, or text your comments to the same number
Go to TheVoiceofJobSeekers.com, press the "Send Voicemail" button on the right side of your screen and leave a message
Send email feedback to mark@thevoiceofjobseekers.com
Beverly Langford, Ph.D. is president of LMA Communication, that specializes in strategic communication and interpersonal effectiveness. She is a professor at Robinson College of Business at Georgia State University. She has been quoted in large print and online publications such as the New York Times and Forbes.
Here are a few highlights of our conversation:
Networking is essential for mutual benefit, not just the job seeker
Plan to give much more than receiving (perhaps 5-6 times more)
Schmoozing could intimidate an introvert but he or she may have the advantage because they listen intently
Schmoozing is most effective when it's "others focused"
Clarity is essential for the initiator of the coffee or lunch meeting. Have one or two clear objectives before meeting
Also, join our Linkedin community! You'll enjoy some of the insights shared by community members and other career pros!
If you're a career pro and love giving career advice, let me know. I would love to have more guest writers during my hiatus and beyond. Thanks for being among the thousands who listen every month. There's so much more to come so stay tuned!
I am the "The Voice of Job Seekers!" I offer compassionate career and job search advice as I hack and re-imagine the job search process. You need to be "the prescription to an employer's job description." You must be solution-oriented and work in positions in companies where you are the remedy. Your job search must be a lifestyle, and your career must be in front of you constantly. You can no longer shed your aspirations at the change seasons. There are strengths you have that need constant use and development. Be sure you sign up to download my E-Book, "421 Modern Job Search Tips 2021!" You can find my career advice and work in media outlets such as Forbes, Inc., Fast Company, Harvard Business Review, Glassdoor, and many other outlets.